#SingwithSFOpera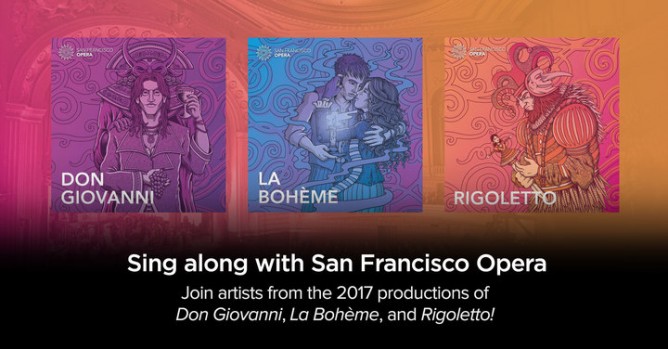 It's that time of year where we celebrate all-things Opera-related here at Smule! Every year, San Francisco Opera takes over the entire AT&T Park to give our lovely city an opportunity to Sing-along to Opera on the giant screen. Over 30,000 join in to sing "Take me out to the Opera," with Smule Sing! running on the jumbotron. This also happens to be the largest group performance on Smule Sing! to date.
In addition, last year we put together this montage video of Smule Sing!ers from around the world joining in with San Francisco Opera's Irene Roberts on "Habanera" from Carmen by G. Bizet!
---
Join in this year and sing with the artists below!

Ildebrando D'Arcangelo as Don Giovanni and Sarah Shafer as Zerlina from Don Giovanni by W. A. Mozart 
Sing with IIdebrando or Sing with Sarah
---
Ellie Dehn as Musetta from La Bohème by G. Puccini
---
Pene Pati as The Duke from Rigoletto by G. Verdi