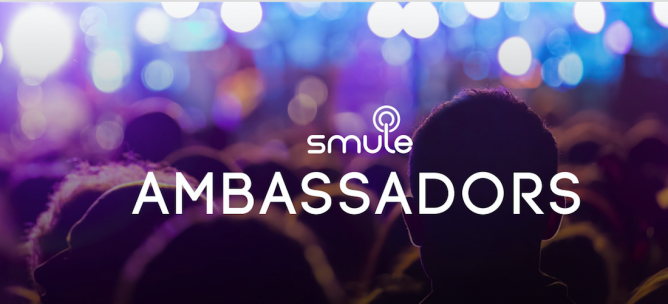 As you know, an immeasurable part of what makes Smule special is our community. And within every great community are community leaders that go above and beyond to make that community even better. We'd like to recognize and introduce you to some such individuals. These people have proactively initiated, organized, and continue to manage independent user groups and programs to enrich user experiences on Smule. Because of their experience and willingness to help, they have become an invaluable resource to Smule as a bridge to reach more of the community, and they continue to volunteer their time to help Smule become better. They are our Smule Ambassadors.
Maria  • Smule  •   • 

Maria has been with Smule since the beginning and we couldn't be happier with her contributions to Smule and the community. She is a co-creator of the largest independent Smule user group – Singtopia, which you can find on Facebook. Maria's passion for international music led to the creation of Singtopia International, which is the first community to showcase and bring about a conglomeration of Sing! performances by users in their native language all over the world. Maria leads, plans and executes programs and contests, continually striving to keep the community engaged and informed.
---
Adrian  • Smule  

Adrian is also a core part of the community, starting back in 2012. He is co-creator of Singtopia. Adrian is the man behind the scenes who manages the user group and helps build engaging content. He continues to stay passionate about music and his passion inspires other users in the community.
---
Chanticleer • Smule • FB  • Insta • Twitter • YouTube

Chanticleer is a newer member to the Smule community, but her ability to shape and form a concept into a reality is remarkable. She brings people together based on an idea that comes from her two passions: singing and cosplay. She motivates people to step outside their comfort zone and embrace a new character while singing on Smule. She is also the host of "Sing-To-Me", a weekly YouTube series she created that spotlights various Smule users and informs members on the newest updates.
---
Ariyanti  •  Smule •  YouTube • FB

Ariyanti is our longtime friend and collaborator who represents the geographically defined independent user group, the SmuleNesians. She is the driving force and voice of not only the SmuleNesians, but essentially all of Indonesia on Smule. She has organized concerts, facilitated large scale meet-ups, and even worked with Indonesian partner artists. She is an incredible part of the community and we are grateful for all the energy she has  poured into spreading the vision of Smule.
---
Paola  • Smule •  Twitter • Website

Master of community-run contests and communicating with members outside of the Smule apps is Paola! She is most recognized for her incredible leadership in organizing a huge labor of love, the World Series of Smule, a sophisticated multi-level Sing! Karaoke contest which has run 2 years in a row and gathered participation from 95 singing groups. So many users have loved being a part of it and we say "Kudos" for putting together such an awesome event!
---
Nikki • Smule  • 

Nikki is also a co-creator of the largest independent Smule user group, Singtopia. Nikki's focus includes most of the creative process including visual graphics, challenges, mixers and offers positive input to the community. Nikki is also the creator of Singtopia! Musician's Lounge with a focus on bringing together Sing! musicians across the globe. We value her insights and are happy to have her on the team!