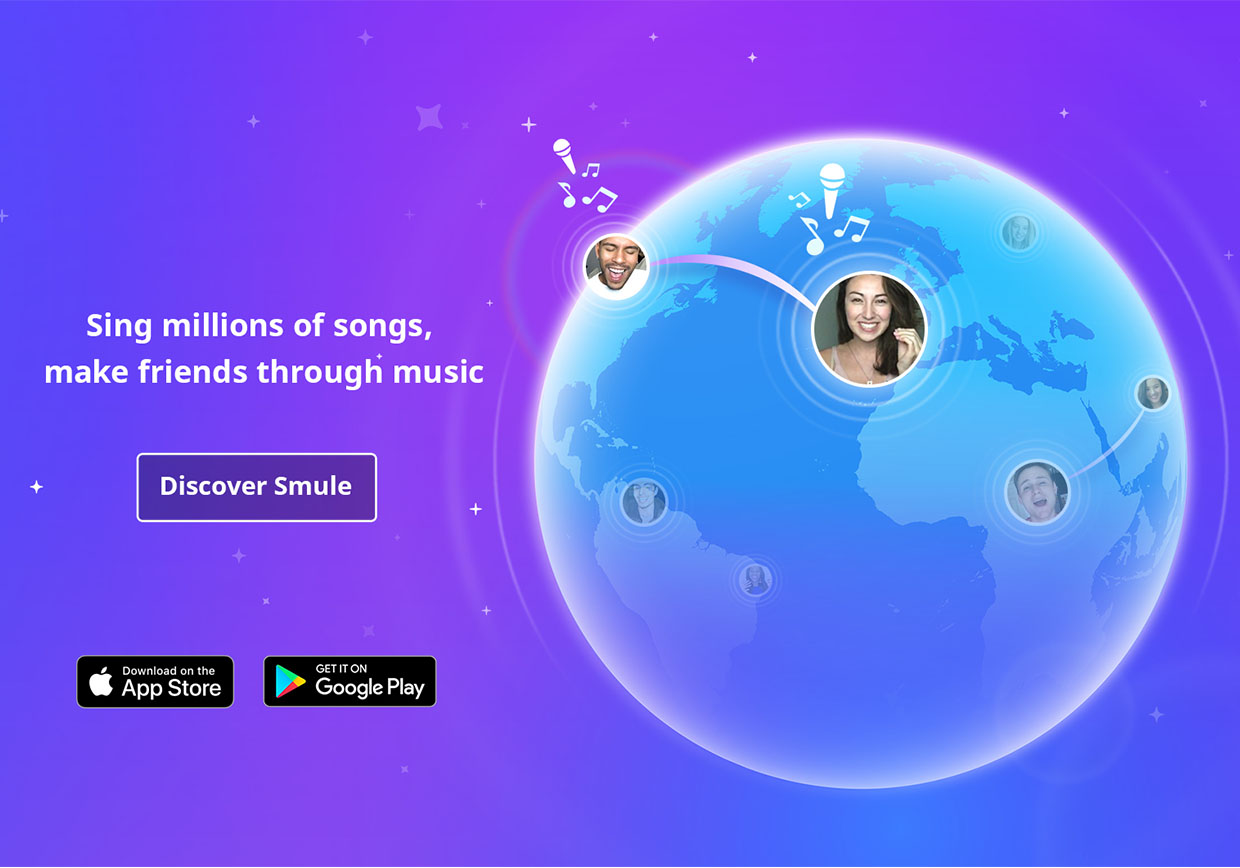 COMMUNITY GUIDELINES
COMMUNITY GUIDELINES
WELCOME TO THE SMULE COMMUNITY!
Smule is like a big global jam session for you and your friends, old and new — and the best part is no equipment (besides your mobile device) or prior training is necessary. Just hop on Smule and enjoy a wonderful musical experience where you can listen, create, and collaborate with people from all around the world.
Community Guidelines are here to help us all have a fun time on Smule. Your use of Smule is subject to these Guidelines and our Terms of Service. If you are found in violation, your account will be banned.
THINGS YOU SHOULD DO:
Be nice

Be polite and respectful in your interaction with other members. Keep in mind that Smule is a global community and certain interactions that may seem fun or harmless to you may be perceived completely differently by another member. Treat others the way you would like to be treated! Feel free to point them in the right direction on where to find the hottest songs or show them the ropes on how to create a sick track.

Have fun

Smule's a place for you to enjoy and be yourself. Whether you are singing, listening, playing, or collaborating with others – just remember to have fun!

Talk to us

You are an integral part of what makes this community great. Moderate your own behavior and report others who are not adhere to the Community Guidelines by using our reporting features in the apps. Let us know if you ever have any questions or concerns at

community@smule.com

.
THINGS YOU SHOULD NOT DO:
Don't be a bully

This goes hand-in-hand with being polite and respectful. Smule is not a venue for you to harass, abuse, or intimidate others. In fact, there's never a venue, place, reason, or context where it's okay for you to harass, abuse, or intimidate others. Never.

Don't post illegal, inappropriate, or copyrighted content

Smule reserves the right to review any material flagged by Smule members and may remove it if deemed inappropriate for the community, in violation of copyright or prohibited. This may include content with obscenity, sexual material, or hate speech. If the content is in violation, it will be removed and repeated violations will result in your account being banned.

Don't be someone you're not

Smule is about real people. No one likes a fake. Do not create multiple accounts on Smule for the purpose of harassment, boosting a performance's visibility, or any form of abusive behavior. Such actions will lead your account(s) being banned.

Don't be a troll

Don't be an albatross around the neck of the community. If you are found to be toxic and undermining the community's core mission, your account will be banned.

Don't give away sensitive information like password, account information, etc.

At Smule we work hard to protect your private information. Please be cautious about any request of message that you should not disclose.