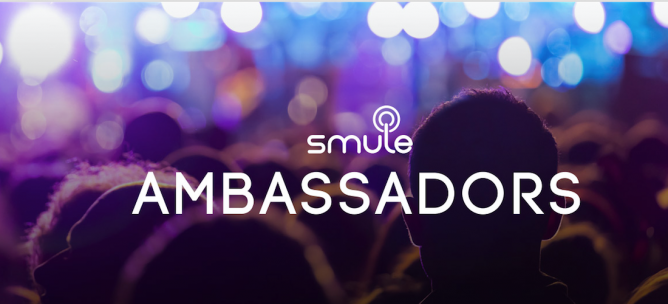 As you know, an immeasurable part of what makes Smule special is our community. And within every great community are community leaders that go above and beyond to make that community even better. We'd like to recognize and introduce you to some such individuals. These people have proactively initiated, organized, and continue to manage independent user groups and programs to enrich user experiences on Smule. Because of their experience and willingness to help, they have become an invaluable resource to Smule as a bridge to reach more of the community, and they continue to volunteer their time to help Smule become better. They are our Smule Ambassadors.
Global: 
Global leaders are ambassadors who facilitate globally recognized groups, organizations typically held in a Facebook group or LINE app. The leaders create challenges, answer questions, and support community.
Maria  • Smule    

Maria has been with Smule since the beginning and we couldn't be happier with her contributions to Smule and the community. She is a co-creator of the largest independent Smule user group – Singtopia, which you can find on Facebook. Maria's passion for international music led to the creation of Singtopia International, which is the first community to showcase and bring about a conglomeration of Sing! performances by users in their native language all over the world. Maria leads, plans and executes programs and contests, continually striving to keep the community engaged and informed.
---
Adrian • Smule  

Adrian is also a core part of the community, starting back in 2012. He is co-creator of Singtopia. Adrian is the man behind the scenes who manages the user group and helps build engaging content. He continues to stay passionate about music and his passion inspires other users in the community.
---
Chanticleer • Smule • FB  • Insta • Twitter • YouTube

Chanticleer is a newer member to the Smule community, but her ability to shape and form a concept into a reality is remarkable. She brings people together based on an idea that comes from her two passions: singing and cosplay. She motivates people to step outside their comfort zone and embrace a new character while singing on Smule. She is also the host of "Sing-To-Me", a weekly YouTube series she created that spotlights various Smule users and informs members on the newest updates.
---
Paola  • Smule •  Twitter • Website

Master of community-run contests and communicating with members outside of the Smule apps is Paola! She is most recognized for her incredible leadership in organizing a huge labor of love, the World Series of Smule, a sophisticated multi-level Sing! Karaoke contest which has run 2 years in a row and gathered participation from 95 singing groups. So many users have loved being a part of it and we say "Kudos" for putting together such an awesome event!
---
Nikki • Smule  

Nikki is also a co-creator of the largest independent Smule user group, Singtopia. Nikki's focus includes most of the creative process including visual graphics, challenges, mixers and offers positive input to the community. Nikki is also the creator of Singtopia! Musician's Lounge with a focus on bringing together Sing! musicians across the globe. We value her insights and are happy to have her on the team!
---
LOCAL: 
Similar to our general ambassadors, we have local ambassadors who help facilitate local communities/groups by celebrating local holidays, seeking partner artists, creating challenges in their region and building out a community within their own area. We are in the works for building this in areas where Smule is growing, if you know somebody who has been a long time Smule user or built out local communities, feel free to send them to community@smule.com!
Ariyanti (Indonesia) •  Smule •  YouTube • FB

Ariyanti is our longtime friend and collaborator who represents the geographically defined independent user group, the SmuleNesians. She is the driving force and voice of not only the SmuleNesians, but essentially all of Indonesia on Smule. She has organized concerts, facilitated large scale meet-ups, and even worked with Indonesian partner artists. She is an incredible part of the community and we are grateful for all the energy she has  poured into spreading the vision of Smule.
---
Julio (Brazil) • Smule • Insta • FaceBook • SnapChat

Julio is a longtime community contributor since 2013. He had organized several-and the first- meet ups in Brazil. Julio took part of multiple Brazilian groups since then. With his strong leadership and communication skills, he has been supporting and engaging within the community in all capacities.
He promoted the Brazilian music to the community, bringing them together even if there is a language barrier. He made several of his American friends and friends from different countries (Julio is able to speak fluently three languages yet he can communicates over five) sing Brazilian music in Portuguese, "if it would be in a meet-up event, I would make them dance Samba" Julio said. For him, the music passion from the communities breaks any barrier.
His goal as an Ambassador is to enhance the Brazilian communities and the integration between them, support new app users and promote innovative contests.
---
İLKER (Turkey)  Smule • Insta • FB • Twitter • Website

İlker is member to the Smule Community since 2015. Representating the first Turkish group, Smule Anatolians he took part in variety of activations like meet-ups, parties etc. in different cities of Turkey. Especially for Turkish users' engagement and the promotion of Turkish content, he initiated the building of Turkish song database by uploading more than a hundred Turkish backing tracks of high quality with the help of his professional musical background. As a Smule Ambassador, a representative of Smule Anatolians and one of the most known Turkish users, İlker's motivation is to reach and support more Turkish users become more engaged with more Turkish content, contests, meetings and activations.

Işıl is one of the oldest members of Smule Community since 2013. By the background of being a part of several groups and experiences she founded the first Turkish group
Smule Anatolians
 in 2014. She has organized meet-ups and different fun activities in different cities of Turkey so far. She inspired Turkish users to engage in Smule Community by supporting them to participate in various activities like competitions, meet-ups, and even introducing Smule to outside of the community through social media in the country. Her ambition is to unite people with connective power of music and encourage this application to get more popular in Turkey.

 Selda (AnatolianLady) has been with Smule since 12/29/2014. She started using the app to teach her students the "complicated" math formulas in the funnest way possible. Her students would use the app to sing these formulas changing the words to famous songs. She started singing once she discovered the Turkish songs that were uploaded. She focuses on translating Smule Sing! for Turkish users to help make it more enjoyable to use. Seldacreates competitions to create opportunities to sing with famous artist in real life as well as actively organizing groups for different genre of music. 
Her goal as an Ambassador to Turkey and Azerbaijan is to enhance these communities and the bridge between them while supporting new app users. She is the co-creator of Kirik Nota and Sing_Azerbaijan groups while helping build strong media connection with using discord to gather their large group to meet up at the same time along with presenting their group and solo songs on their radio.
Her goal is to bring Turkish users together with the help of music during special days and Turkish National Holidays while supporting them to get together as a Smule Family. Her enthusiasm to create a web page to give tips in written and visual to Turkish and American communities is admirable.
---
Zizie (Malaysia) Smule • Insta • FB

 Zizie Mansor is a songwriter from Johor, Malaysia. An avid Sing! user of 2 years. She is the Founder of Malaysian Voices Smule Community, also known as MyVo. Not only that, but also owns a company called MY Voices Productions that focuses on Sing! Activities in Malaysia! She has built up local talent through the Sing! Application in conjunction with MyVo. Her mission stands to explore, expand and bring even more talent to share with the world.
---
Alexander (Russia) Smule • FB  • Web • VK

Alexander has been a dedicated member of Smule since 2016.  He is the co-founder of SmuleRussia, an independent community of Russian speaking Smule users in Russia and worldwide.  Along with six members of SmuleRussia, Alexander has built a strong social media presence to engage Russian users, has facilitated large scale meet ups in Russia, and has collaborated with Russian artists.  Alexander has been passionate about Smule's mission of connecting people through music.  His goal as an ambassador is to promote Smule toRussian speaking users throughout the world.
Evgeniy (Russia) Smule • FB  • Web • VK

Evgeniy has been with Smule about a year and a half. He is the founder of SmuleRussia. In July of 2016 he decided to organize the first meeting of users of the application under the auspices of the Global Meet-Up. After that it was decided to form a local community team – SmuleRussia the purpose of which was to popularize Sing! in Russia. TeamSmuleRussia consists of people which help app users to get acquainted personally, to unite on interests, and create creative projects.
---
 Sandra (Sweden) Smule • Web • FB

Sandra has been on Smule since 2012, during the time she has been on she has co-created TheSweeds group – dedicated to serve singers, artists and musicians on Smule a unique, collaborative experience on Smule. Beyond organizing groups, Sandra also creates competitions, like E.S.C.A.P.E as well as being on other notable competitions. Sandra has exceptional knowledge on Smule and creates meet-ups for people in Sweden. Sandra is great on organizing events both online and offline!

Aladdin is also a co-creator of TheSweeds where he allocates his time helping, facilitating and creating engaging contests for his members. Beyond that, he also has been a judge on other leading competitions like Smule Talent, Sexy Hot Voices. Aladdin also had vocal coaching for over 10 years, and can demonstrate and share his knowledge to his community. Sandra and Aladdin are constantly planning new things to improve the Smule experience for Smule users, both in the ways of singing and how to evolve as a person. 
---
 Prasad (India)  Smule • IG • FB

 Prasad has been a longtime user who co-founded one of the most engaged and largest community in India to date – Smule Tarang! When talking about his involvement in Media and Entertainment sector, Smule App played an important role where he along with his Smule app peers started a company Tarang Entertainments with the motive to encourage and motivate talents across social media thus bringing a platform to perform live. With that being said Tarang Entertainments conducted Social Media Awards function recently awarding category based awards to numerous talents from the Smule Tarang community (one of the largest Smule community) by well-known judges in December 17, 2017. Smule Tarang which was held prior to Social Media Awards in July 23 rd, 2017 was an informal gathering comprising of more than 300 Kerala and Tamil Nadu Smule Singers. Needless to say he is an active talented Smule singer/ Whistler and sings in good mood. Recently he sang as a playback singer in a few movies.