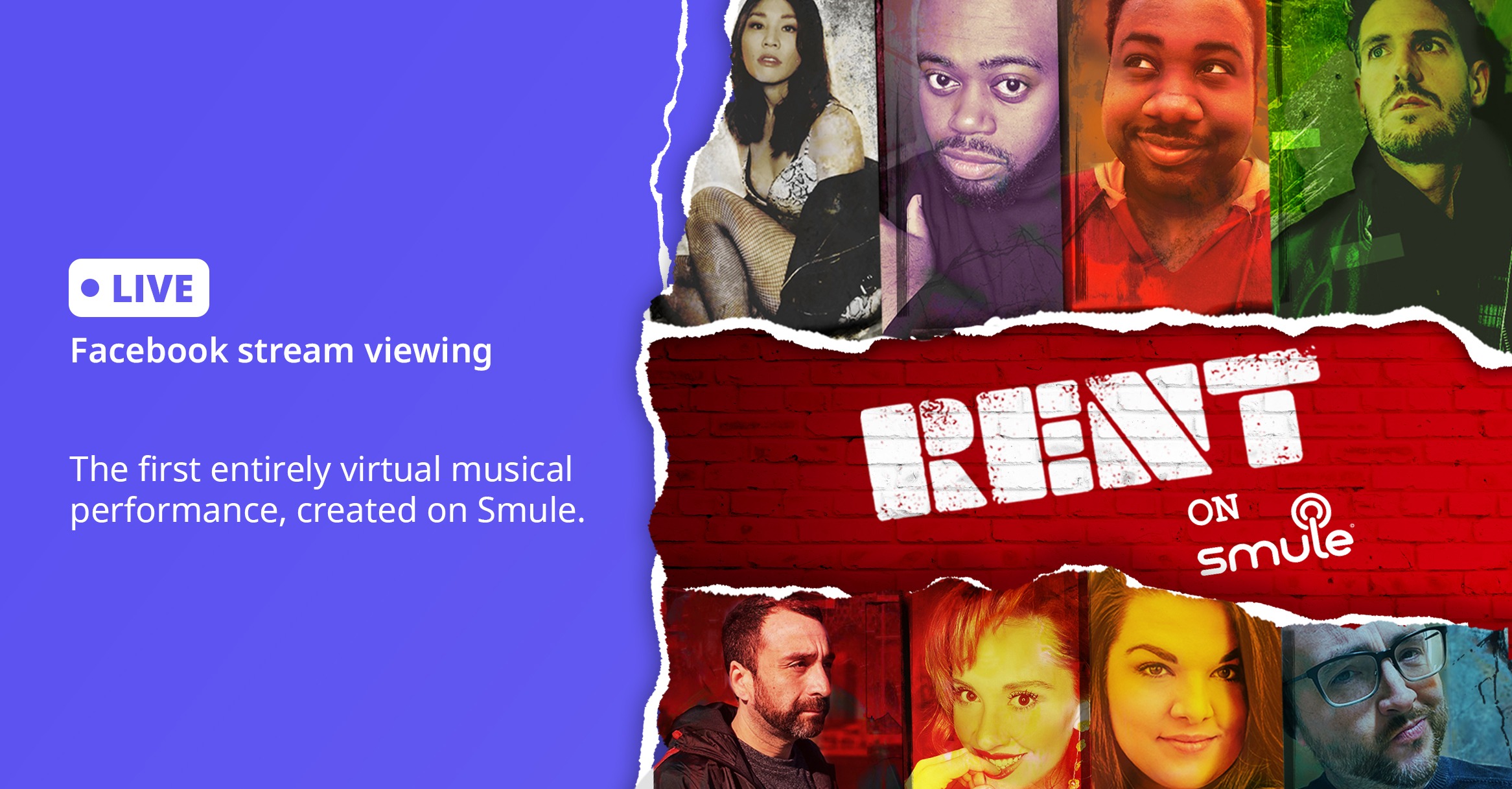 Behind the Screens of RENT on Smule
A fully virtual production debuting on Christmas Eve
The cast of RENT on Smule has worked for the last six months to film, direct and star in a virtual rendition of the Broadway musical, Rent, created on Smule. The full production will see its first audience on Thursday, December 24th at 9PM EST on RENT on Smule's Facebook channel.
Peek behind the curtain to see how the actors worked in a theater-less setting and developed their unique characters with only the screens on their phones.
PEPE MONAR as Roger Davis
Berlin, Germany
"English is not my native tongue, so in addition to learning the staging and music, I paid special attention to diction and pronunciation, which added another level of difficulty," reveals Pepe Monar. With Roger's melancholy mood, Monar had to find many different ways to express sadness and bitterness in contrast to his own optimistic personality.
MATTHEW ARDEAN as Mark Cohen
Indianapolis, Indiana
"Playing a heterosexual character takes a lot of concentration and is much harder than some make it seem," says Matthew Ardean, who lives with his husband and three dogs in Indiana. One of the perks to recording virtually? No need for pants!
DARCI WONG as Mimi Márquez
Hollywood, California
"A huge part of creating 'Mimi' was in the costumes. Before filming, it was really important to me to find not only her most iconic pieces but also her more nuanced details and accessories," explains Darci Wong. From the curling of her hair before each performance to the use of fire and candles as props, Wong was committed to the role with each scene and delivers a creative take on Mimi.
JOSH ABRAM as Tom Collins
Bay City, Michigan
"Because we recorded the musical in reverse, I had to make sure I understood where Collins was coming from prior to the scene and where he was going after to better inform my acting choices," states Josh Abram, who worked with costars to keep the story timeline intact. Fun fact: Abram's first purchase was the knit cap that Collins wears in every number.
ALVIS GREEN JR. as Angel Dumott Schunard
Rochester, New York
Full hair and makeup were necessary for the majority of Alvis Green Jr.'s scenes as the enchanting Angel.
MEGAN MEYER as Maureen Johnson
Saginaw, Michigan
"I basically am Maureen to a certain extent; she's the extreme version of myself. I am most drawn toward characters that are confident and eccentric," relates Megan Meyer. For Maureen's solo scene, Over The Moon, Meyer laid down 30 vocal tracks and 7 video layers.
RACHAEL CUPPLES as Joanne Jefferson
Brighton, Michigan
Many members of the cast had to get creative during quarantine to lay down vocals: Rachael Cupples recorded the bulk of Act 2 from the front seat of her parked car.
GIO PORTILLO as Benjamin Coffin III
Pasadena, California
White walls, backdrops, outdoor locations and lighting were employed throughout the show to give the cast the appearance of recording on the same stage. In several scenes, Gio Portillo stands in contrast to the rest as the ex-roommate-gone-landlord, Benny.
The mission behind RENT on Smule is to show performers around the world that even during this time of uncertainty and unrest, art can be created. "The beauty of theatre is that it lives inside of you. The beauty of Smule is that it brings it out," expresses Wong on the power of utilizing Smule to create the show.
Tune in Thursday, December 24th at 9PM EST on RENT on Smule's Facebook channel for the livestream viewing of the full musical: https://fb.me/e/bpO9c0DYm