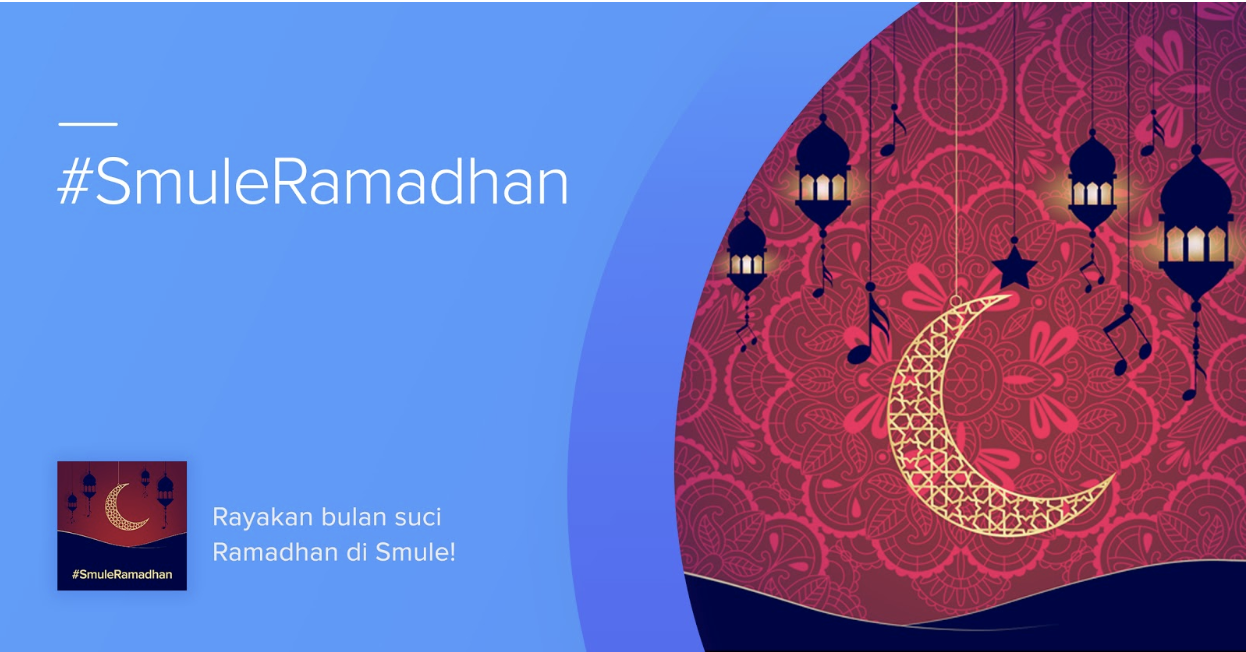 Celebrate Ramadhan on Smule!
Celebrate Ramadhan on Smule!
Selama sekitar lima minggu ke depan, Smule Indonesia menggelar program bulan suci Ramadhan dan Hari Raya Idul Fitri bersama dengan seluruh pengguna Smule yang merayakan. Kami mengundang Anda untuk menyanyikan lagu-lagu yang mewakili perjalanan spiritual Anda, membawa kembali kenangan bersama teman-teman dan keluarga, serta merayakan indahnya hari kemenangan Idul Fitri.
Cara ikut serta:
Nyanyikan lagu-lagu yang ada di dalam banner #SmuleRamadhan di Smule, atau cari hashtag #SmuleRamadhan untuk bernyanyi bersama pengguna lain. Anda juga dapat menyanyikan lagu-lagu lainnya yang bertema Ramadhan/Idul Fitri selama bulan suci, dari Community Songbook.
Tambahkan hashtag #SmuleRamadhan pada deskripsi rekaman dan undangan lagu Anda, agar pengguna lain dapat menemukan rekaman Anda.
Kami akan memilih rekaman-rekaman favorit untuk difitur dalam playlist #SmuleRamadhan di halaman Explore/Jelajah setiap minggunya.
Jangan lupa untuk upload/posting rekaman Anda di media sosial dengan hashtag #SmuleRamadhan, sambil menceritakan pengalaman terbaik Anda terkait dengan Ramadhan atau Idul Fitri. Cerita yang paling menginspirasi akan berkesempatan untuk difitur di media sosial resmi Smule Indonesia!
====================
Over the next five weeks, Smule Indonesia will be celebrating the holy month of Ramadhan and the upcoming Eid al-Fitr with all Smuleans who observe it. We invite you to join by singing songs that evoke your spiritual journey, bring back memories of reconnecting with friends and family, and culminate with the festivities of Eid al-Fitr.
How to participate:
Sing a song from the #SmuleRamadhan tab/banner, or do a search using #SmuleRamadhan to join others. You can also pick any other relevant songs that help you express your feelings around this holy month, from the Community Songbook.
Add the hashtag #SmuleRamadhan in your song description and song invitations, so others can find your performance.
We will pick our favorites to be featured in the #SmuleRamadhan playlist on the Explore screen every week.
Also, make sure to post your recording on social media using #SmuleRamadhan, and share your best stories or memories of Ramadhan and Eid. The most inspiring stories will get a chance to be featured in our Smule Indonesia official social channels!