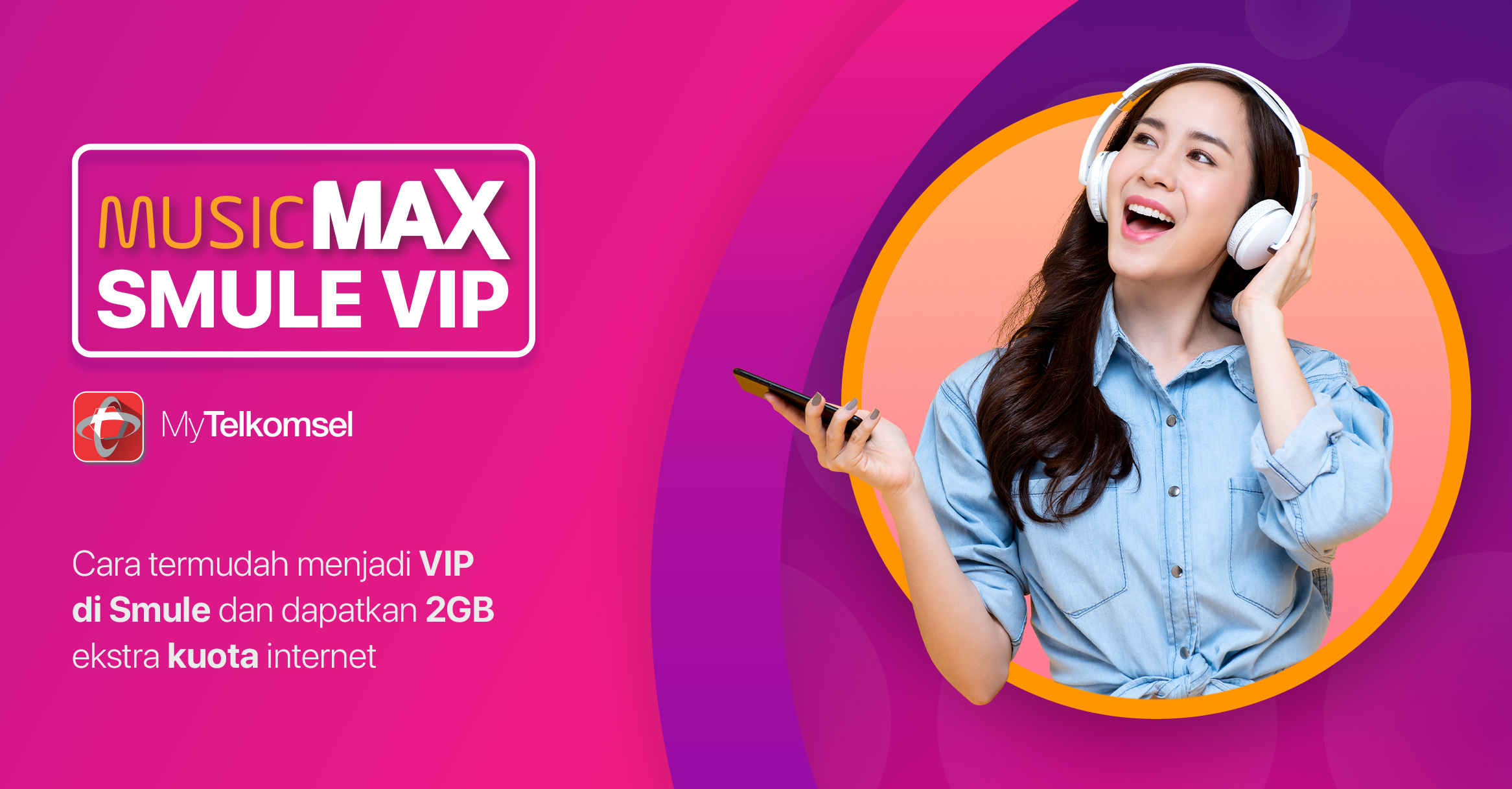 Introducing MusicMax Smule VIP by Telkomsel
Kabar gembira bagi pengguna Smule di Indonesia! Kini tersedia paket internet prabayar khusus untuk kamu penyuka Smule, yang menyediakan akses ke semua fitur VIP dan 2GB ekstra kuota internet: MusicMax Smule VIP!
Smule bekerjasama dengan Telkomsel, operator seluler terbesar di Indonesia, yang menawarkan paket internet yang nyaman dan mudah kepada Komunitas Smule di Indonesia, termasuk VIP Smule dan kuota internet untuk bernyanyi dan menikmati Smule di manapun kamu berada.
Dengan membeli paket internet prabayar MusicMax Smule VIP, kamu akan mendapatkan:
30 hari gratis VIP Smule
1GB kuota Smule
1GB kuota internet
Bagaimana caranya?
1. Tekan *363*101# >> pilih MusicMax Smule VIP,
ATAU
2. Buka aplikasi MyTelkomsel >> Belanja >> Hiburan >> pilih MusicMax Smule VIP.
Penting: Setelah pembelian berhasil, kamu akan menerima SMS konfirmasi yang berisi tautan untuk mengaktivasi VIP Smule.
Mudah bukan?
Jangan lewatkan dan segera dapatkan paket internet MusicMax Smule VIP hari ini dan nikmati Smule kemanapun kamu pergi!
==========
Amazing news for Indonesian Smule users! Now available, a prepaid mobile data for those who love to sing on Smule, providing access to all VIP features and 2GB extra mobile data: MusicMax Smule VIP!
Smule is cooperating with Telkomsel, the largest cellular and internet provider in Indonesia, to offer the Indonesian Smule community with a convenient and accessible mobile plan, which includes Smule VIP and enough mobile data to sing and enjoy Smule anywhere you go.
By purchasing the MusicMax Smule VIP prepaid mobile data, you will get:
30-day free Smule VIP
1GB Smule access
1GB internet quota
How to get it?
1. Dial *363*101# >> choose MusicMax Smule VIP,
OR
2. Open MyTelkomsel app >> tap Shop >> tap Entertainment >> choose MusicMax Smule VIP.
Important: After successful purchase, you will get an SMS confirmation, including a link to activate your Smule VIP.
Easy right?
Don't miss out and get your MusicMax Smule VIP plan today and enjoy all of Smule anywhere you go!
Learn more about Smule features:
[yotuwp type="playlist" id="PL6TgH56UtRsMlvxC8UrB3hq2S61bxFAPJ" ]