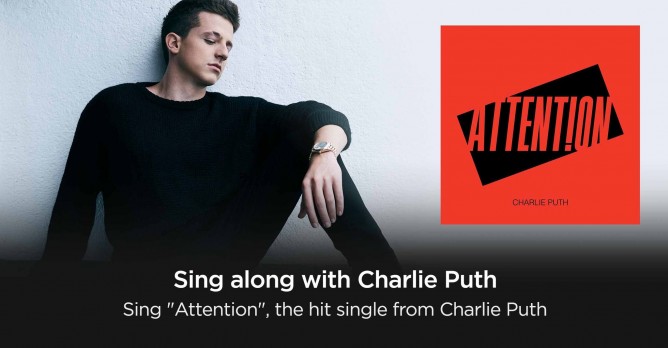 LG Invites You to Sing "Attention" with Charlie Puth on Smule
LG and Smule are partnering up with Charlie Puth for an awesome contest. Many of you have joined LG contests in the past (Check this out!), and many of you have sang with Charlie Puth on the app. So why not bring on his latest hit and give away awesome LG products! 😉
Charlie Puth: A legend? A songwriter? A singer? All of the above? 😉 This isn't the first time Charlie has been on the app — in fact you can check out our blog when he first joined us to learn more about him.
Some fun facts about Charlie:
He mom was a music teacher
He has a scare on his eyebrow from a near-death dog bite when he was 2!
He has perfect pitch, a rare auditory phenomenon that enables him to identify or recreate music, without a reference tone
#SINGWITHLG Contest
Starting today, November 10th, you can sing with Charlie Puth on the Smule Sing! app and enter for a chance to meet him in person and win amazing LG products!
Contest Dates:
11/10: Contest entry opens
12/15: Contest ends
Entering is simple.
Join Charlie Puth' "Attention" duet.
Record your version of "Attention" and post it on Smule.
Save the video.
Copy the link and visit SingWithLG.com to submit.
Grand prize winner:
Win up to $5,000 in LG Products
A personal meet & greet with Charlie himself!