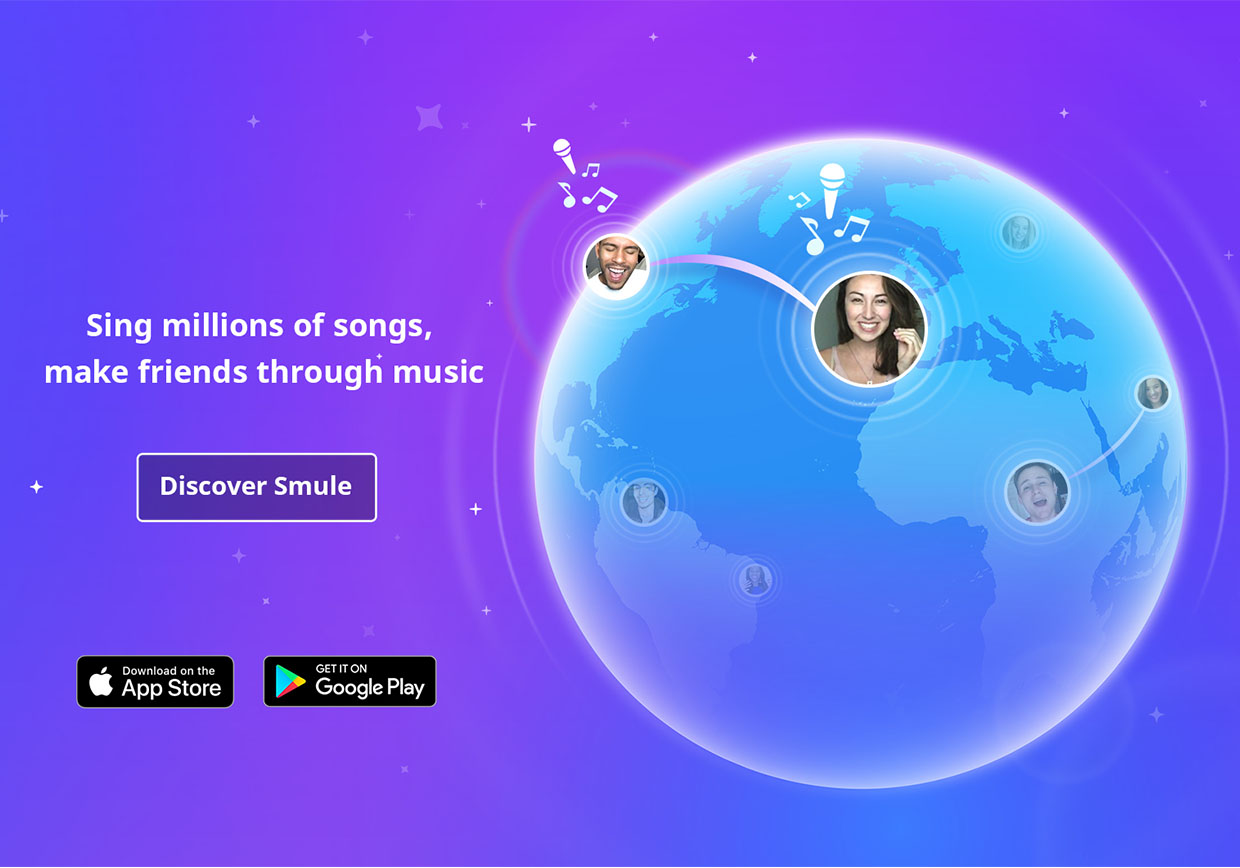 Singing – With a Little Help From Your Friends
Singing – With a Little Help From Your Friends
In this series, you've been learning how to be the best singer you can be as a soloist and by now you're probably pretty awesome. But why keep your gift to yourself? Why not find the Oates to your Hall, the Lennon to your McCartney, the Elsa to your Anna? The essence of what we do at Smule and with Sing! is connecting people through music. In our earlier posts on the How to Sing! Properly Series, we gave you some tips, tools and ideas for making great solo performances.
Now, we want to help you dive head first into the Sing! community. We want you to be able to experience the sheer awesomeness of making music with other singers. You may start out as strangers, but can soon become great duet partners, and even better, friends. Let's take a look at five ways you can get yourself involved with the wider Sing! Collective.
1. Come On and Join the Band
Finding the right musical partners can be challenging, but there are always thousands of people looking for duet and group singing partners! Why not start where you began when first using Sing!; with your favorite songs? We have a couple of tips for finding people who have the same taste as you:
When starting a song, click the "Open Call" button instead of the "Solo" button. This will give you a list of all the people who want to sing that song with you.
You can also use the "Explore" feature to find other singers. The "Recommended For You" section contains singers who likely have the same tastes as you!
Start listening to people; you might find a voice that complements your own. You can invite others to join you or search for others looking for singing partners. You're voice is your introduction to others in Sing, so be comfortable just being you. You'll be making friends in no time.
2. Courteous Listening
It's always a good idea to listen to entire recording of the person you are going to perform with. This is especially useful when singing duets or in a group. Get to know the nuances and phrasing of the other singers, because they might be doing things different from the original song. You can even think about how to make your own performance enhance the track. Feel free to record a run through, and see if everything clicks.
3. Quiet On the Set!
I know. We did bring up this tip before in our first post. However, it is a very good thing to remember, now that you are going to be joining other people when singing. You want to make sure that you are recording in a quiet space free from outside noise and interference. Whether or not it is a group singing session, or a duet with a new friend, you want to make sure that everyone can hear each other, not your beagle howling in the background. A run through and review of the song is a good way to test your volume level against your partner. Don't worry about going through the entire song when testing levels. Sing! allows you to save and review after 30 seconds.
4. Follow the Bouncing Ball
Every song in Sing! is enabled for duets and group songs. There is usually a part one, a part two, and a part where you both sing together. Certain tunes, like "Lucky" by Jason Mraz, or "Say Something" by A Great Big World & Christina Aguilera, have the duet parts mapped out for you. Each part of the song will be color coded so that you each know when to come in.
Don't be confined to following the melody as written. There is no limit to your imagination! You and your duet partner or group can experiment with harmonies, underruns, overtones. Play around with swapping genders on songs, maybe even switch back and forth with each word, the possibilities are endless!
When trying out new things, remember that the Rewind function is your silent partner. Nailing harmonies can be hard, so planning ahead by creating a checkpoint before those difficult choruses is a great way to get a solid performance.
5. Rolling Solo
Joining the Sing! Community and singing with others is an amazing feeling. But sometimes you still feel like you have a great idea with a certain song, maybe a tricky harmony part, and you can't quite explain it to someone else. For those moments, you can always sing with yourself. There are a variety of Singers who have created entire choral parts for songs, with only themselves! Take a listen to some examples of Sing users taking a solo performance to the next level!
Singing duets and group songs with yourself is a great way to better understand your voice, and get creative, but since there are so many unique and talented people using Sing!, it won't be difficult to find someone in your wavelength.
Congratulations, you're a full fledged Singer now! You've joined a truly unique and amazing social experience, and all you had to use was your voice. It's no wonder so many people have maintained connections and friendships outside of the Sing! App. The Sing! community has even spilled out into other facets of the social media sphere, like the Singtopia group on Facebook.
We hope you continue your journey, listening to others, sending positive feedback, favoriting other tracks, and welcoming others into your own Sing! World. So keep singing out. We, and thousands of other Sing! Members, want to hear you loud and clear!
– Keith Houston, Smule Q/A Engineer and Karaoke Host