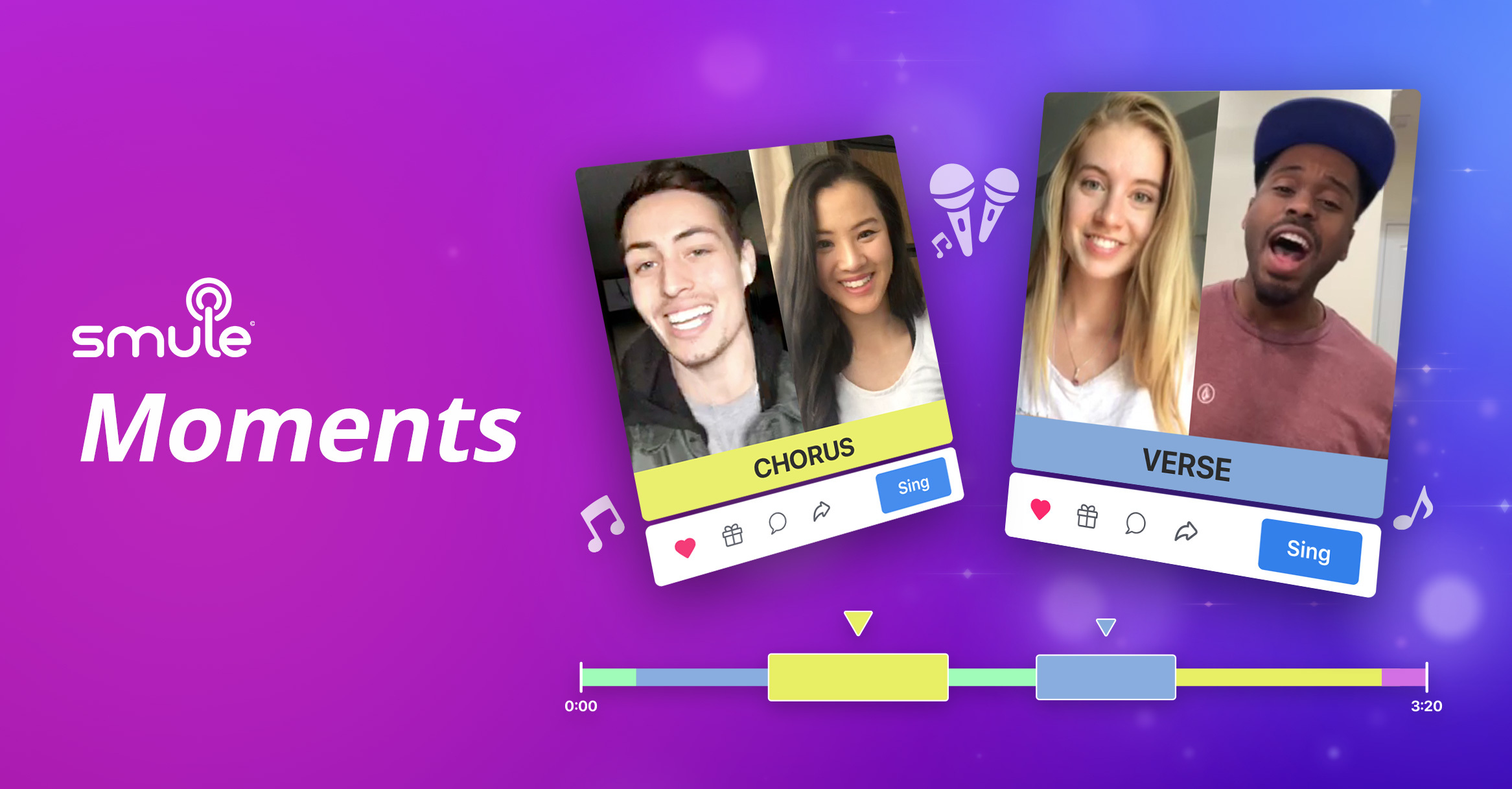 Smule Moments Out Now!
Hey, Smule Creators! Something special is on the way! We're excited to introduce Smule Moments, a flexible new way to sing and share music!
Now, you can skip to your favorite part when joining an invite and sing the lyrics you love the most. Get ready to share, watch, and celebrate your favorite Moments with the Smule Community!
We're always looking for innovative ways to add to the Smule experience you love. We want to give you more ways to sing together and enjoy songs. Moments put a fresh spin on recording and singing in Smule. Enjoy even more options to express your creativity!
What Are Smule Moments?
Smule Moments put you in control with the freedom to join and sing the part of the song you like the most. You can jump forward to the chorus, second verse, or sing whichever lyrics mean the most to you.
Moments give you more ways to create and collaborate! With shorter performances, you can connect and sing with more friends and popular artists for quick, meaningful duets of your favorite parts.
Moments make singing with a group easier than ever. Now you can create a Moment to decide which part of the group song you want to sing and skip forward to your part instead of waiting for your turn. With Moments, you get to experience the magic of a complete group performance faster, so you have time to sing and record more songs with your group!
Moments are a perfect way to try out new songs and add variety to popular tracks with your own unique expression! With Moments, you get more performance options from every song; sing the full title, or share your favorite parts in creative Moments. Use Moments to practice short parts of special songs before you record the full performance – or to sing the part that's stuck in your head!
You can record Moments to improve your singing or jump to the part of the song that gives you goosebumps. The best part about Moments is now you get to experience the songs you love to sing in a whole new way! You can find new special Moments in old favorites or new hits and record them again!
How Do Moments Work?
Recording a Moment is easy, so you can focus on having fun and singing!
Choose a song and join an invite.
Tap the music note on the right, then toggle the "Sing Entire Song" button on the bottom of your screen to turn it off and create a Moment.
Swipe and choose the part of the song you want to sing.
Tap start!
If you want to switch back to singing a full song, toggle the "Sing Entire Song" button back on!
Smule Moments is available on Android and iOS. We can't wait to watch performances of magical Moments from your favorite songs!
Learn more about Smule Moments here on our Q&A page, and don't forget to tag your Moments performance with #SmuleMoments!
Make your Moment with Smule!