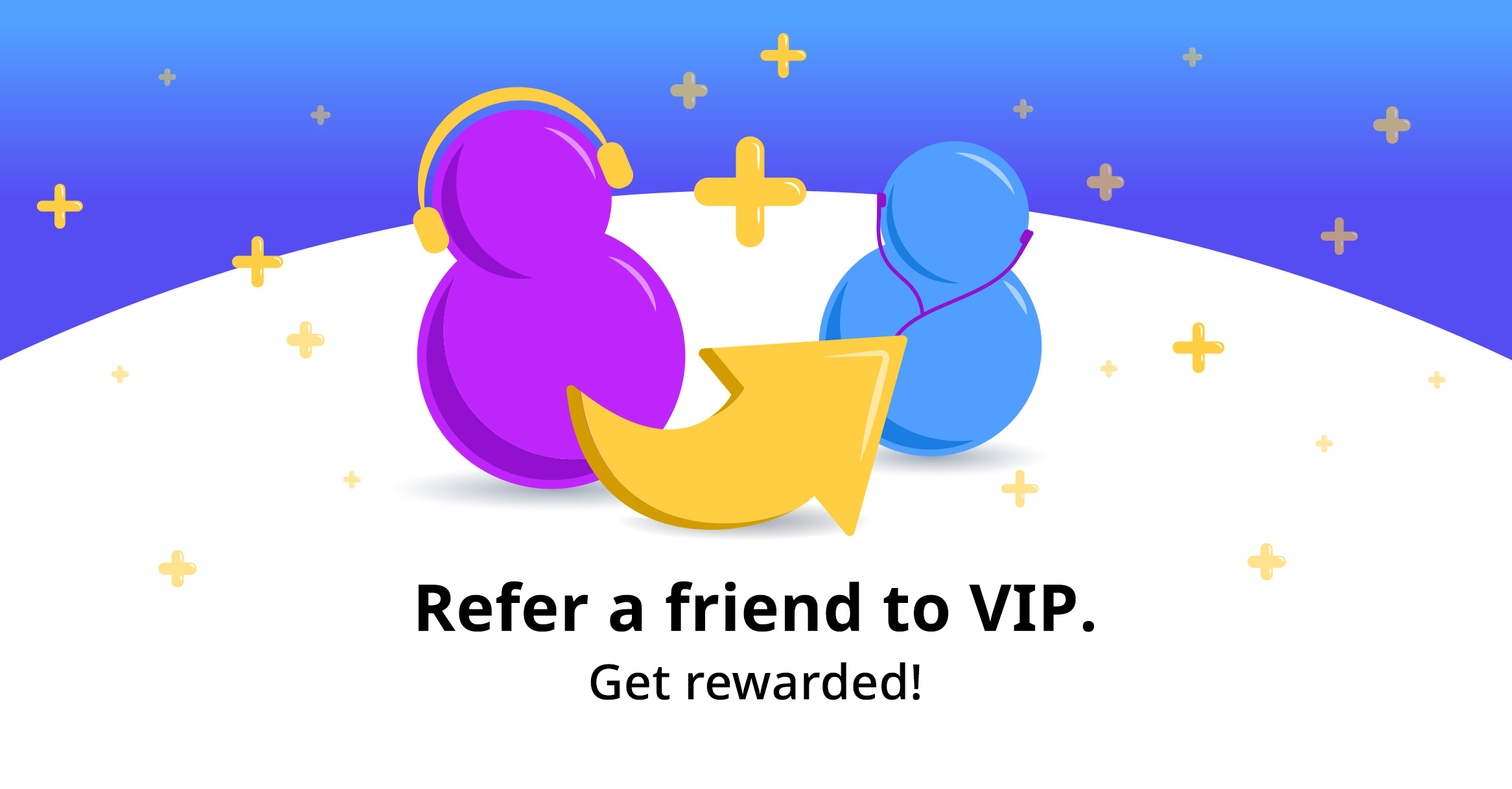 Out Now: Smule VIP Referral Program!
Now is the perfect time to invite your friends, family, and followers to be a VIP with the new Smule VIP referral program!
With the new Refer-A-Friend program, you can earn rewards while helping your friends get the most out of their Smule experience. You and your referred friends get 350 free Smule coins each when your friends subscribe using your referral link!
How Does the Refer-a-Friend Program Work?
When someone purchases a three (3) month or one (1) year-VIP subscription using your unique referral link, you and your friend will immediately receive 350 Smule coins each. Use coins to send expressive gifts and show how much you love your favorite performances. Gifts are a thoughtful way to say hello and start a new friendship or spark a collaboration!
Everyone's welcome to the Refer-A-Friend program! You can share your referral link with friends who are new to Smule and existing members who want to experience the benefits of VIP with free bonus coins. There's no limit to how many people you can invite to become VIP. Use your referral link as many times as you like! You don't have to be a VIP to participate; both VIP and non-VIP Smule members can share their unique link and earn free coins!
How Can I Refer a Friend to VIP?
It's easy! Watch this video or follow the steps below:
Log into your account on smule.com/refer-a-friend to find your referral link. *NOTE: Your unique referral link can only be found on the Smule website, NOT in the app.
Share your link with anyone you like and tell them all about the benefits of being a VIP:
Unlimited Songs and Solos
VIP access on both iOS & Android
No Ads
Customized Profiles
Your friend uses your VIP referral link to subscribe to three (3) months or one (1) year of VIP.
As soon as the transaction is complete, you both receive 350 Smule coins for free!
You can keep track of your referrals and rewards on your profile in the VIP referrals section on the Smule website.
Use your coins to send cool gifts and show love for your favorite performances and performers.
Make sure to tell everyone you refer that they must complete their VIP subscription on the payment page that opens when they click your referral link, so you get credit for the referral as well as your reward.
The Refer-A-Friend Program starts today, so head over to smule.com/refer-a-friend, login into your profile to find your referral code, share, and start earning free coins with new VIP members!
If you have any questions, please contact support@smule.com.