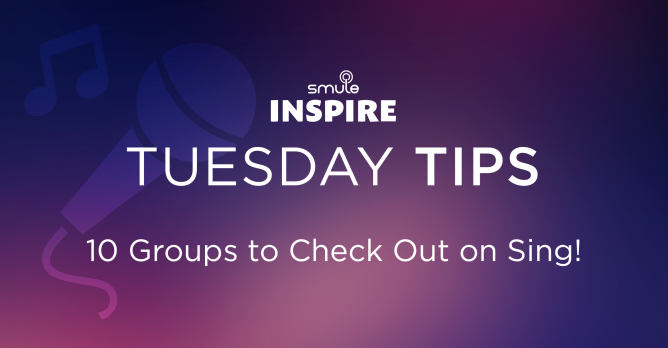 Tuesday Tips: 10 groups to check out on Smule
Tuesday Tips: 10 groups to check on Smule Today
Tuesday Tips is part of our Smule Inspire program. Through shared performances, tips, guest blog posts by veteran users, we hope that Smule Inspire will do just as its name implies: inspire all users in the community – to connect, collaborate, and create music together … ultimately to have the best experience possible on Smule.
There are thousands of groups on Smule – and many groups that are specific to one type of genre, culture and more. From msucials to jazz – there is a group for you. This week we are highlights from some Smule groups and please feel free to email community@smule.com if you want to be apart of the next highlight! <3
Sing Republic is a group mostly based out of LA with many talented singers! Not only do they sing ALOT, but they often have meet ups with they sing (and dance, too)
Too Cool For SChool (2C4S) (@jdubdav) 
Fun performances, challenges and never ending laughs. This group does #wiggywiggywednesdays, 2cool4smule Idol and other engaging talk shows.
Every imagine Halloween EVERY.SINGLE.DAY. Dream come true. Now you can dress up and sing with friends.
Love musical Theater? This is the stop for you! They are extremely active and find joy acting, singing and theater.
What's more beautiful than the original version? An acoustic 😉

A place where "Jazzters" or jazz lovers can collaborate on songs – specifically jazz. 😉
A group of talented individuals who brings in a unique style and contributes equally.

Perfect for Disney lovers – also, a groups of incredibly talented artists singing good ol' Disney songs!
Smulelippines (@Smulelippines) 
A Filipino group holding the same passion for singing, with members residing in USA, Asia, and Europe.

Holding a mission to create long-lasting friendships, while sharing the experience to sing together, Vortex has built this as their foundation since April 2015!
If you have a question you'd like to ask or even a topic you'd like to learn more about, please fill out the form on the Smule Inspire page!