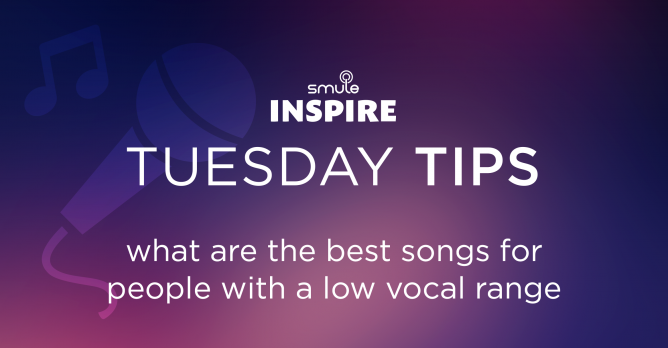 Tuesday Tips: Best songs for people with a low vocal range
What is the best songs for people with a low vocal range?
Tuesday Tips is part of our Smule Inspire program. Through shared performances, tips, guest blog posts by veteran users, we hope that Smule Inspire will do just as its name implies: inspire all users in the community – to connect, collaborate, and create music together … ultimately to have the best experience possible on Smule.
"You can make almost anything fit your range. I cheat this way, like A LOT. Just dropping things down an octave, and calling it the chill version lol, or just switch it up, and do your own thing. Music is always open for creativity I feel." –xYego
"Pretty much exactly what Diego said. There are also songs on Smule that are manipulated to be a bit lower. Look for songs that are titled 'Male key'." – Shane_TV
"Male country songs, man I cannot do those justice. lol." –JeffreyAKG_TV
"Sometimes if a song is out of my range I'll try the acoustic version. I think acoustic versions are more forgiving when you're trying to fit songs to your range." –Sarah_TV
"Country songs are always great for lower register males voices. Choosing any acoustic version is always a lot easier to play around with and do your own thing. And if all that fails a lot of the songs on Smule someone has uploaded a 'lower key' instrumental of almost every popular song. Give them a shot and have fun." –Dearhead
" 'Un-Break My Heart' Toni Braxton. Anything by Josh Turner. Best suggestion: Google 'lower voice songs.' Haha, I mean, in this day and age, that's the fastest way to find answers." –Hoonhans_DavidK
"I agree with Diego, you can choose any song just sing down an octave! Keep in mind Some times a male song down an octave is too low to get any power behind it, so try a female song an octave lower!" –MikeScott_TV
If you have a question you'd like to ask or even a topic you'd like to learn more about, please fill out the form on the
Smule Inspire page
!