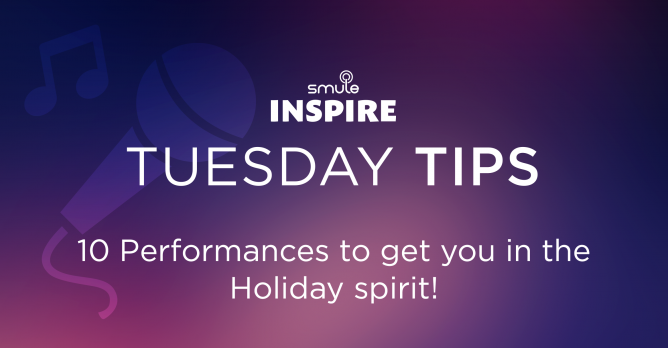 Tuesday Tips – Get into the Holiday Spirit with these 10 performances
Tuesday Tips is part of our Smule Inspire program. Through shared performances, tips, guest blog posts by veteran users, we hope that Smule Inspire will do just as its name implies: inspire all users in the community – to connect, collaborate, and create music together … ultimately to have the best experience possible on Smule.
Check them out and Happy holidays from our Smule family to yours! :))
Silent Night
Don't Worry Be Happy
Carol of the Bells 
Do you want to build a snowman?
Little Drummer Boy
Up on the housetop
Winter Wonderland
A Christmas Mashup
Let it Snow (Jazz) 
Jingle Bells
If you have a question you'd like to ask or even a topic you'd like to learn more about, please fill out the form on the Smule Inspire page!
[yotuwp type="playlist" id="PL6TgH56UtRsN7dOznTUiytzE4_TAx7t5k" ]