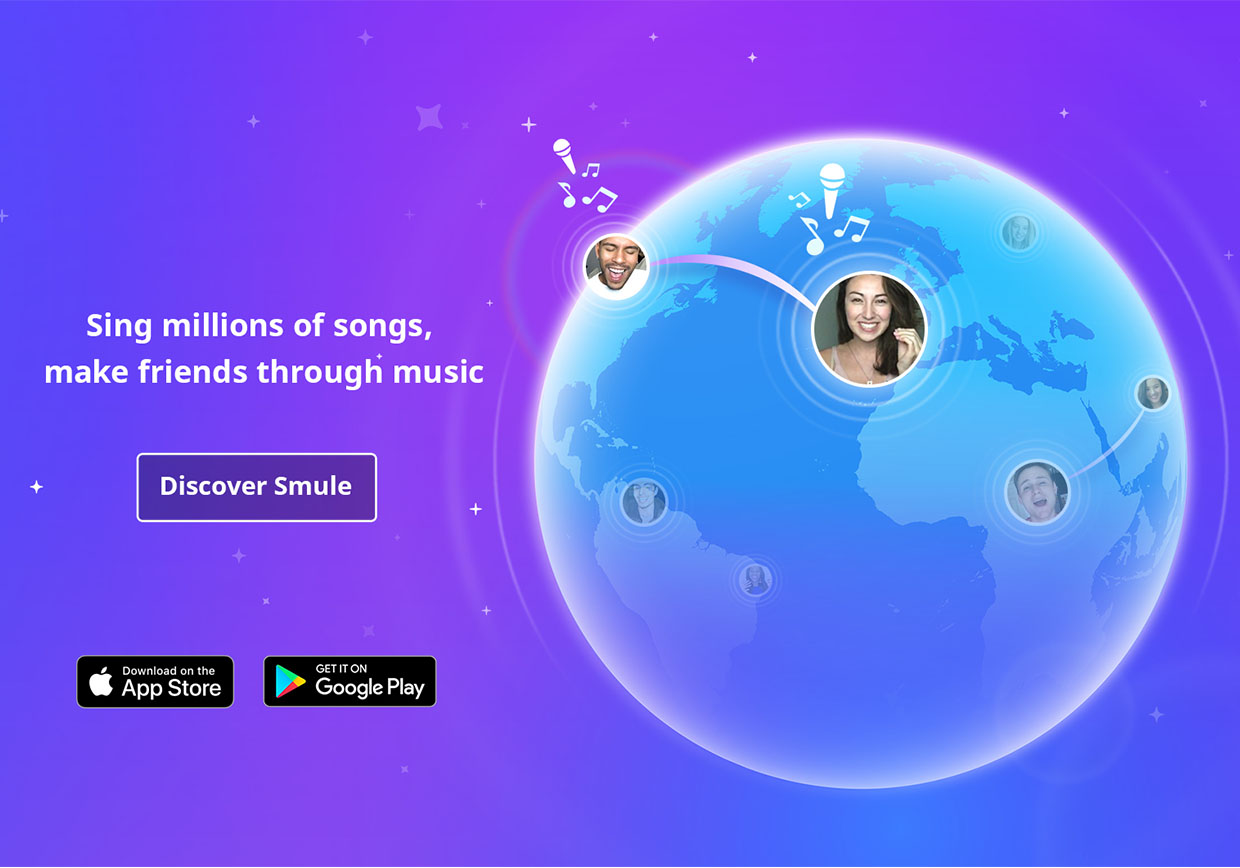 #WorldCup Terms of Conditions (English and Portuguese)
Contest Rules:
Smule Inc., 139 Townsend Street, Suite 300, San Francisco, CA 94107
Smule, Inc.
NO PURCHASE IS NECESSARY TO ENTER OR WIN. A PURCHASE DOES NOT INCREASE THE CHANCES OF WINNING.
Eligibility: This Campaign is open only to those who with an active Smule account and who are 18 as of the date of entry. The Campaign is only open to legal residents of Brazil, and is void where prohibited by law. Employees of Smule, its affiliates, subsidiaries, advertising and promotion agencies, and suppliers, (collectively the "Employees"), and immediate family members and/or those living in the same household of Employees are not eligible to participate in the Campaign. The Campaign is subject to all applicable federal, state, and local laws and regulations. Void where prohibited. Your Smule account is subject to the Terms of Service located at

https://www.smule.com/en/termsofservice

.

Agreement to Rules: By participating, the

Participant

("You") agree to be fully unconditionally bound by these Rules, and You represent and warrant that You meet the eligibility requirements. In addition, You agree to accept the decisions of Smule as final and binding as it relates to the content of this Campaign.

Campaign Period: Entries will be accepted online starting June 22, 2018 and ending on June 30 2018. All online entries must be received by June 30, 2018 (Pacific Time).

How to Enter: The Campaign must be entered by creating a Smule profile (if you are new to the platform) or logging into your existing Smule profile (if you have an existing account) and loving, sharing, commenting or joining ("Action") any song on the #

WorldCup playlist

. You may participate in the Campaign 3000 times (with each Action counting as one) albeit: (a) only from one (1) Smule account, entries from multiple Smule accounts found to belong to you or with the use of bots, macros, scripts, or other technical means may be disqualified at the sole discretion of Smule. The entry must fulfill all Campaign requirements, as specified, to be eligible to win a prize. Entries that are incomplete or do not adhere to the rules or specifications may be disqualified at the sole discretion of Smule. Your submission may be removed from eligibility at the sole discretion of Smule.

Prizes:

The Winner(s) of the Campaign (the "Winner") will receive two (2) round trip economy flights to Russia from Brazil to the maximum value of five thousand dollars ($5,000 USD). Actual/appraised value may differ at time of prize award. The specifics of the prize shall be solely determined by Smule. No cash or other prize substitution shall be permitted except at Smule discretion. The prize is non-transferable. Any and all prize-related expenses, including without limitation any and all federal, state, and/or local taxes, shall be the sole responsibility of Winner. No substitution of prize or transfer/assignment of prize to others or request for the cash equivalent by Winner is permitted. Acceptance of prize constitutes permission for Smule to use Winner's name, likeness, and entry for purposes of advertising and trade without further compensation, unless prohibited by law.

Participants of the campaign may also enter to win the following: 3 – One Year VIP, 10 – One Month VIP, or 100 – One Week VIP! The winners will be randomly selected and Smule will reach out via in-app or email within 5 days of selecting winner. Winner has 30 days to respond – if winner already has VIP, then winner can gift to a friend.

Odds: The odds of winning depend on the number of eligible entries received.

Winner Selection and Notification: Winner will be randomly selected by Smule. Winner will be notified via the email (associated with their Smule account) within five (5) days following selection of Winner. Smule shall have no liability for Winner's failure to receive notices due to spam, junk e-mail or other security settings or for Winner's provision of incorrect or otherwise non-functioning contact information. If Winner cannot be contacted, is ineligible, fails to claim the prize within 30 days from the time award notification was sent, or fails to timely return a completed and executed declaration and release as required, the prize may be forfeited and an alternate Winner selected. Receipt by Winner of the prize offered in this Campaign is conditioned upon compliance with any and all federal, state, and local laws and regulations. ANY VIOLATION OF THESE OFFICIAL RULES BY WINNER (AT SMULE SOLE DISCRETION) WILL RESULT IN WINNER'S DISQUALIFICATION AS WINNER OF THE CAMPAIGN, AND ALL PRIVILEGES AS WINNER WILL BE IMMEDIATELY TERMINATED.

Rights Granted by You: By entering this content (e.g., photo, video, text, etc.), You understand and agree that Smule and Smule's licensees, successors, and assigns, shall have the right, where permitted by law, to print, publish, broadcast, distribute, and use in any media now known or hereafter developed, in perpetuity and throughout the World, without limitation, your entry, name, portrait, picture, voice, likeness, image, statements about the Campaign, and biographical information for news, publicity, information, trade, advertising, public relations, and promotional purposes. without any further compensation, notice, review, or consent. By entering this content, You represent and warrant that your entry is an original work of authorship, and does not violate any third party's proprietary or intellectual property rights. If your entry infringes upon the intellectual property right of another, You will be disqualified at the sole discretion of Smule. If the content of your entry is claimed to constitute infringement of any proprietary or intellectual proprietary rights of any third party, You shall, at your sole expense, defend or settle against such claims. You shall indemnify, defend, and hold harmless Smule from and against any suit, proceeding, claims, liability, loss, damage, costs or expense, which Smule may incur, suffer, or be required to pay arising out of such infringement or suspected infringement of any third party's right.

Terms & Conditions: Smule reserves the right, in its sole discretion, to cancel, terminate, modify or suspend the Campaign should virus, bug, non-authorized human intervention, fraud, or other cause beyond Smule's control corrupt or affect the administration, security, fairness, or proper conduct of the Campaign. In such case, Smule may select the Winner from all eligible entries received prior to and/or after (if appropriate) the action taken by Smule. Smule reserves the right, in its sole discretion, to disqualify any individual who tampers or attempts to tamper with the entry process or the operation of the Campaign or website or violates these Terms & Conditions. Smule has the right, in its sole discretion, to maintain the integrity of the Campaign, to void entries for any reason, including, but not limited to: multiple entries from the same user from different Smule accounts; multiple entries from the same computer in excess of that allowed by Campaign rules; or the use of bots, macros, scripts, or other technical means for entering. Any attempt by an entrant to deliberately damage any website or undermine the legitimate operation of the Campaign may be a violation of criminal and civil laws. Should such attempt be made, Smule reserves the right to seek damages to the fullest extent permitted by law.

Limitation of Liability: By entering, You agree to release and hold harmless Smule and its subsidiaries, affiliates, advertising and promotion agencies, partners, representatives, agents, successors, assigns, employees, officers, and directors from any liability, illness, injury, death, loss, litigation, claim, or damage that may occur, directly or indirectly, whether caused by negligence or not, from: (i) such entrant's participation in the Campaign and/or his/her acceptance, possession, use, or misuse of any prize or any portion thereof; (ii) technical failures of any kind, including but not limited to the malfunction of any computer, cable, network, hardware, or software, or other mechanical equipment; (iii) the unavailability or inaccessibility of any transmissions, telephone, or Internet service; (iv) unauthorized human intervention in any part of the entry process or the Promotion; (v) electronic or human error in the administration of the Promotion or the processing of entries.

Disputes: THIS CAMPAIGN IS GOVERNED BY THE LAWS OF USA AND California, WITHOUT RESPECT TO CONFLICT OF LAW DOCTRINES. As a condition of participating in this Campaign, participant agrees that any and all disputes that cannot be resolved between the parties, and causes of action arising out of or connected with this Campaign, shall be resolved individually, without resort to any form of class action, exclusively before a court located in California having jurisdiction. Further, in any such dispute, under no circumstances shall participant be permitted to obtain awards for, and hereby waives all rights to, punitive, incidental, or consequential damages, including reasonable attorney's fees, other than participant's actual out-of-pocket expenses (i.e. costs associated with entering this Campaign). Participant further waives all rights to have damages multiplied or increased.

Privacy Policy: Information submitted with an entry is subject to the Privacy Policy stated on the Smule website located at

https://www.smule.com/en/privacy

.

Sponsor: The Sponsor of the Campaign is Smule .

Facebook: The Campaign hosted by Smule is in no way sponsored, endorsed, administered by, or associated with Facebook.

By participating in the contest, You, the Contestant, have affirmatively reviewed, accepted, and agreed to all of the Official Rules & Regulations.
---
1) Elegibilidade: Esta Campanha está aberta apenas para aqueles que possuem uma conta Smule ativa e que tenham ao menos 18 anos a partir da data de entrada. A Campanha está aberta apenas a residentes legais do Brasil e é nula onde for proibida por lei. Os funcionários do Smule, suas afiliadas, subsidiárias, agências de propaganda e promoção e fornecedores (coletivamente, os "Funcionários") e membros da família imediata e / ou aqueles que moram na mesma casa de Funcionários não são elegíveis para participar da Campanha. A Campanha está sujeita a todas as leis e regulamentos federais, estaduais e locais aplicáveis. Não válido onde proibido. Sua conta Smule está sujeita aos Termos de Serviço localizados em https://www.smule.com/en/termsofservice.
2) Acordo às Regras: Ao participar, o Participante ("Você") concorda em estar totalmente incondicionalmente vinculado a estas Regras, e Você declara e garante que Você atende aos requisitos de elegibilidade. Além disso, você concorda em aceitar as decisões da Smule como finais e não irá contra elas, uma vez que se referem ao conteúdo desta campanha.
3) Período da campanha: as inscrições serão aceitas online a partir de 22 de junho de 2018 até 30 de junho de 2018. Todas as inscrições online devem ser recebidas até 30 de junho de 2018 (horário da Costa Oeste dos EUA, ou seja, 4 horas a menos que o horário de Brasília).
4) Como participar/entrar: A Campanha deve ser feita criando um perfil Smule (se você é novo na plataforma) ou entrando em seu perfil Smule existente (se você tiver uma conta existente) e curtindo, compartilhando, comentando ou entrando/cantando (aqui chamadas de "Ação") qualquer música na playlist #WorldCup. Você pode participar da Campanha 3000 vezes (com cada Ação contando como uma) embora (a) somente de uma (1) conta Smule; entradas de várias contas Smule pertencentes a você ou com o uso de bots, macros, scripts ou outros artifícios técnicos podem ser desclassificadas a critério exclusivo do Smule. A entrada deve cumprir com todos os requisitos da Campanha, conforme especificado, para ser elegível para ganhar o prêmio. As inscrições incompletas ou que não estejam de acordo com as regras ou especificações podem ser desqualificadas a critério exclusivo do Smule. Sua participação pode ser considerada inelegível a critério exclusivo do Smule.
5) Prêmios: O(s) Vencedor(es) da Campanha (o "Vencedor") receberá duas (2) passagens de ida e volta do Brasil para a Rússia em classe econômica até o valor máximo de cinco mil dólares (US $ 5.000). O valor real / avaliado pode diferir no momento da premiação. As especificidades do prêmio serão determinadas exclusivamente pelo Smule. Nenhuma retirada do valor em dinheiro ou outra substituição de prêmio será permitida, exceto a critério do Smule. O prêmio é intransferível. Toda e qualquer despesa relacionada ao prêmios, incluindo, sem limitação, todos e quaisquer impostos federais, estaduais e / ou locais, será de responsabilidade exclusiva do Vencedor. Não é permitida nenhuma substituição de prêmio ou transferência / atribuição de prêmio a outras pessoas ou a solicitação do equivalente em dinheiro pelo Vencedor. A aceitação do prêmio constitui uma permissão para que o Smule use o nome, imagem e participação/entrada do Vencedor para fins de publicidade e comércio, sem compensação adicional, a menos que seja proibido por lei.
6) Probabilidades: as probabilidades de ganhar dependem do número de entradas elegíveis recebidas.
7) Seleção e Notificação do Vencedor: O vencedor será selecionado aleatoriamente pelo Smule. O vencedor será notificado através do email (associado à sua conta Smule) no prazo de cinco (5) dias após a seleção do vencedor. O Smule não se responsabilizará pelo fato de o Vencedor não receber avisos devido a spam, lixo eletrônico ou outras configurações de segurança ou pelo fornecimento, pelo Vencedor, de informações de contato incorretas ou que não funcionem. Se o Vencedor não puder ser contatado, não for elegível, não reivindicar o prêmio dentro de 30 dias a partir do momento em que a notificação de premiação tiver sido enviada ou não enviar ao Smule, em tempo hábil, uma declaração preenchida e assinada conforme necessário, o prêmio poderá ser perdido e um vencedor alternativo selecionado . O recebimento, pelo Vencedor, do prêmio oferecido nesta Campanha está condicionado ao cumprimento de todas e quaisquer leis e regulamentos federais, estaduais e locais. QUALQUER VIOLAÇÃO DESTAS REGRAS OFICIAIS PELO VENCEDOR (A CRITÉRIO EXCLUSIVO DO SMULE) RESULTARÁ NA DESQUALIFICAÇÃO DO VENCEDOR COMO VENCEDOR DA CAMPANHA, E TODOS OS PRIVILÉGIOS COMO VENCEDOR SERÃO IMEDIATAMENTE CANCELADOS.
8)Direitos Concedidos por Você: Ao inserir-se neste conteúdo (por exemplo, foto, vídeo, texto, etc.), você entende e concorda que o Smule e os licenciados, sucessores e cessionários do Smule terão o direito, quando permitido por lei, de imprimir, publicar, difundir, distribuir e usar em qualquer mídia agora conhecida ou futuramente desenvolvida, em perpetuidade e em todo o mundo, sem limitação, sua inscrição, nome, retrato, foto, voz, imagem, declarações sobre a Campanha e informações biográficas para notícias, publicidade, informação, comércio, publicidade, relações públicas e fins promocionais, sem qualquer compensação adicional, aviso, revisão ou consentimento. Ao inserir-se neste conteúdo, você declara e garante que sua inscrição é uma obra original de autoria e não viola os direitos de propriedade intelectual ou de propriedade de terceiros. Se a sua entrada infringe o direito de propriedade intelectual de outra pessoa, você será desclassificado a critério exclusivo do Smule. Se o conteúdo de sua inscrição for considerado uma violação de quaisquer direitos de propriedade intelectual ou de propriedade intelectual de terceiros, Você deverá, a seu custo exclusivo, defender ou resolver essas reclamações. Você indenizará, defenderá e isentará o Smule de qualquer ação judicial, processo, reclamação, responsabilidade, perda, dano, custos ou despesas, que o Smule possa incorrer, sofrer ou ser obrigado a pagar decorrentes de tal infração ou suspeita de infração. de qualquer direito de terceiros.
9) Termos e Condições: O Smule se reserva o direito, a seu exclusivo critério, de cancelar, encerrar, modificar ou suspender a Campanha caso vírus, bug, intervenção humana não autorizada, fraude ou outra causa, fora do controle do Smule, corrompam ou afetem a administração, segurança , imparcialidade ou conduta adequada da Campanha. Nesse caso, o Smule pode selecionar o vencedor de todas as inscrições qualificadas recebidas antes e / ou depois (se apropriado) da ação tomada pelo Smule. O Smule se reserva o direito, a seu exclusivo critério, de desqualificar qualquer indivíduo que falsifique ou tente adulterar o processo de inscrição ou a operação da Campanha ou do site ou viole estes Termos e Condições. O Smule tem o direito, a seu exclusivo critério, de manter a integridade da Campanha, de anular participações/entradas por qualquer motivo, incluindo, mas não limitado a: múltiplas entradas do mesmo usuário de diferentes contas Smule; várias entradas do mesmo computador além daquelas permitidas pelas regras da Campanha; ou o uso de bots, macros, scripts ou outros meios técnicos para participar/entrar. Qualquer tentativa de um participante de prejudicar deliberadamente qualquer site ou prejudicar a operação legítima da Campanha pode ser uma violação das leis civis e criminais. Caso tal tentativa seja feita, o Smule reserva-se o direito de pedir indenização em toda a extensão permitida por lei.
10) Limitação de Responsabilidade: Ao participar/entrar, você concorda em liberar e isentar o Smule e suas subsidiárias, afiliadas, agências de publicidade e promoção, parceiros, representantes, agentes, sucessores, cessionários, funcionários, diretores e diretores de qualquer responsabilidade, doença, lesão, morte, perda, litígio, reclamação ou dano que possa ocorrer, direta ou indiretamente, seja causado por negligência ou não, de: (i) participação do participante na Campanha e / ou sua aceitação, posse, uso ou uso indevido; de qualquer prêmio ou qualquer parte dele; (ii) falhas técnicas de qualquer tipo, incluindo, entre outras, o mau funcionamento de qualquer computador, cabo, rede, hardware ou software ou outro equipamento mecânico; (iii) a indisponibilidade ou inacessibilidade de quaisquer transmissões, telefone ou serviço de Internet; (iv) intervenção humana não autorizada em qualquer parte do processo de inscrição ou na Promoção; (v) erro eletrônico ou humano na administração da Promoção ou no processamento de inscrições.
11) Disputas: ESTA CAMPANHA É REGIDA PELAS LEIS DOS EUA E DA Califórnia, SEM RELAÇÃO AOS CONFLITOS DAS LEIS DOUTRINÁRIAS. Como condição para participar desta Campanha, o participante concorda que toda e qualquer controvérsia que não possa ser resolvida entre as partes, e as causas de ação decorrentes ou relacionadas com esta Campanha, será resolvida individualmente, sem recorrer a qualquer forma de ação coletiva, exclusivamente perante jurisdição de um tribunal localizado na Califórnia. Além disso, em qualquer disputa, sob nenhuma circunstância o participante poderá obter prêmios por, e por meio deste renuncia a todos os direitos a danos punitivos, incidentais ou conseqüenciais, incluindo honorários advocatícios razoáveis, além das despesas reais do participante (ou seja, custos associados a entrar nesta Campanha). O participante também renuncia a todos os direitos para que os danos sejam multiplicados ou aumentados.
12) Política de Privacidade: As informações enviadas com uma entrada estão sujeitas à Política de Privacidade indicada no site do Smule, localizado em https://www.smule.com/pt/privacy.
13) Patrocinador: O Patrocinador da Campanha é o Smule.
14) Facebook: A Campanha hospedada pelo Smule não é de forma alguma patrocinada, endossada, administrada ou associada ao Facebook.
15) Ao participar do concurso, Você, o Concorrente, revisou, aceitou e concordou com todas as Regras e Regulamentos Oficiais.