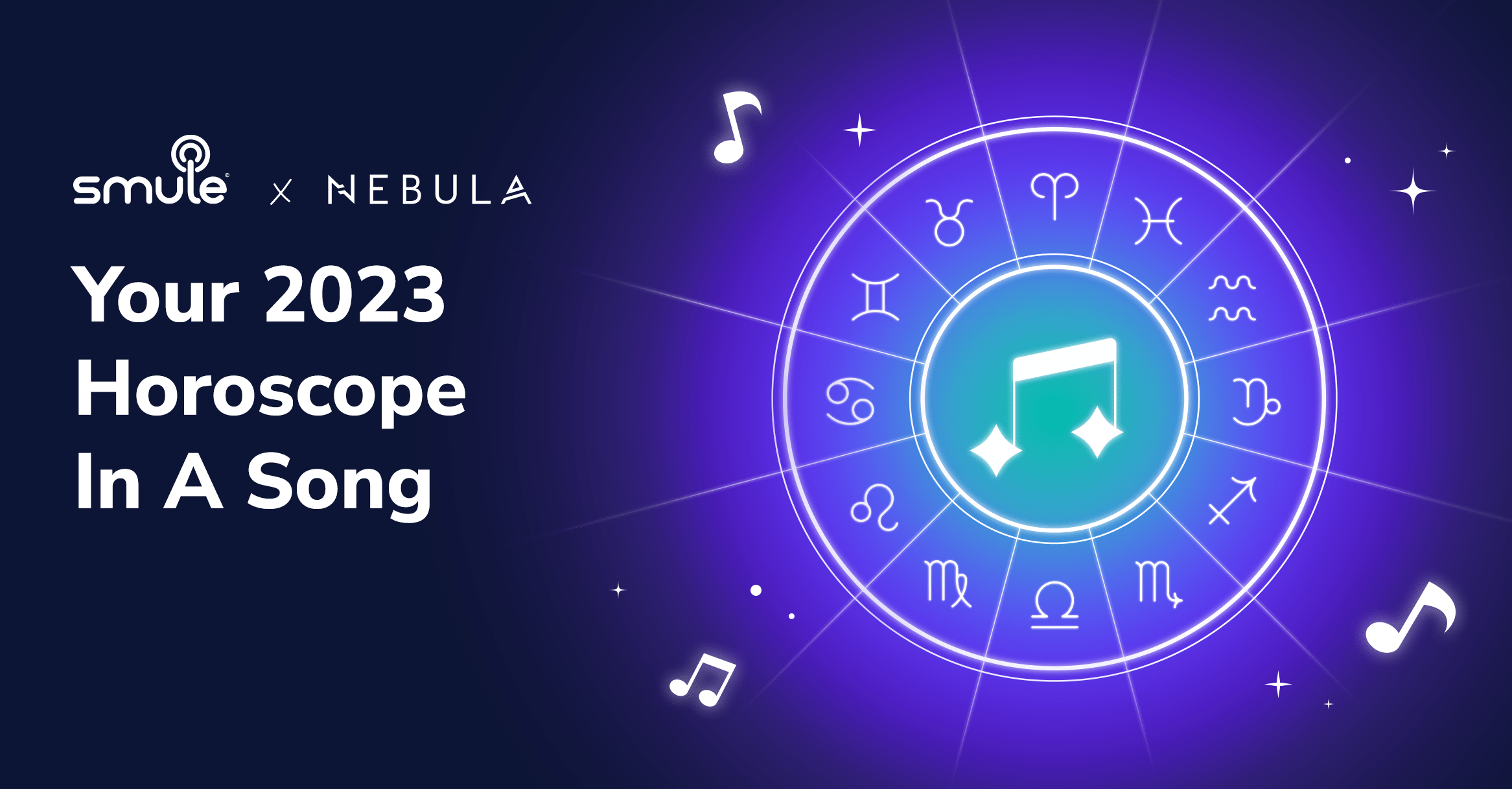 2023 Horoscope in a Song: Nebula x Smule
The new year is here and we're looking for ways to set the tone for 2023!
Astrology and music come together to bring us the perfect solution – a 2023 Horoscope In A Song! ⭐
Smule has partnered with Nebula, one of the global most popular astrology platforms, to create a unique experience that allows you to sing a song that reflects your astrological predictions for the new year.
By combining the power of music and astrology, you can now express your outlook for the future with a personalized song.
Find your sign below to reveal your 2023 prediction and song.
Aries
Whatever may have brought you down in the past year has only shown the parts of you that you were yet to discover and made you invincible to failure.
The year 2023 is about overcoming obstacles and clearing your path toward achieving your dreams and goals. No place is hopeless if you're there, Aries!
Taurus
You love helping people and try to be there for everyone. Sometimes, you view this as your duty or even your greater purpose, so you miss the part when you enjoy bonding with others through acts of service and kindness.
Your 2023 is about learning to be grateful to yourself and others who fill your life with joy, love, and wisdom.
Gemini
You're about to be reminded that you are the protagonist of your life, and it's about time you stopped standing in the corner watching others go get it.
The year 2023 is about pushing boundaries and conquering new horizons. You will be an unstoppable force, Gemini! Believe in yourself and your abilities. You have what it takes to cope with everything by yourself. Nevertheless, try not to shy away from help offered by the people who genuinely care about you.
Cancer
True love can never die. You know it better than anyone, Cancer. Remember what you love doing the most, and go for it in 2023.
The new year is full of chances to achieve ambitions that have been for a long time your passion. Tap into your most hidden desires and dreams and turn them into reality! Don't give up on what makes your heart go on and on.
Leo
"Believe the very best," Leo! Stay optimistic and encourage yourself and others to aspire for the new and the better.
2023 will give you plenty of opportunities to show your strength and best qualities. You're a born leader, and the incredible confidence you naturally exude will take you places! Just remember to take action and do the things you love.
Virgo
The best thing you can do in 2023 is to leave your comfort zone and push yourself toward new success. Exploring the world is much more fun when you do this with a special someone by your side, though, and you do stand a chance of starting a fairytale romance this year!
Yes, this year is about feelings! Let kindness and love transform your life and open "a whole new world" to you.
Libra
It's in your nature to want to please people, and sometimes you even give up your ambition for the sake of others. Enough is enough!
2023 is a year to set yourself free and do what you want, as opposed to what is expected. Have fun, let love into your life, and dive into new adventures. You will have support from the people you love, whatever passion you decide to pursue.
Scorpio
Ain't nothing but healthy boundaries this year. At work. In relationships. Anywhere.
The year 2023 is about setting limits that will protect you from unwanted stress and tension and give you the energy to form closer ties with the people you love. Make it all about you and your loyal allies.
Sagittarius
How about letting some magic into your life? If you don't usually manifest, 2023 is the time to start. Reconnect with your inner child and create the life you have always imagined.
2023 is about fulfilling your deepest desires. You don't know the word "impossible," Sagittarius, and rightly so. Keep fighting against any limitations in your life, and never give up!
Capricorn
As an earth sign, you're so good at appreciating beauty and staying connected to the material world. Try to tap into the most sensual parts of yourself, Capricorn, as 2023 is about enjoying the little things in life.
This year you will grow and mature in many areas of your life and reap the fruit of your hard work. Just trust the process and enjoy this wonderful life.
Aquarius
No fears, no apologies. Keep marching to the beat you drum, Aquarius. The year 2023 projects your plans into reality. You will be able to find the inspiration that will help you open new horizons and widen your perspectives. You definitely plan to leave a legacy in the world.
This year is the time to put your grand plans into action.
Pisces
You're idealistic to the core, Pisces, and it may be hard for you to deal with mundane issues. Yet, you still pull it off and navigate life in the highly competitive world.
2023 is the year to be yourself, which means you should let yourself dream and make your dreams a reality. The efforts you put in will be rewarded, and you'll get a chance to discover an achiever within yourself.
Happy with your prediction?
Head to @SmuleGlobal's profile on Smule to sing your way into the future. ✨