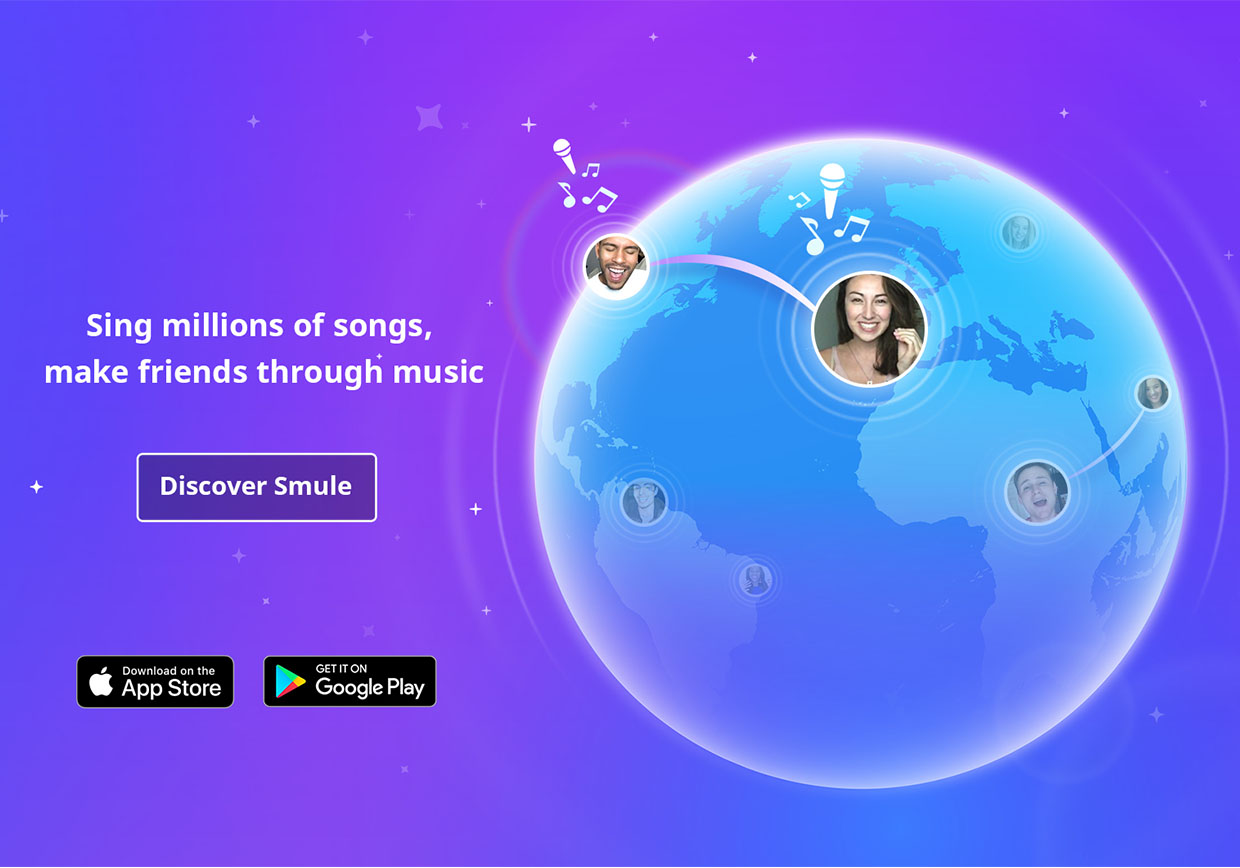 Group Video FAQ
Group Video FAQ
What is Group Video?
Group Video is a new feature in Sing! Karaoke that enables you to sing and act with multiple singers in a single, evolving performance. Your individual recording becomes a piece of a massive ensemble. Your video is mashed up with other singers' videos to create the ultimate performance.
How do I create a Group Video?
Simply select the song you'd like to sing and tap on "Group." Then, switch the video toggle from OFF to ON.
How do I join someone else's Group Video?
If you've been invited by a friend, you'll see a message on the Invites screen. Otherwise, you may browse the Hot Recordings, Feed, or Open Call pages to find public performances. When you start your recording, you'll hear not only the backing track of the song but also many of the other singers who have participated in the same recording. After you're done, save and upload your performance. That's it!
How do others join my Group Video?
Once you've recorded your first Group Video performance, you may invite your friends to join. Alternatively, if you saved your performance as a public performance, it becomes eligible to appear in the Feed of friends and strangers alike. They may discover your performance and surprise you by joining.
Why does my Group Video look different today than it did yesterday?
Your performance will continue to evolve as more singers join the Open Call. When you create a Group Video performance, you are enabling the world to interpret your work and perform alongside you. Prepare to be surprised by how different your Group Video sounds when it's finished.
How do FX (such as Selfie and Sepia) work with Group Videos?
The original Group Video Open Call creator has the option to set the Video FX that he or she wants to use. All joiners' recordings will automatically have the same Video FX applied.
What happens to my performance if I save early?
We can't guarantee that your recording will appear in the final video. But there's still a chance!
Why don't I see myself in the video I just joined?
Due to the sheer number of videos being combined and remixed, it may take a few moments for the Group Video you joined to process. You'll receive a notification when the new video is ready!
It says the maximum number of joins has been reached! What do I do?
The more joins we allow in a Group Video, the less face time each performer gets in the final video. Currently, each Group Video allows a maximum of 50 joins. If the performance has reached its join limit, try joining a different Group Video (or create your own!).
Am I allowed to join my own Group Video?
Yes, you can repeatedly join your own Group Video to create your own chorus.
How does Group Video work with Open Mic?
Open Mic is a unique experience because each singer can say or do whatever they want. With Open Mic Group Videos, the rules for transitions are slightly different. For the first 8 Group Video performers, the layouts will be static. This allows joiners to plan and script creative collaborations without having to worry about transitions getting in the way. Once the 9th person is added to the video, it will become a regular Group Video (with automatic transitions.) If you don't want transitions, limit your collaborations to 8 participants or fewer.
Can I change the video transitions or change who appears in my final video?
Not now. Please stay tuned.
Can I raise or lower the volume of previous singers' voices while I'm recording?
Not now. Please stay tuned.
Can I join a Group Video with audio only?
Yes, you may join a Group Video performance with only your voice. Your audio will be mixed into the chorus sections.
Is Group Video coming to Android?
The Android version of Sing! Karaoke currently does not support videos, but you can still add your voice to an existing Group Video performance. Your audio will be added to the chorus segments of the song. Stay tuned!