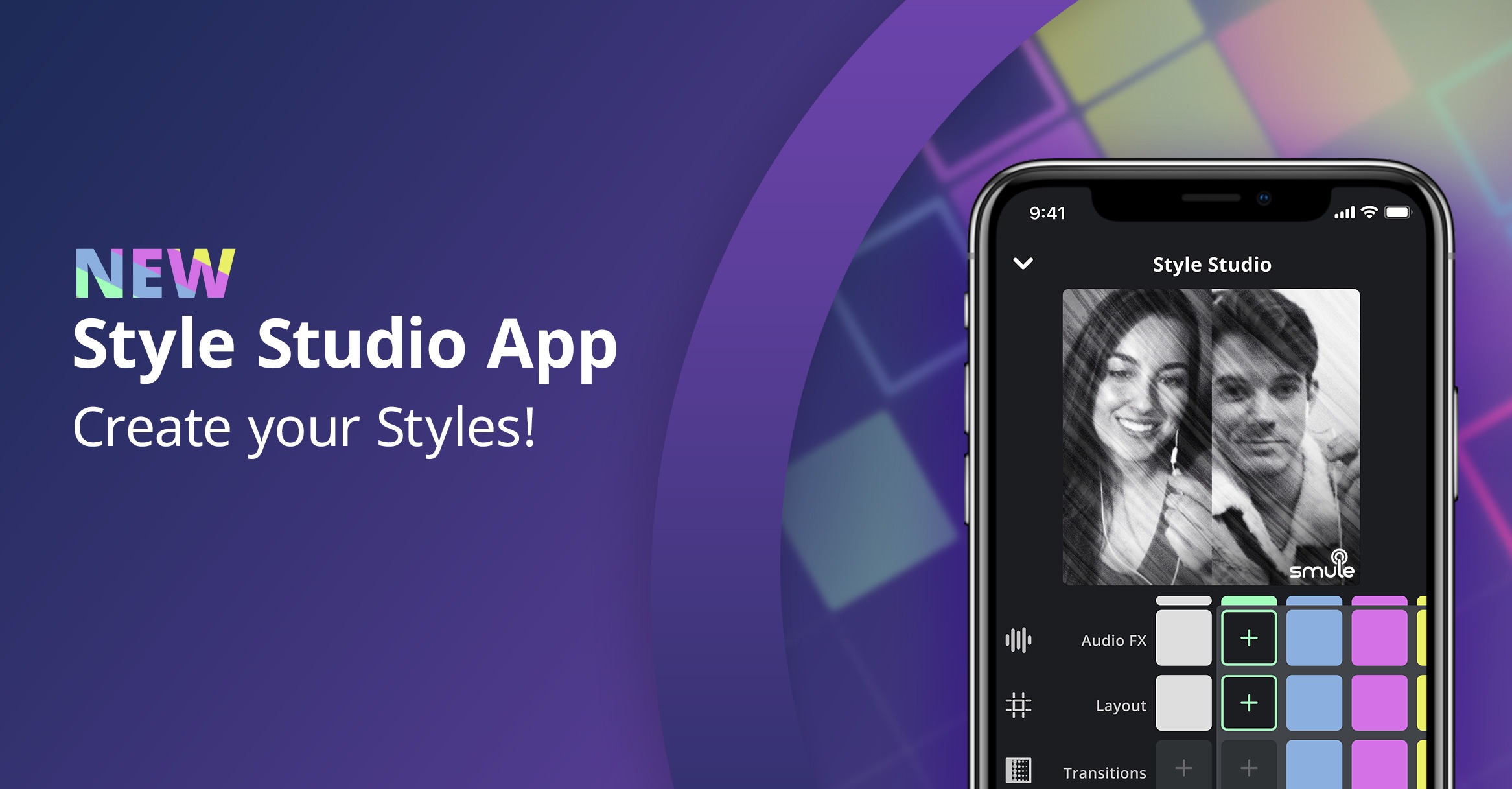 NEW Style Studio App: Create Your Own Styles to use in Smule!
Smule creators around the world, rejoice!
We're proud to announce the launch of Smule's new companion app for creating audio and video Styles – Style Studio. Now you can experience the joy of ultimate creative control as you shape the look and sound of your next Smule recording!
Because Styles are now elements of every performance, the Style Studio app provides the expanded customization you crave!
How does the Style Studio work?
New Styles act as customizable templates, broken up by song structure that can be applied to one, some, or all of your future recordings. They combine audio + visual elements to polish performances and add a music video vibe to any Smule recording. When creating, it's important to know that Styles are tied to segments of the song: intro, chorus, bridge, etc. This allows Styles to be used on multiple recordings or by other creators, regardless of their song choice! It's a great way to grow and engage with your audience as you share and appreciate Styles from singers around the globe.
How do I start creating Styles?
If you're ready to create a one-of-a-kind audio and video Style, all you need to do is download the Style Studio app (iOS, coming soon to Android). You'll have a pre-loaded performance to play with or you can use one of your own performances to help find what works for YOU. Each song segment is editable, but you don't have to customize each one! For your favorite effects, use the global effects option to apply one effect to every segment. It's your creative vision, so there is no wrong way to produce inside the Style Studio. Once you're finished, hit publish and share your masterpiece with the Smule community. Like-minded friends and fans will be able to sing along with your Style and share the creative love!
What features can I expect?
Audio effects add polish, smooth out reverb, add a bit of drama, set the tone, and highlight your voice
Layouts change how performers are displayed side-by-side with various orientations and shapes.
Transitions between segments can be as slow or dramatic as you want with fades, cuts, motion, and more.
Video effects include everything from soft filters to exploding stars and vibrant colors to add excitement or a touch of soft color.
Call attention to the dramatic moments you love or make subtle edits for a softer touch. No matter what your Style, your audience can see and feel a piece of YOU in every creation.
Style Studio productions aren't just Styles for you, they're an epic, shared singing experience for the entire community to see, share, and love.
Download the Style Studio app and start owning your Style.
We love to hear from you! If you have any feedback on the Style Studio, or general input on how we can improve your experience in Smule, feel free to share with us here.
If you have further questions, we've created an FAQ regarding the Style Studio, and as always, are available at support@smule.com.