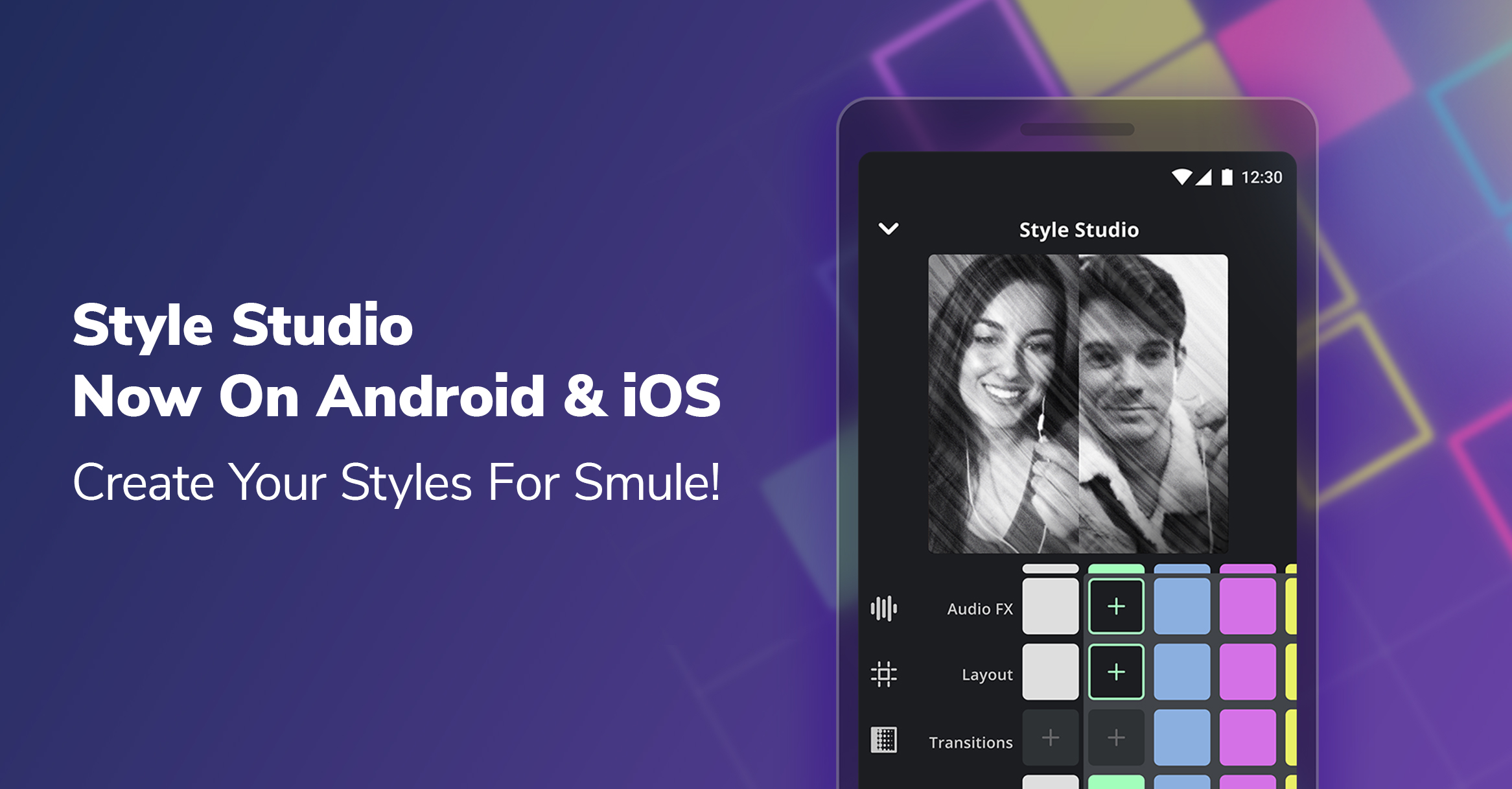 New: Style Studio For Android Is Here!
Hey Android users, we have some exciting news! Style Studio for Android is here! Awaken your inner producer and create outstanding performances with custom Styles designed by YOU with the Style Studio app!
With Style Studio, you'll have creative control over the look and sound of your recordings in Smule. The app offers a library with hundreds of adjustable audio and video effects. You can apply these effects based on song structure; add different effects to song segments like the chorus, bridge, or intro to make your recording more dynamic.
Elevate the creativity of your Smule performances. Let's dive into what you can do with the app!
How Does Style Studio for Android Work?
Styles are customizable templates built around song structure that can be applied to one, some, or all of your future recordings in Smule. Styles combine audio and video effects, video layouts, and transitions to boost the creative flair of your Smule performances!
Songs are pre-segmented when you create in Style Studio, so you can apply different audio and video effects to song segments, like the intro, chorus, and bridge. You can create a Style tailored to one song, or build a Style with your ideal look and sound to use on all of your Smule recordings.
Publish your Styles in Style Studio to share them with the Smule community, so other Smule members can sing and record using your custom Style! Need some inspiration? Check out the 'Discover' menu to browse Style created by fellow Style producers. You can adjust any Style you find in Style Studio and add your personal touch before you record with it in the Smule app!
How Do I Create Styles?
You can find a step-by-step guide to creating your first Style in the tutorial below.
Each song segment is editable but you don't have to customize each one! For your favorite effects, use the 'global effects option' to apply your chosen effect to every segment. It's all about bringing your creative vision to life – there's no wrong way to produce your Style! Once you're finished, hit publish and share your masterpiece with the Smule community. Like-minded friends and fans will be able to sing along with your Style and share the creative love!
Watch our tutorial for Style Studio here. You can choose subtitles in your language of choice in Settings.
Ready to create a Style? Just download the Style Studio on Android for free! You'll have a pre-loaded performance to play with, or you can use another performance of your choice to help find what works for YOU.
What's New In The Style Studio App?
In addition to the launch of Style Studio for Android, we have introduced new features in Style Studio on both Android and iOS!
Enhanced Privacy Features
Inspired by Community feedback, we're excited to introduce new privacy features to Style Studio. We're adding an option in your Smule settings that lets you choose to make your performances available on the 'Discover' tab in Style Studio.
You can turn the feature on in your Smule settings when you're ready to start sharing.
More Creative Control
Searching for performances in Style Studio is now easier! We're separating popular recordings from your existing recordings in the search window to make looking for performances more efficient.
Last but far from least, you have the opportunity to create your own Styles featuring Face FX, powered by Snap's Camera Kit! Add customizable make-up, accessories, costumes, and backgrounds to your visual effects, so you can spend less time getting camera-ready when you sing in Smule. Face FX are available on Style Studio for iOS, and are coming soon on Android.
We're beyond excited to see what Styles you produce to give that extra flavor to your Smule performances!
If you have any questions, feedback, or ideas to share, we encourage you to contact our Support Team! You can reach us by email or click here to send us a message.