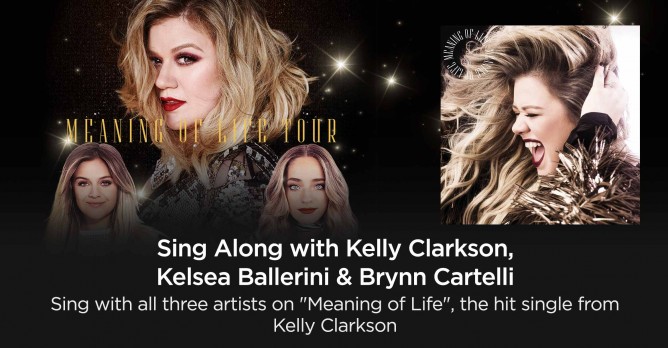 Sing "Meaning of Life" with Kelly Clarkson, Kelsea Ballerini and Brynn Carelli
Sing "Meaning of Life" with Kelly Clarkson, Kelsea Ballerini and Brynn Carelli
Today on Smule we welcome back Kelly Clarson, while brining on two new partner artists onbaord: Brynn Cartelli and Kerlsea Ballerini as part of their Meaning of Life Tour! You can check out their tour dates here to find a tour near you! We congratulate them on their tour and excited to support them!!
Click here to sing "Meaning of Life" with all three singers! 
Kelly Clarkson: A Grammy Award winning artist who we all know as the winner of American Idol in 2002 along with her hit song "Because of You"
Kerlsea Ballerini: An American country-pop singer and Grammy nominee for "Best New Artist." Last year she released her second albumUnapologetically, which she will sing on tour!
Brynn Cartelli: American singer who was winner of The Voice (season 14) – she became the youngest winner in history at the young age of 14.