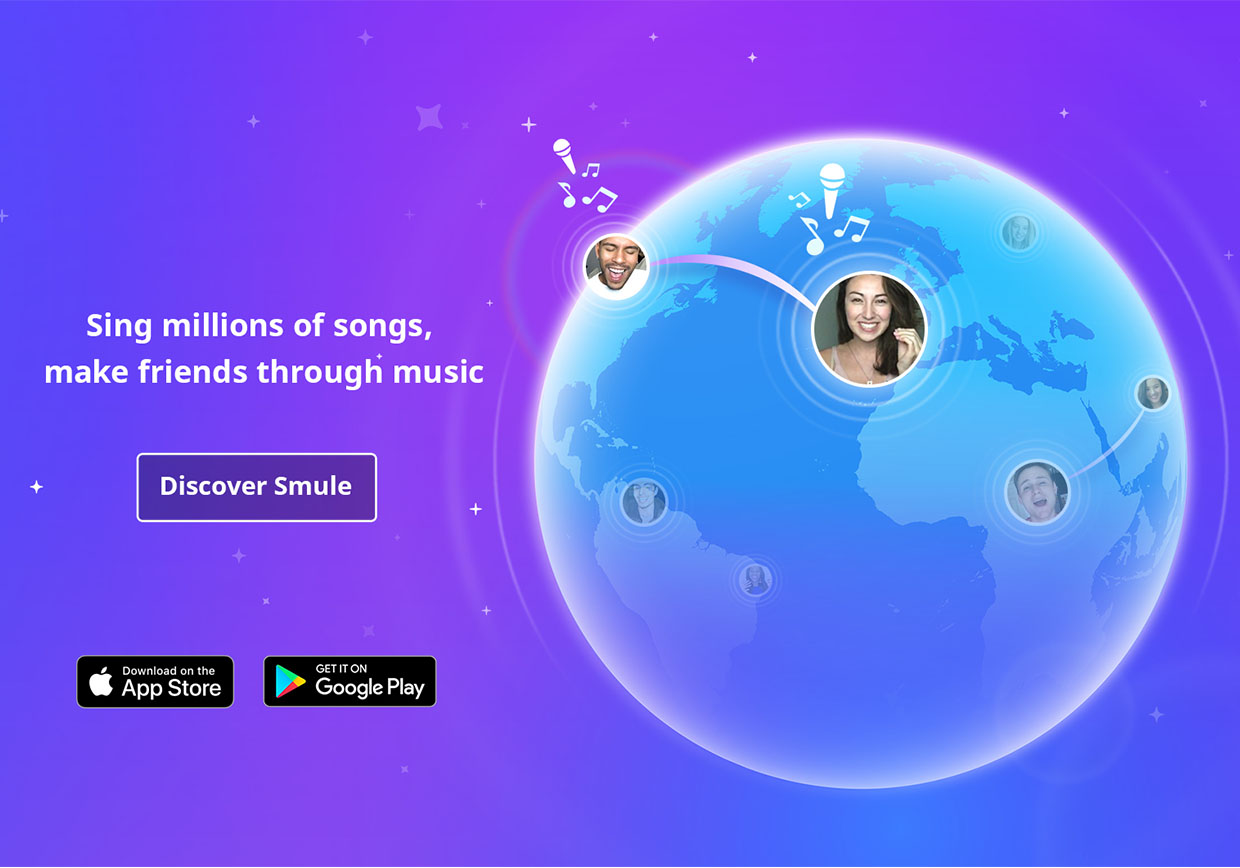 Smule Presents Original Mash-Up of One Call Away + Love Yourself
The Smule Presents program took a turn and did things a little differently this time around. In the Smule spirit of community, we invited 4 different community members spread around the globe to come together in a group collaboration. We decided to do our own mash-up of smash hits One Call Away and Love Yourself. And, for the first time, Smule Presents gathered our community singers together in the beautiful home of Smule – San Francisco!
There was Sarah Cleary from Oregon, Daniel Loeillot from Paris, France, JaeHwi Park from Seoul, South Korea, and Maddy Welsh from California. Though they had never met in person before — and JaeHwi only spoke Korean! — they managed to overcome cultural and language barriers through singing together, and became fast friends. We recorded the mash-up and shot the music video at Different Fur Recording Studio. Each of the singers had the opportunity to record and perform a solo song as well — Stay tuned for those videos in the coming months!
Want to be a part of Smule Presents? Click here to tell us about yourself!
More information on Smule Presents? Click here!
Read about the singers' thoughts below!
1) How was your overall experience?
Sarah – Getting to work with such amazing, talented, and creative people made the time go by like the experience was on fast-forward.
Daniel – Working with Smule was an absolute dream come true. And meeting 3 other singers was amazing. We had so much fun together. We were working a lot but in such a very fun mood!
JaeHwi – I was using the Sing! app like I normally do, singing songs that I love – then suddenly Smule was contacting me directly, and I was personally visiting their headquarters, meeting the Smule staff, and singing together with friends who may live in different countries but share the love of music. It made me happy and was a special experience. It feels like a summer night's dream that stays with you even after you wake up.
Maddy – My experience filming these videos and working with the incredibly talented cast members and the crew at Smule was amazing. I learned so much and am so grateful I got to be a part of it!
2) Did you experience any challenges?
Sarah – I didn't run into any challenges and I believe that's because of the talent and professionalism of the crew. They were so good about making sure we were taken care of and that we were on track for the next step in the video making process.
Daniel – Well, personally, English is not my native language so it was quite hard to speak as much as I wanted to sometimes! But it helped me so much speaking everyday, everyone was so understanding!
JaeHwi –  It was truly challenging. First off,  it was a big challenge for me to visit the North American continent for the first time ever! I was on a plane for a total of 25 hours, and I had to get adjusted to the time change…  I was happy to be able to muster the nerve to step outside of my comfort zone and grateful to Smule for all their support.
Maddy – It was definitely a little intimidating at first, working with such a talented group of people and just trying to keep up with them, but more than anything it was super inspiring and I feel blessed that I was chosen to work alongside them!
3) What was your favorite part?
Sarah – My favorite part of the trip was just really getting to spend time with the other singers, like trying to all pile into Uber cars or, while we were setting up to film the mash up video, Jaehwi, Maddy, Dan, and me had a "break out into Disney songs" moment. It was so much fun getting to know them, the band and the rest of the crew.
Daniel – I loved everything: recording and filming but my favorite part was definitely the very first rehearsal. We didn't know each other and we had to collaborate and be as connected as possible: be a real group. Personally I'm usually shy so I had to take that away, but this a memory I'll always keep.
JaeHwi – My favorite part was sitting altogether to shoot the music video. And my favorite part of the mash-up was the part with "Superman's got nothing on me." Even now, I think the lyrics are great. Thanks to Alyce, Chris, and the Smule staff I got to meet! If you ever go to Korea, I'll be your Superman!
Maddy – My favorite part of the project was probably seeing how everyone's different styles and attributes where brought together and complemented each other. Watching that play out was really cool.
4) How was it to travel to SF?
Sarah – When we weren't rehearsing, filming or recording, we were able to visit all the great spots in San Francisco, like Chinatown, Pier 39, the waterfront and all its great seafood, and of course Ghirardelli Square for those essential chocolate purchases.
Daniel – It was my first time there in SF! So I was super excited. We had a little time off so I visited the city and it was beautiful. I hope I'll come back very soon!
JaeHwi – Wow! The trip was totally fantastic! I've only ever traveled within Asia so I never really understood before the attraction of the US, but this trip really made it clear for me! I still look at the photos I took in San Francisco and smile. I want to go again!! <3
Maddy – I grew up in the Bay Area and live in Marin County right next to San Francisco, so the fact that a place so close to my heart was chosen as the location to film made me really proud.
5) Share a fun fact! 🙂
Sarah – The Mantis Shrimp has a supersonic punch that cracks crab shells (its victims) underwater. It also can see about 4-times more colors than the human eye. If you're wondering about a fun fact about myself, it's that I'm a science nerd and I can talk your ear off about the galaxy and astrophysics if ya let me!
Daniel – While waiting for the set-up and lighting and stuff, Maddie, Sarah, JaeHwi and I had a little game. I sang famous Disney songs in French and they had to guess which song it was! It was a lot of fun. Same melody but such a different result!
JaeHwi – On the ride from the recording studio back to the hotel, we had the radio on, and every time a song came, we all sang along like it was an unwritten promise. Every time that happened, it struck me how cool it was that all of us from different parts of the world were singing the same song together!
Maddy – I've never been in a music video before, and can't wait to see how it turns out!