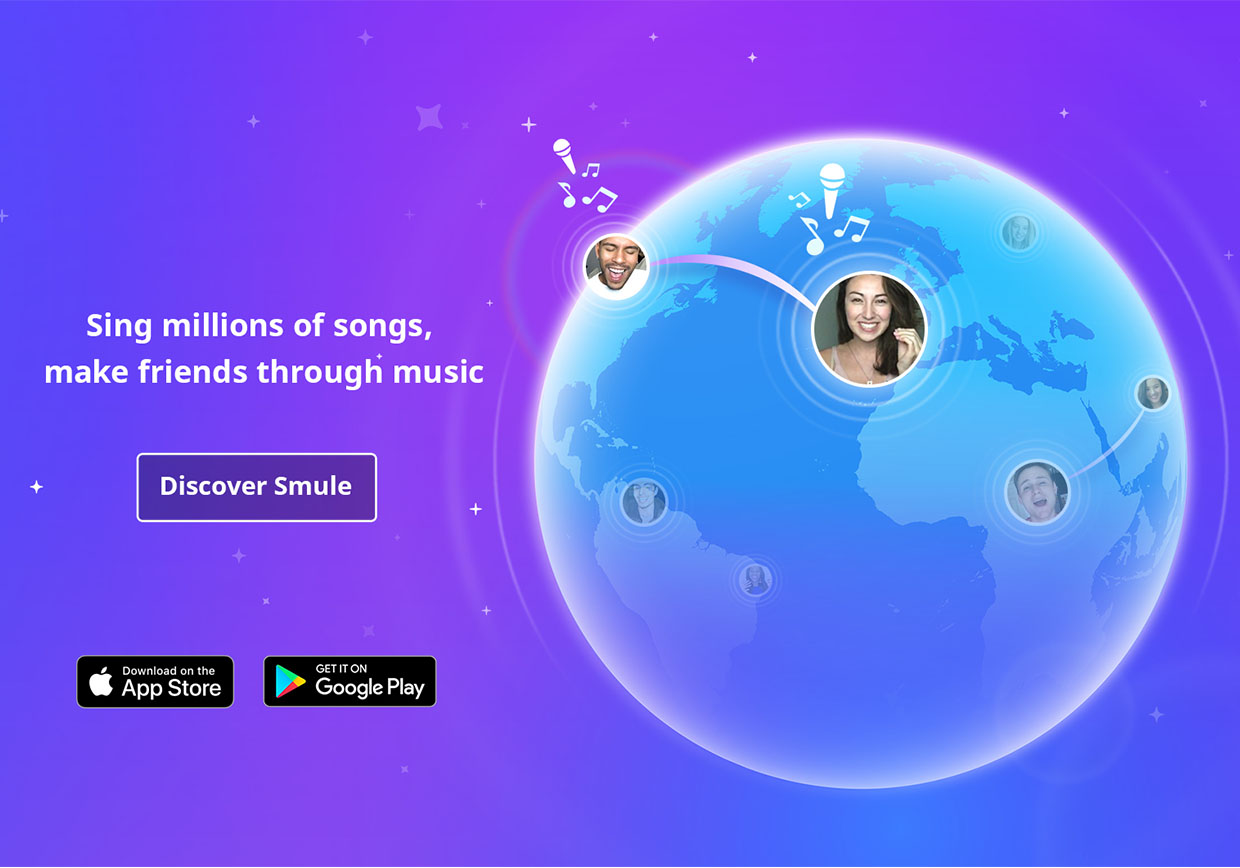 THE FACES OF SMULE
THE FACES OF SMULE — From Singapore to Orlando, the Sing!dom has moved beyond the digital world!
Over the past 7 days, something truly amazing has taken place. More than 50 people around the world, who met each other through a FREE mobile app, stepped out of the digital world to create music and memories together in real life. Of course the Mobile app that brought them together was Sing! Karaoke by Smule, and these people are particularly amazing and outgoing to begin with, but it gives me goosebumps nonetheless!
It has been my absolute pleasure to witness first hand the evolution of this budding community of Singers, Musicians, Mothers, Fathers, Friends, Families, Techies and Non Techies alike surrounding Smule's social music making app. So many personalities from so many walks of life are represented in this community and words don't describe how inspiring it is to see them bonding over something like creating music and a shared interest in self expression. This is what Smule set out to develop over 5 years ago and it's surreal to think that it is actually happening!
Here's a Sing! Meetups Welcome Message from some of the LA crew: http://www.smule.com/p/112842052_17774395
LOS ANGELES MEETUP RECAP
I flew to Los Angeles last Wednesday to attend the meetup in LA. After getting a rental car and briefly meeting up with David Leon of the Voice of Life project (who was kind enough to let me crash at his lovely abode in the Hollywood hills) I drove to San Bernardino to pick up Tino (aka Ponce). Little did I know that with traffic, the round trip effort would take 4 hours, but it was worth every second. What would an LA meetup be without the superstar that is Tino!?
The meetup was originally supposed to take place at The Parlor Hollywood (huge shout out to Mary and Brooke for scouting out places ahead of time) where Wednesday evening Karaoke is hosted by Trevor Penick from the boy band O-Town. When we arrived though, to our dismay, we found that the venue had been booked for a special event so there wouldn't be karaoke that evening. I have to say this took the wind out of our sales pretty quickly, but someone said Key and Peele had been sighted on the premises and that the event must have been booked by them last minute to celebrate their new TV show on Comedy Central. Ohhhhhh Los Angeles!
Thankfully the crew rallied and we found an alternate karaoke place in Korea Town. Somehow after figuring out how to get their cars out of Valet parking (another LA thing) everyone arrived at the new place only to find it had hardly any songs in English! HAHA! But Brooke and Mary knew of a place just around the corner called the Brass Monkey Cafe (which they had scouted out ahead of time as well) and that turned out to be the BEST possible karaoke place for our large group of 18 people!
Once we settled in, with T-Shirts and drinks distributed, a grand time was had by all. It was so cool to see these people singing in real life. I finally had faces for the voices I had only ever heard online. Speaking of faces, I met a lot of Sing!ers that I didn't know before the meetup, some of which had never sang in an open Karaoke bar before, but you wouldn't have known because everyone of them seemed like a pro. Mary and Brooke even sang a mashup that they had perfected on the app, which was something I think the KJ had never seen happen before! And at one point the whole place turned into a dance party when someone not in our group sang Ignition (remix) by R. Kelly. It is always so cool to see the song selections that people make and the responses that come from these selections. This is something I noticed first at last month's NYC meetup.
The bar closed at 2am and a handful of us crazy Sing!ers were there until the end. Considering most of these people had never met in real life before, it made sense! The next day people were posting pictures and videos from the event in the Smule Sing! Meetups Group on Facebook and I hope more meetups will follow
OTHER MEETUPS AROUND THE WORLD
In the following days, more pictures and videos poured in from the other Meetups around the world. Indonesia, Singapore, and Orlando all had representatives of the Sing!dom meeting up and rocking out on karaoke. Sporting their Smule T-shirts and having a good time 🙂
What a magical place this app is! Here's to the Sing!dom and connecting people all around the world through music, both online and in real life!
Of course, if you are reading this and are interested in attending or planning a meetup in YOUR city or area, join the Smule Sing! meetups group on Facebook here: https://www.facebook.com/groups/SmuleSingMeetups/
We'll even send you T-Shirts!
TK