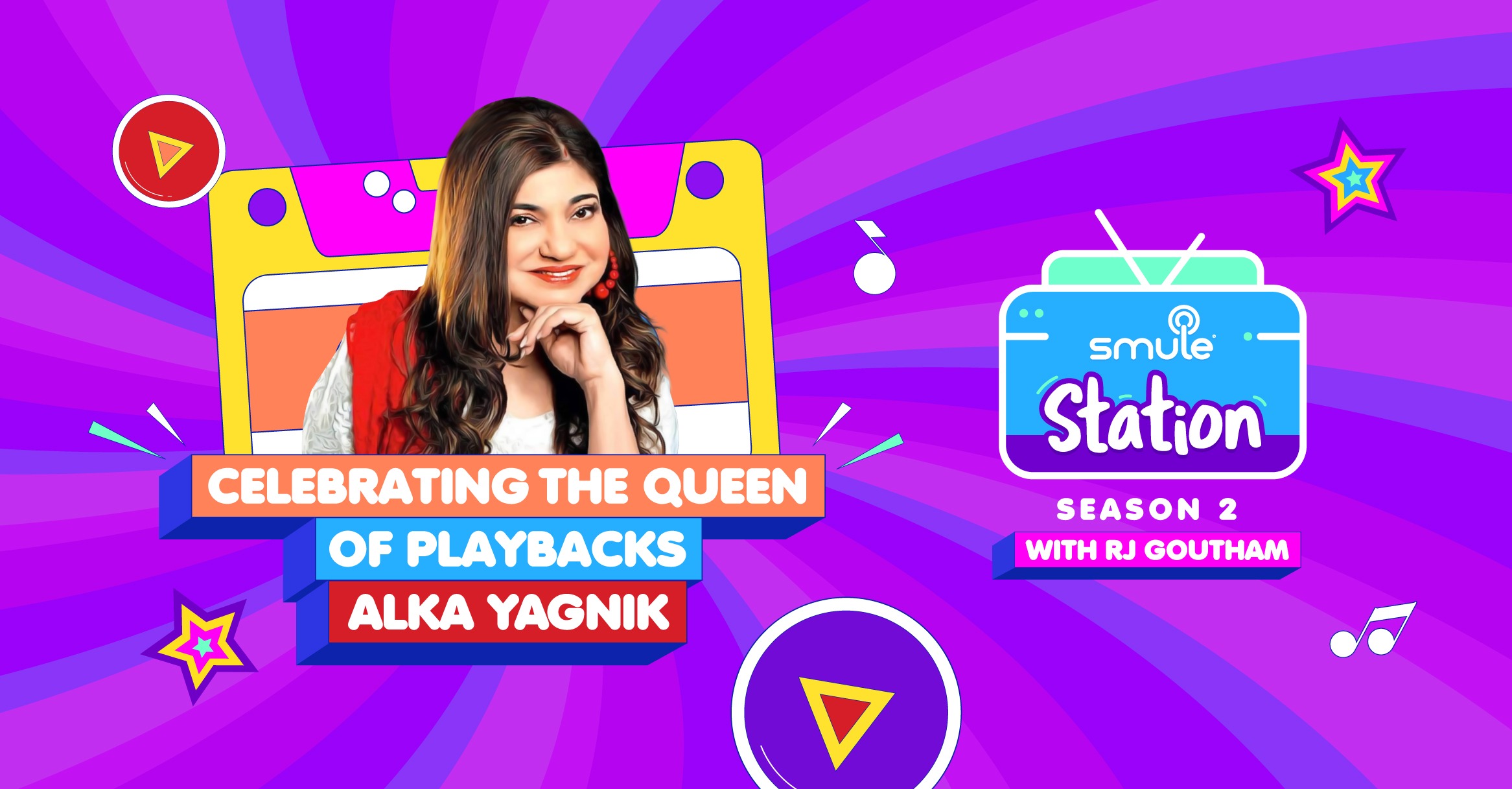 Celebrating the queen of playbacks Alka Yagnik
Smule Station season 1 was packed with exciting, and endless entertainment. As the exuberant RJ Goutham brought to light the magic of the legendary R.D. Burman, we also got to witness awe-inspiring performances by our truly talented Smule community members.
Looking to take the show one step forward, we now introduce Smule Station season 2! And this time, we bring you the magic of the one and only queen of playbacks, Alka Yagnik. Staying true to the core of Smule Station: music masti and celebration of icons, this time we take a journey through the nineties with the undisputed diva of the time.
Alka Ji's romantic, record-breaking-records, her versatile voice, the epic playback partnerships and the entire journey of this evergreen megastar, are all brought together in five fun-filled episodes this season. Let's not forget! Our top Smule community singers are here performing too.
New Season, New Episodes!
Ep 1 : The Journey of Alka Yagnik
Beginning the season with a bang, RJ Goutham takes us through the journey of the queen of playbacks. A prodigy from a very young age, having her mother be her first guru and much more, what we've yearned to learn about our idol is brought to us in the opening episode.
Ep 2 : The ever so versatile, Alka Yagnik
Being the voice for Bollywood's symbolic superstars, ranging from Madhuri Dixit to Aishwarya Rai, Alka Yagnik's effortless control over every note makes her iconic voice so versatile. In episode 2, we dive into the extensive range of our legendary singer.
Ep 3 : Romancing The 90's
The nostalgia of the nineties is incomplete without the harmonies of Alka ji. Her romantic melodies have become remedies for most and captivated fans beyond the borders of our nation. Watch out for episode 3, where we fall back in love with the queen of love songs.
Ep 4 : The Power-Packed Duo – Alka Yagnik x Kumar Sanu
Alka Yagnik amazes not only her fans, but also the biggest musicians of our industry. From working with the likes of Kishore Kumar, A.R. Rahman, Udit Narayan and more, the nineties diva's unmatchable voice, matches best with Kumar Sanu. Catch the best of their tracks in episode 4 of Smule Station season 2!
Ep 5 : Alka Yagnik, the record maker and record breaker
Not only did she sweep us off our feet, Alka Yagnik also swept the award ceremonies with her numerous nominations and wins. Being the only nominee in the category of Female Playback Singer, in 1994. Ending this season with the never-ending success of Alka ji.
Join RJ Goutham For The Alka Yagnik Magic Today!
It's all here! Everything music and all the Alka Yagnik magic. Tune into Smule Station season 2 on Smule YouTube, Facebook and IGTV now.