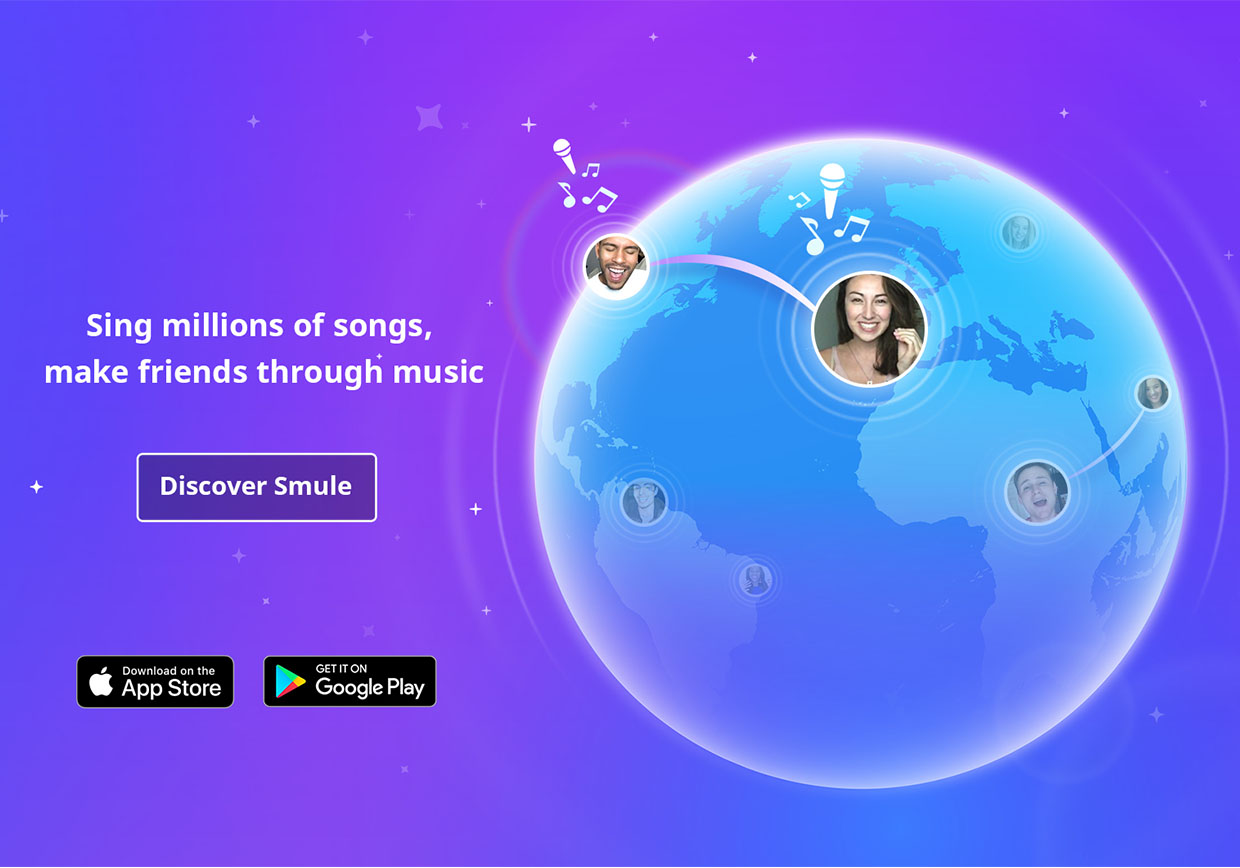 Announcing The Smule Artist Program
Announcing The Smule Artist Program
Bright Antenna is First Label Partner
Smule today is thrilled to announce the launch of our Artist Program – created by musicians, for musicians.
Smule's community of 20 million active fans provide a unique platform for artists looking to advance their careers, whether they are are already established or just emerging on the scene. Through the Artist Program, we work directly with artists and their management teams to handcraft campaigns that help them find new fans among Smule's 20 million active community members and engage with their existing fans on mobile platforms in ways that are fun and interactive. Best of all, the program is currently free to artists who participate.
"Through early artist relationships, we saw the genuine and authentic interactions between artists and fans. Such interactions weren't possible on other networks," said Jeannie Yang, Chief Product & Design Officer at Smule. "We realized we needed to open the program up because there's something very fun and rewarding here for both artists and their fans."
We are debuting the program with our inaugural label partner, Bright Antenna, home to hot indie bands such as Flagship, The Wombats and Beware of Darkness.
"People say the music industry is dead. It's not, and Smule epitomizes why," said Scott Schumaker, Managing Partner of Bright Antenna. "Their users are passionate, engaged music lovers, just like we are at Bright Antenna, and their apps are some of the best tools for music discovery and for fan engagement that we've come across yet."
Read on to find out more about the Smule Artist Program.
Through the Artist Program, Flagship will release three songs in Smule's catalog. The band has also recorded a performance of their single, "Are You Calling," into Smule's Sing! Karaoke app. Fans will be able to join Flagship to record a duet with the band.
The Smule Artist Program evolved from an organic relationship Smule has built over the years with entertainment brands and individual artists who made up our intrepid early adopters. We've worked with well known talent – including OK Go, The Gregory Brothers, Austin Mahone, T-Pain, Lady Antebellum and Fox's "Glee." And we've partnered with emerging artists such as Con Bro Chill, Todd Carey, Guy Lockard and Dan Godlin. Our collaboration with the hot emerging band Con Bro Chill to promote the release of their song, "Power Happy" led to a spike in their music video views of 300,000 viewers in three months.
"Smule has been HUGE for our band and promoting our music. We love the genuine kind of exposure they give us," said Con Bro Chill's Connor Martin. "They actually get people interacting with your music. Instead of forcing a song, or video down people's throats, they invite the user to be in the band and be apart of the music. Other than having a person attend our live shows, I've seen no better way to convert a person to our music than Smule's apps."
Todd Carey, whose hit single "Nintendo" debuted on Smule's Sing! and Magic Piano, attributed the song's 300% sales boost largely to his collaboration with Smule. "Smule and 'Nintendo' turned out to be a knockout combo," Carey said.
We are excited to be able to build upon these seminal experiences and launch a formal program today to support independent musicians and help grow their careers. To learn more about our earlier collaborations with artists, check out the list of articles at the bottom of this page.
If you are an artist and want to work with Smule, we want to hear from you! Tell us a little about yourself here, and we will be in touch.
Here are some examples of our previous collaborations with artists:
Sing! With OK Go For a Chance to Win an iPad Air Signed by the Band
Sing! "Party Animal" With Con Bro Chill