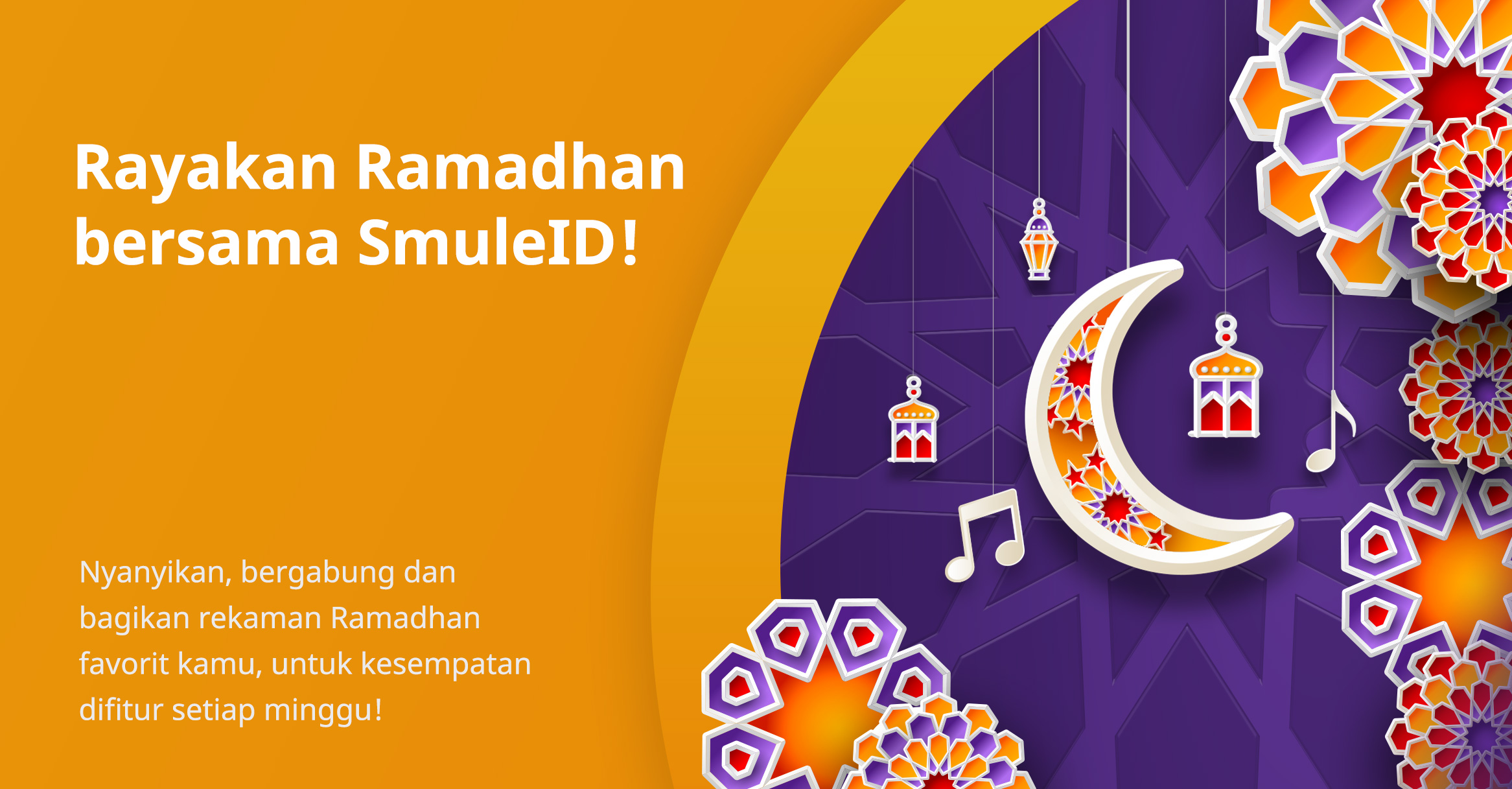 Celebrate #SmuleIDRamadhan on Smule!
Bulan suci Ramadhan telah tiba. Mari rayakan Ramadhan bersama Smule Indonesia, dengan menyanyikan lagu-lagu religi, Ramadhan dan Idul Fitri favorit Anda — lagu yang membawa kedamaian bagi Anda, mengingatkan Anda akan suasana Ramadhan di masa kecil, berkumpul dengan keluarga dan teman-teman tercinta, serta menghubungkan Anda dengan teman-teman dari komunitas Smule di seluruh Indonesia.
Ikut serta program #SmuleIDRamadhan di Smule, untuk kesempatan difitur dan mendapat koin gratis dari Smule!
Cara ikut serta:
1. Nyanyikan lagu-lagu Ramadhan/religi dengan para Artis, atau dengan teman-teman dari komunitas Smule Indonesia. Klik di sini.
2. Tambahkan hashtag #SmuleIDRamadhan di deskripsi undangan lagu Ramadhan/religi Anda, Anda juga bisa bergabung dengan pengguna lain.
3. Bagikan (share) rekaman Anda ke sosial media, dengan hashtag #SmuleIDRamadhan dan jangan lupa tag (tandai) @SmuleID di post Anda.
Rekaman dengan join dan share terbanyak punya kesempatan untuk difitur di Playlist #SmuleIDRamadhan setiap minggu. Untuk satu rekaman terbaik (No. 1) di minggu tersebut, akan mendapatkan 100 Koin Smule gratis yang dapat digunakan untuk saling berbagi hadiah (gift) kepada pengguna Smule lainnya.
Tunggu apa lagi, ikutan #SmuleIDRamadhan yuk!
====================
The holy month of Ramadan has arrived. Let's celebrate Ramadan with Smule Indonesia, by singing your favorite religious Ramadan and Eid songs — songs that bring you peace, remind you of Ramadan in your childhood, and help you gather with your family and beloved friends. This Ramadan, connect with loved ones from the Smule Indonesia Community.
Join the #SmuleIDRamadhan program on Smule, for a chance to be featured and to win free coins from Smule!
How to participate:
1. Sing Ramadan / religious songs with Artists or friends from the Smule Indonesia community. Click here.
2. Create a song invitation and tag with #SmuleIDRamadhan or join an invite with the hashtag.
3. Share your recording on social media, with the hashtag #SmuleIDRamadhan and tag @SmuleID in your post.
Performances with the most joins and shares have the opportunity to be featured on the #SmuleIDRamadhan Playlist every week. The singer with the best (No. #1) performance of the week will win 100 Smule Coins, which can be used to give Gifts to other Smule users.
What are you waiting for? Join #SmuleIDRamadhan!