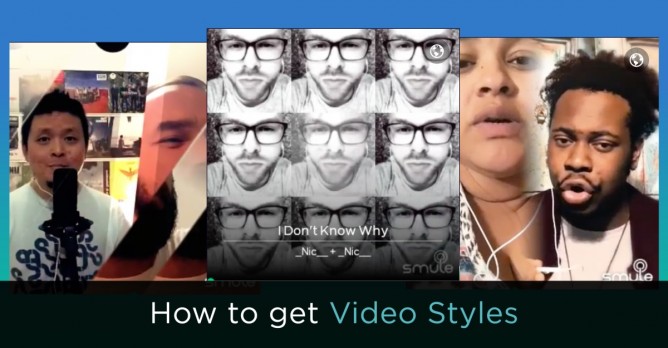 How to get the Video Styles if you don't yet have access?!
Ever wondered what it would be like if we could create music video styled videos on Smule? Well, we are getting there with VIDEO STYLES – a new feature on Sing! That allows you to be more expressive with videos. These videos are a combination of colors, transitions, effects, animations all while timing perfectly to the music! Right now, there are three different pre-made styles you can select from: #RioStyle, #OsloStyle, and #PetraStyle
We are slowly rolling out this feature to users, however we don't want to overload our video processing technology by giving this feature to everyone.
Here are ways YOU can do right now to get the effect!
1) You can search #RioStyle, #OsloStyle, and #PetraStyle in the search box to find cool duets you can join, and the new styles will be applied.
2) You can join some power users right now!
#PetraStyle
#OsloStyle
#RioStyle
Keep an eye out for upcoming video styles playlist and more videos! 🙂
Check out more Smule "How To" tutorials: