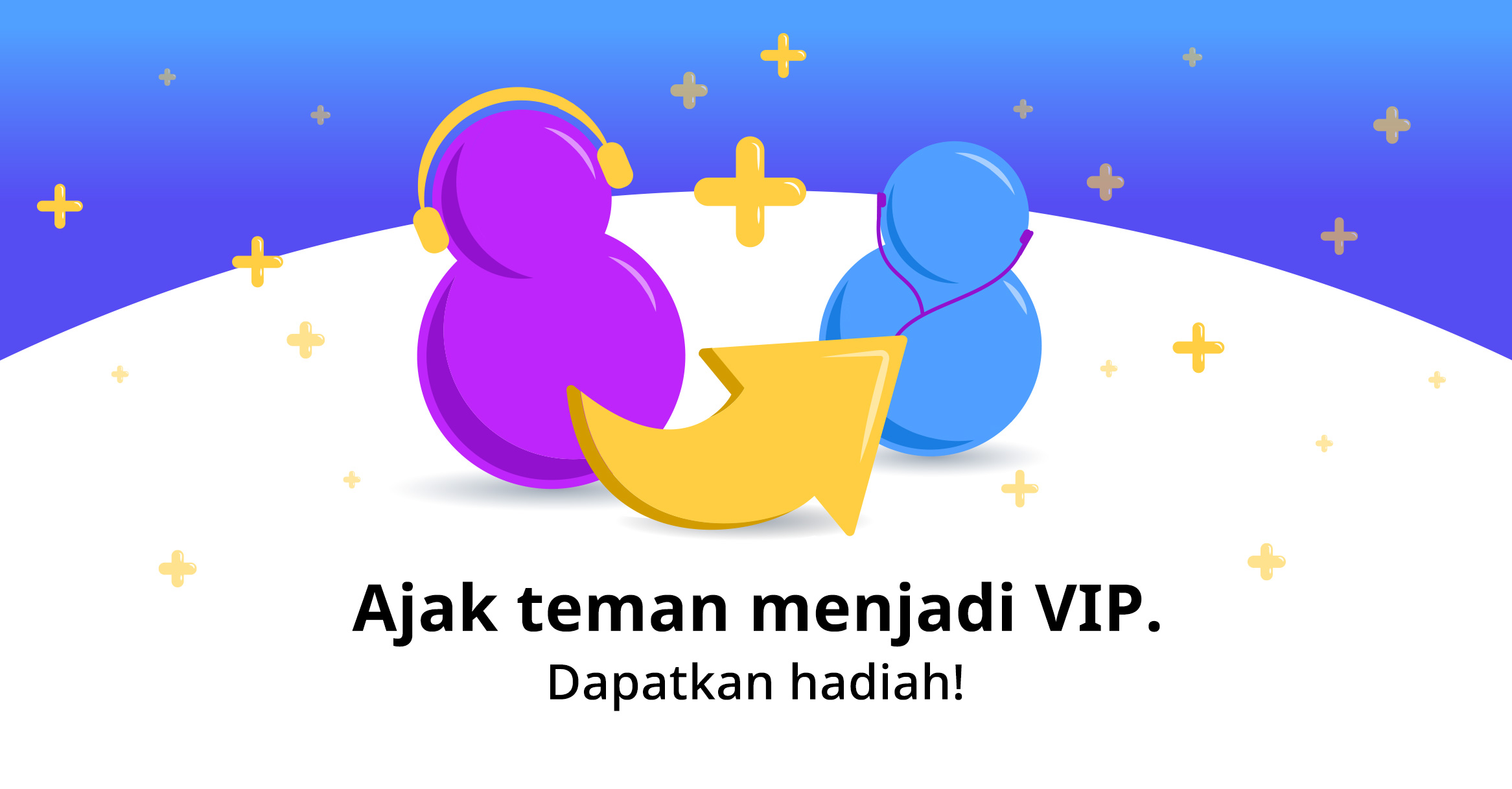 Referensikan Teman Menjadi VIP
Sekarang adalah waktu yang tepat untuk mengundang teman, keluarga, dan para pengikut Anda menjadi VIP Smule melalui Program Referensikan Teman terbaru!
Melalui Program Referensikan Teman terbaru, Anda bisa mendapatkan hadiah sambil membantu teman Anda memaksimalkan pengalaman Smule mereka. Dapatkan 350 koin Smule gratis untuk Anda dan teman Anda, saat mereka berlangganan VIP menggunakan tautan referensi dari Anda!
Bagaimana Cara Kerja Program Referensikan Teman?
Ketika seseorang membeli tiga (3) bulan atau satu (1) tahun langganan VIP menggunakan tautan referensi dari Anda, Anda dan teman Anda akan segera menerima 350 koin Smule. Gunakan koin untuk mengirim hadiah-hadiah yang ekspresif, untuk menunjukkan seberapa besar Anda menyukai rekaman favorit Anda. Hadiah adalah cara tepat untuk menyapa dan memulai persahabatan baru, atau memulai kolaborasi!
Semua bisa ikut serta! Anda dapat membagikan tautan referensi Anda dengan teman-teman yang baru mengenal Smule dan juga untuk pengguna lama yang ingin merasakan manfaat VIP dengan koin bonus gratis. Tidak ada batasan berapa banyak orang yang dapat Anda undang untuk menjadi VIP. Gunakan tautan referensi Anda sebanyak yang Anda suka! Anda tidak harus menjadi VIP untuk berpartisipasi; seluruh pengguna VIP dan non-VIP Smule dapat membagikan tautan unik mereka dan mendapatkan koin gratis!
Bagaimana Saya Mereferensikan Teman menjadi VIP?
Caranya mudah!
Pergi ke halaman https://www.smule.com/id/refer-a-friend lalu masuk (Login) ke akun/profil Anda untuk mendapatkan tautan referensi Anda. *CATATAN: Tautan referensi unik Anda hanya bisa didapatkan melalui website Smule, BUKAN melalui aplikasi.
Bagikan tautan milik Anda kepada siapapun yang Anda inginkan dan sampaikan kepada mereka mengenai keuntungan menjadi VIP:

Jutaan lagu dan bernyanyi solo tanpa batas.
Akses VIP di iOS & Android.
Tanpa iklan.
Profil yang bisa disesuaikan.

Teman Anda menggunakan tautan referensi dari Anda untuk berlangganan VIP tiga (3) bulan atau satu (1) tahun.
Setelah teman Anda berhasil menyelesaikan transaksi, kalian berdua akan langsung menerima 350 koin Smule gratis!
Anda dapat melacak referensi dan hadiah di profil Anda, di bagian referensi VIP di situs web Smule.
Gunakan koin yang Anda peroleh untuk mengirim hadiah-hadiah dan untuk menunjukkan kesukaan Anda untuk rekaman-rekaman favorit Anda.
Pastikan Anda memberitahu semua orang yang Anda referensikan, bahwa mereka harus menyelesaikan langganan VIP mereka di halaman pembayaran yang akan terbuka ketika mereka menekan tautan referensi dari Anda, sehingga Anda mendapatkan kredit untuk referensi dan hadiah Anda.
Program Referensikan Teman sudah dimulai hari ini, jadi pergi sekarang ke https://www.smule.com/id/refer-a-friend, lalu login ke akun Anda untuk menemukan kode referensi Anda, bagikan, dan mulai dapatkan koin gratis bersama dengan anggota VIP baru!
Jika Anda memiliki pertanyaan, mohon menghubungi support@smule.com.
==========
Refer a Friend to VIP
Now is the perfect time to invite your friends, family, and followers to be a Smule VIP with the new Refer a Friend Program!
With the new Refer a Friend Program, you can earn rewards while helping your friends get the most out of their Smule experience. Get 350 free Smule coins for you and the new VIP when they subscribe using your referral link!
How Does the Refer a Friend Program Work?
When someone purchases a three (3) month or one (1) year-VIP subscription using your unique referral link, you and your friend will immediately receive 350 Smule coins. Use coins to send expressive gifts to show how much you love your favorite performances. Gifts are a thoughtful way to say hello and start a new friendship or spark a collaboration!
Everyone's welcome! You can share your referral link with friends who are new to Smule and existing members who want to experience the benefits of VIP with free bonus coins. There's no limit to how many people you can invite to become VIP. Use your referral link as many times as you like! You don't have to be a VIP to participate; both VIP and non-VIP Smule members can share their unique link and earn free coins!
How Can I Refer a Friend to VIP?
It's easy!
Log into your account on smule.com/refer-a-friend to find your referral link. *NOTE: Your unique referral link can only be found on the Smule website, NOT in the app.
Share your link with anyone you like and tell them all about the benefits of being a VIP:

Unlimited Songs and Solos.
VIP access on both iOS & Android.
No Ads.
Customized Profiles.

Your friend uses your VIP referral link to subscribe to three(3) months or one(1) year of VIP.
As soon as the transaction is complete, you both receive 350 Smule coins for free!
You can keep track of your referrals and rewards on your profile in the VIP referrals section on the Smule website.
Use your coins to send cool gifts and show love for your favorite performances.
Make sure to tell everyone you refer that they must complete their VIP subscription on the payment page that opens when they click your referral link, so you get credit for the referral and your reward.The Refer a Friend Program starts today, so head over to smule.com/refer-a-friend, login into your profile to find your referral code, share, and start earning free coins with new VIP members!
If you have any questions, please contact support@smule.com.