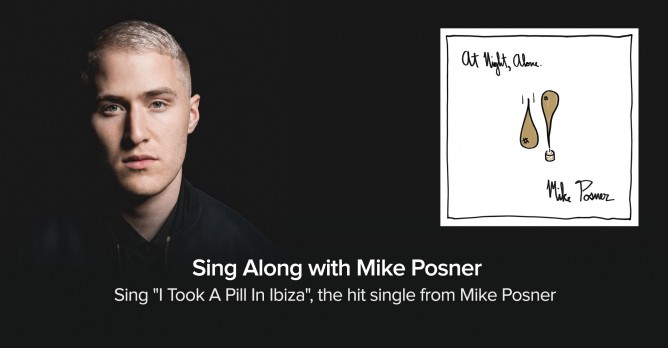 Sing "I Took a Pill in Ibiza" with Mike Posner
Today, Smule welcomes new Partner Artist Mike Posner, an American pop singer, who launched his first album in 2010. Two songs on that album sparked up on Billboard's Top 100. 6 years later, his current hit song "I took a Pill in Ibiza" is quickly becoming the song of the summer. This song peaked on the top 10 charts in over 27 countries including top 5 in the US. The remix of the song by SeeB has also peaked on top 10 charts in US, Australia, Sweden, Denmark, Finland, Canada, Austria, and Switzerland. This song already has over 300 million plays on Spotify! You can find this song on his latest album At Night, Alone.
Aside from this famous hit song, Mike is also well-known for co-writing popular songs such as "Sugar" by Maroon 5, "Boyfriend" by Justin Bieber, "Beneath Your Beautiful" by Labrinth, as well as songs for Talib Kweli, Pharrell Williams, Big Sean, 2 Chainz, Wiz Khalifa, Nelly, TI, Snoop Dogg,Nick Jonas, Avicii, Austin Mahone, and more.
Check out this awesome rendition on Sing: