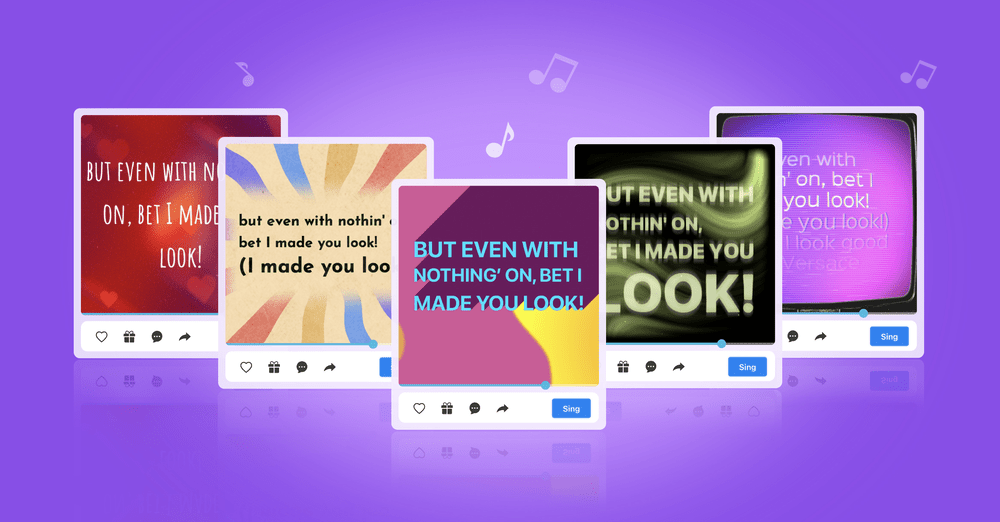 Lyric Animations Are Here!
Hey, Smule fam, we're excited to announce a brand-new Smule feature called Lyric Animations! This feature gives you more creative options when recording audio-only performances.
What Are Lyric Animations?
Lyric Animations offer a new way to create engaging lyric videos for your audio-only recordings on Smule! Now when you record with your camera-off, you have the flexibility to make a lyric video, and choose the animation that brings the lyrics to life!
For some people, being in front of the camera can be daunting, and they prefer to stick to making audio-only recordings. Lyric Animations provide a dynamic and fun way to add a pop of color and personality to your camera-off performances.
Lyric Animations give you a new creative format in the form of lyric videos. You can choose from a variety of animations that best convey the mood, emotion, and overall vibe of your performance. Whether you're looking for something calm and mellow or more upbeat and lively, there's something for everyone – and every song!
Sharing Lyric Animations
Planning to share your Smule performance? You're in luck! Lyric Animations offer an excellent opportunity for visual storytelling and allow you to create a lyric video that's shareable on platforms like TikTok and Instagram. When you share your lyric videos, you're sharing your creativity with your friends and followers. You may even see increased reach and engagement outside of Smule! Whether it's a heartfelt ballad or an energetic pop song, creating a lyric video with Lyric Animations can help your performance stand out from the crowd.
How to Add Lyric Animations to Your Audio Performances:
Start a solo/duet/group performance.
Turn OFF your camera.
Record the performance as usual.
Press on 'Continue'.
On the Review screen, turn ON the Lyric Animations toggle.
Press on 'Continue'.
Select the Lyric Animations style you like and press on 'Save'.
More of a visual learner? Check out this video for a step-by-step tutorial! Bring your creative vision to life and help make your audio recordings shine. Download the latest version of the Smule app and try Lyric Animations for yourself.
There's no better time to create your first lyric video than right now! Record an audio-only performance, or join one of the #CameraOffChallenge invites. Look for the #CameraOffChallenge banner on the Songbook page in the Smule app to check them out! At the end of the Challenge, we'll choose 10 singers to be featured in a special @SmuleGlobal Profile Playlist. The Challenge only lasts a few weeks so don't miss out!
We'd love to hear from you, and learn more about how we can improve your Smule experience. Fill out this short survey and let us know what else you'd like to see!