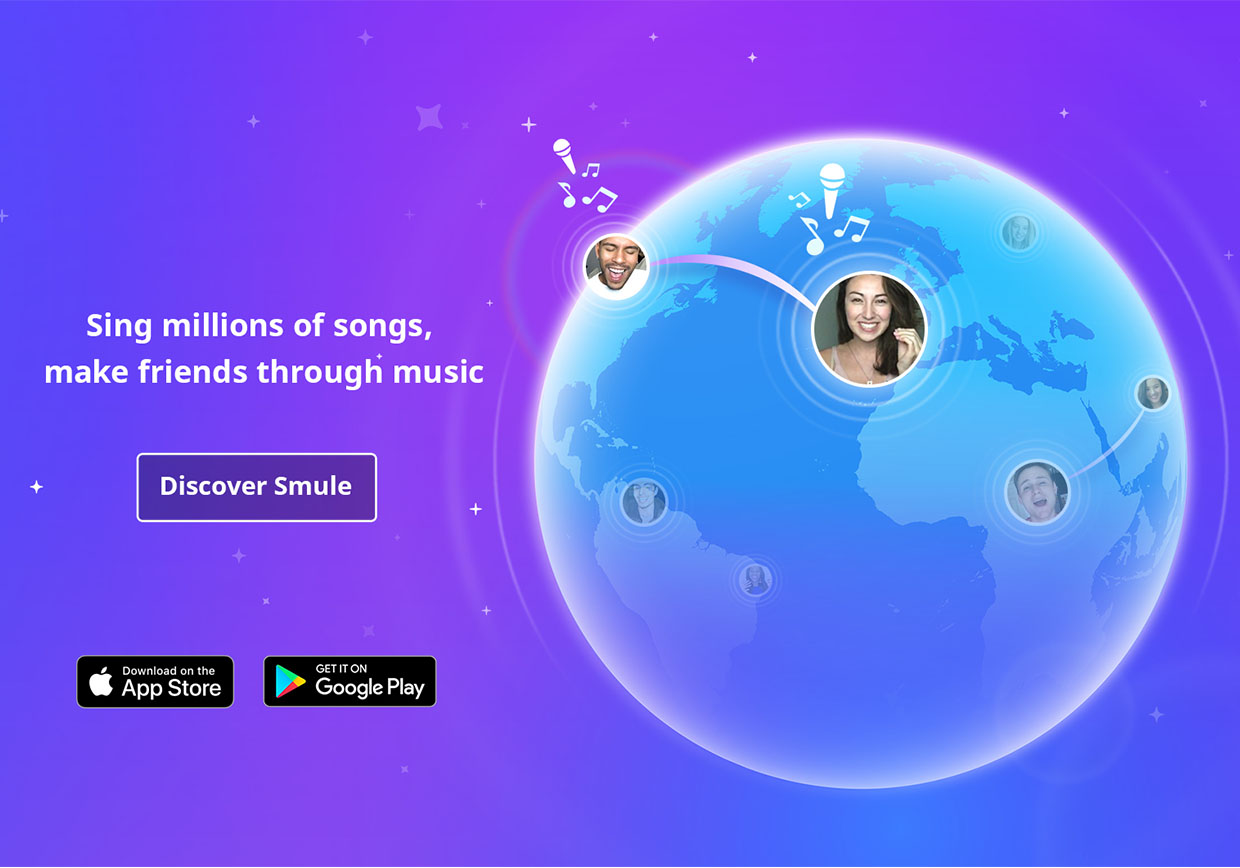 Why Indonesia is home to Smule's largest local community of Sing!ers known as The SmuleNesians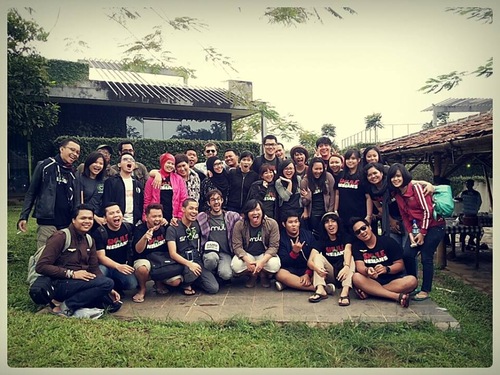 Earlier this month I travelled to Indonesia to meet the world's largest local community of Sing!ers (aka super users of our app Sing! Karaoke) who call themselves The SmuleNesians. The plan was for me to attend a 2 day Grand Gathering, which they organized to celebrate the group's 1st Anniversary. By attending the gathering, and meeting the SmuleNesians, I hoped to gain a better understanding of who the SmuleNesians are, and why they have been able to create such an amazingly successful community that started in our application Sing! Karaoke. It was a magical experience and I learned not only a lot about what it takes to create a community like this, but why Indonesian culture may have played a special factor in enabling such a community like this to be developed in the first place. Here are some of my thoughts.
THE DNA OF INDONESIAN CULTURE
First of all, Indonesia is the 4th most populated country in the world and also happens to be extremely rich in cultural and bio-diversity. Add to that the fact that it is an archipelago nation comprised of over 17,000 islands, and you can imagine the number of musical styles and influences that have developed. I believe one result of this densely populated yet diverse country is that many Indonesians have developed a unique acceptance of the cultural differences within their borders. In fact, the national motto translates more or less to "Unity in Diversity".

MY GRACIOUS HOSTS
I must admit, I probably wouldn't have actually gone to Indonesia if it hadn't been for a few of the SmuleNesians insisting on me being present at the Grand Gathering, which was scheduled months in advance to take place on January 18th / 19th. One of the SmuleNesians even volunteered to be my tour guide and invited me to stay with her family for a week and a half prior to the big event. She lives in LA but planned on leaving a couple weeks early so she could visit family before the gathering. With this type of hospitality as my introduction to Indonesian ideals I had no excuse, so I took her up on the offer, we met on a layover in Taipei, and I flew with her and her father to Jakarta to begin the journey!
IN INDONESIA EVERYONE SINGS AND DANCES…ALL THE TIME
In the time leading up to the Grand Gathering, I got to experience Indonesian culture first hand. The people are extremely friendly, cook great food, and leave no leftovers! I never once felt like an outcast even though I am sure I looked out of place. Oh and one more thing…singing and dancing were almost daily activities.
A couple days into my stay, I tagged along to my host's father's high school reunion in a town called Bogor just a couple hours south of Jakarta. Someone brought along a Yamaha PSR-S910 keyboard with an arrangement mechanism that generates drums and bass to follow the performer's chord selections through what seemed like some sort of magical interpretation. There was also a guitar, and of course wireless microphones and speakers to amplify them. The people created their own entertainment throughout the evening, everyone took turns singing or playing the instruments, and they all danced if they weren't singing or playing. It was a lot of fun.
A day later at a family gathering there were DVD's with karaoke tracks, a projector, and a couple wireless mics with another set of speakers to amplify everything. Karaoke started at around 8am and didn't end until 2am. There were some breaks in between, but it was always an option. Also plenty of dancing. I learned to dance the Indonesian equivalent of "Gangnam Style", called "Opplosan". So much fun.
Even at the billiards hall we were given a private room with a single pool table and a karaoke machine that could pump out some serious volume. Everyone sings. Everywhere.
WORLD CLASS KARAOKE FACILITIES
And then there there were the actual karaoke venues, which made the US karaoke places seem like ancient relics.
A 20 inch touch screen controlled the song selection, playlist queue, level balance of microphones and music, and a ton of other things.
The place had 60,000 songs to choose from in various languages, and a music video accompanied each song. Not the cheesy music videos that you often find in the US, these were super high quality versions of the videos for the actual songs you were singing (this would probably cause issues for licensing in the US but still it was cool). There was a flat screen display for lyrics and videos on every visible wall of the room, and up to 6 microphones available. Plus you could add sound effects like applause and whistles etc. Great service too. And EVERYONE is encouraged to sing during pretty much every song. It's an all inclusive karaoke experience.
Here's a picture of the SmuleNesians in the Happy Puppy Karaoke room.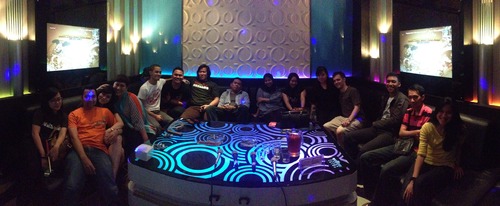 SUMMARY
Basically my experience in Indonesia suggests that it is a country where the people are accepting of others, musical expression (especially in the form of karaoke) is encouraged on a daily basis, and they seem to have developed a propensity towards being collaborative and generally helping each other out. That is all to say it couldn't be more Smulean in nature! How cool is that?
More on the SmuleNesians themselves in a later post…stay tuned!