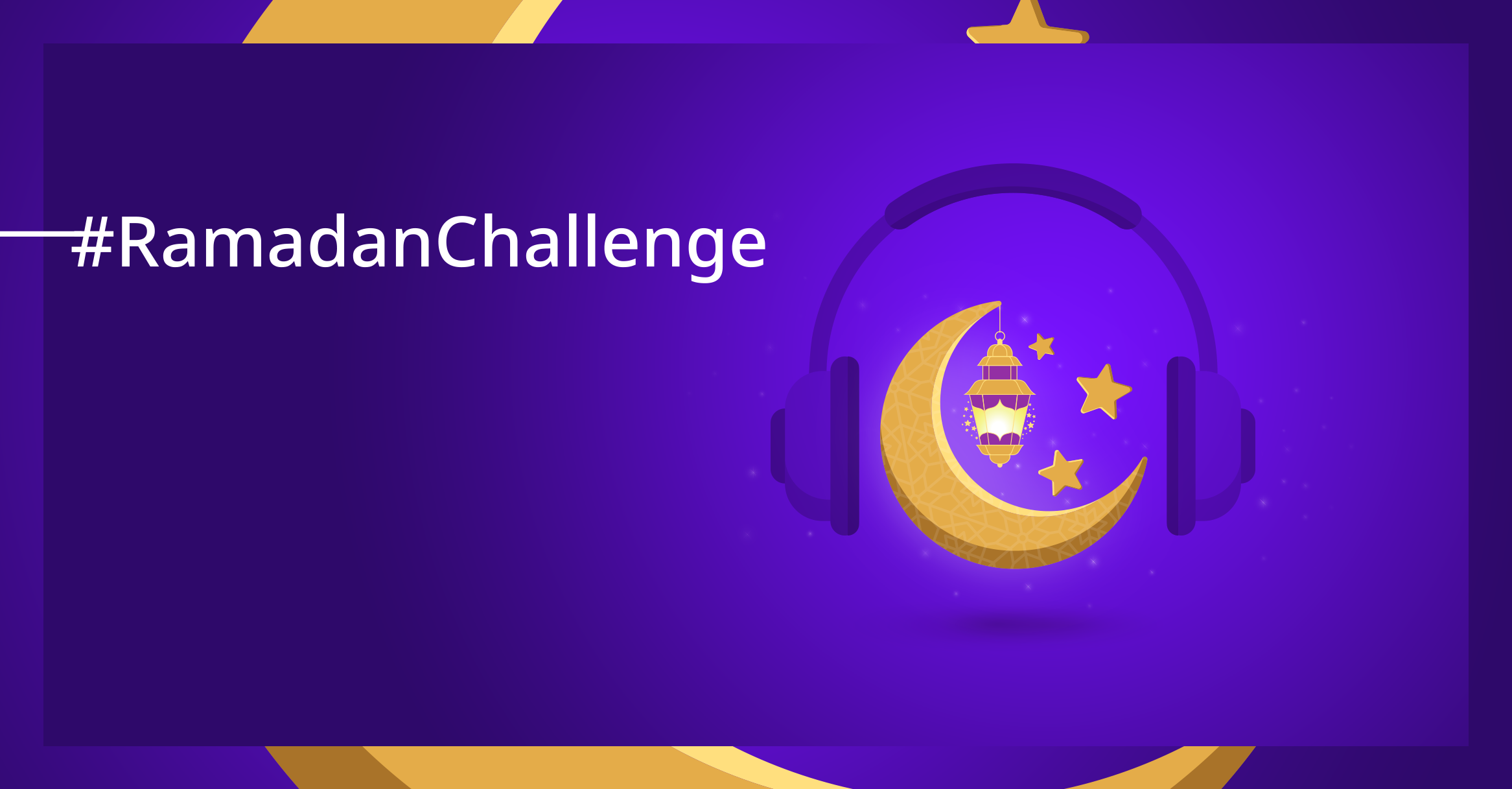 Tantangan Smule Berikutnya: Ramadan
Tantangan Smule memberi Anda cara baru untuk bersenang-senang bernyanyi dan terhubung dengan komunitas! Setiap dua minggu di hari Jumat, Smule akan menampilkan playlist berisi rekaman terbaik dari Tantangan Smule terbaru! Kini saatnya kami mengumumkan tema Tantangan Smule berikutnya: Ramadan.
Bernyanyi di Smule melalui #RamadanChallenge
Saatnya menyambut bulan suci Ramadan. Di bulan yang penuh berkah ini, saatnya kita khusyuk berpuasa, beribadah dan berdoa, juga mempererat tali silaturahmi antar sesama.
Di Tantangan Smule kali ini, mari kita menyanyikan lagu-lagu bertema Ramadan atau religi yang mengingatkan Anda akan indahnya menjalankan ibadah puasa, berkumpul bersama keluarga atau teman-teman di saat berbuka, juga kegembiraan ketika merayakan Idul Fitri bersama orang-orang yang kita cintai.
Eratkan tali silaturahmi bersama keluarga dan teman-teman Anda, dengan menyanyikan lagu-lagu Ramadan favorit Anda di Smule. Sepuluh rekaman terbaik akan difitur di Playlist #RamadanChallenge tanggal 23 April di halaman Jelajah, di mana kami juga akan mengumumkan tema Tantangan terbaru!
CARA UNTUK KESEMPATAN DIFITUR SELAMA 2 MINGGU:
Bergabung dengan undangan lagu #RamadanChallenge atau nyanyikan lagu-lagu religi favorit Anda.
Tambahkan hashtag #RamadanChallenge di deskripsi rekaman Anda.
Buat rekaman Anda paling lambat Rabu, 21 April, pukul 01:00 WIB.
Opsional: Bagikan rekaman Anda ke Facebook dengan hashtag #Smule untuk menambah kesempatan Anda difitur.
Klik di sini untuk ikut serta di #RamadanChallenge sekarang!
KRITERIA REKAMAN YANG DIFITUR:
Lebih banyak keterlibatan pada rekaman yang kreatif memberikan Anda kesempatan lebih besar. Jadi ajak teman dan pengikut Anda untuk bergabung, memfavoritkan rekaman, memberi hadiah, dan tekan suka pada rekaman Anda untuk meningkatkan peluang Anda difitur.
Berbicara mengenai keterlibatan, Anda bisa menunjukkan cinta Anda terhadap rekaman-rekaman #RamadanChallenge lainnya dengan cara mengirim hadiah/stiker khusus edisi Ramadan, yang tersedia selama Tantangan berlangsung.
HADIAH:
Rekaman difitur di Playlist Tantangan Smule, untuk dilihat jutaan orang.
Difitur di Blog Smule.
Para peserta yang difitur akan dipilih dan diperlihatkan setiap dua minggu di hari Jumat, di mana rekaman mereka akan difitur selama dua minggu.
Kami tidak sabar melihat kreasi Anda!
==========
Next Smule Challenge: Ramadan
Smule Challenges give you a new way to have fun singing and connecting with the community! Every other Friday, Smule will feature a playlist of the best performances from the latest Challenge! It's time to announce the next Smule Challenge theme: Ramadan.
Sing on Smule with the #RamadanChallenge
It's time to welcome the holy month of Ramadan. In this month full of blessings, it is time for us to solemnly fast, worship and pray, as well as strengthen the relationship between each other.
In this Smule Challenge, let's sing Ramadan or religious themed songs that remind you of the beauty of fasting, gathering with family or friends when breaking the fast, as well as the joy of celebrating Eid with our loved ones.
Tighten the relationship with your family and friends, by singing your favorite Ramadan songs on Smule. Ten performances will be featured on the #RamadanChallenge playlist on April 23th on the Explore page, where we will also announce the new Challenge theme!
HERE'S WHAT YOU HAVE TO DO FOR A CHANCE TO BE FEATURED IN TWO WEEKS:
Join the #RamadanChallenge song invitations or sing your favorite religious songs.
Add #RamadanChallenge to your performance description.
Upload your performance by Wednesday, April 21st, at 01:00 WIB.
Optional: Share your performance on Facebook with #Smule to increase your chances of being featured.
Tap here to enter the #RamadanChallenge now!
FEATURED PERFORMANCES WILL HAVE:
Performance creativity
Performances with more engagement are more likely to win, so encourage your friends and followers to join, favorite, gift, and tap love on your performance to increase your chances of being chosen.
Talking about engagement, you can show some love to other #RamadanChallenge performances with our dedicated Ramadan gift, available during the challenge.
PRIZES:
A featured performance in the dedicated Smule Challenges playlist, seen by millions of users.
A featured post on the Smule Blog.
We will choose and showcase featured performances bi-weekly on Fridays, highlighting the selection for two weeks.
We can't wait to hear your creations!