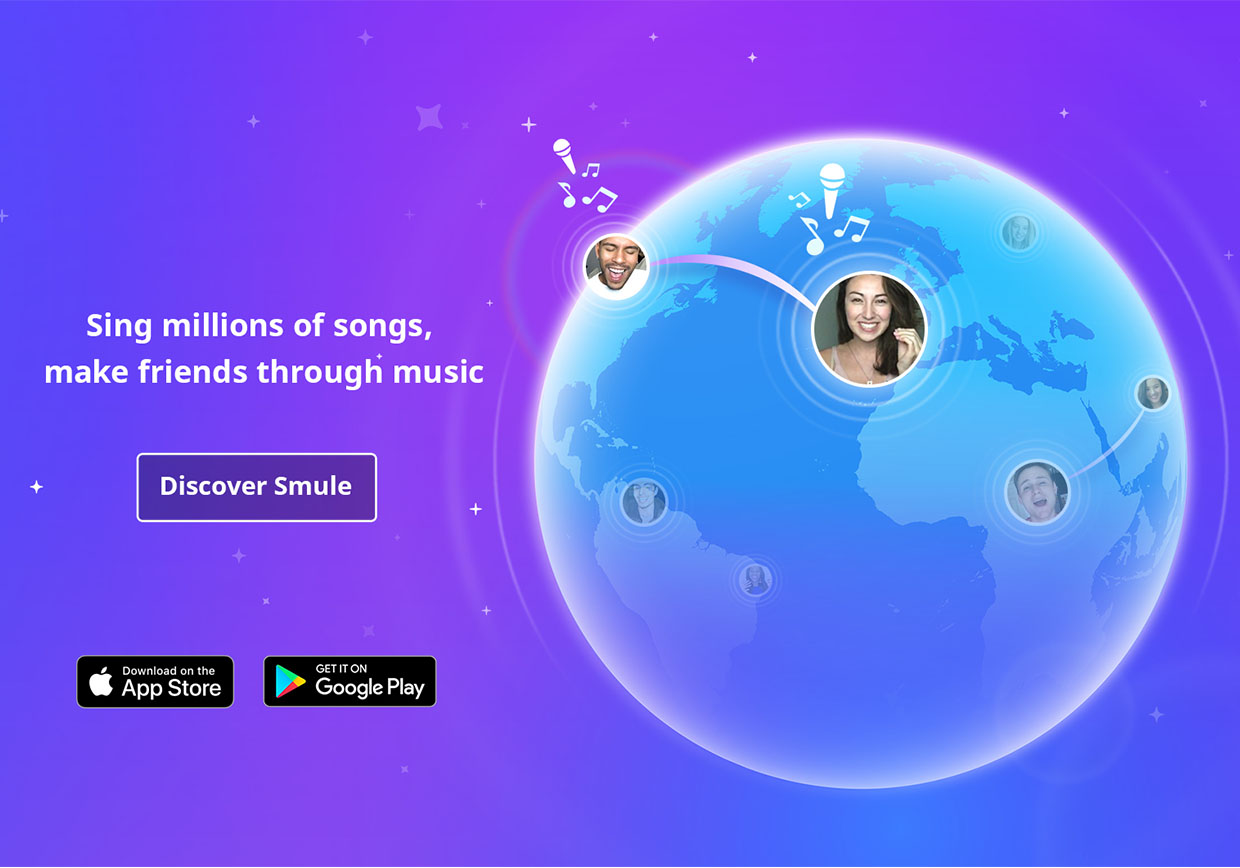 Introducing Smile With Smule Video Contest
Introducing Smile With Smule Video Contest
You have star material. We know you do because we've heard your brilliant performances on Sing! Karaoke, Magic Piano, Guitar and AutoRap.
Now we invite you to show us who you are – and that glorious smile behind all of your performances. Introducing the Smile With Smule Video Contest, where you can share your unique way of expressing joy – whether it's a grin, giggle, laugh, chuckle or beam – in a 15-second video.
Beginning today, we're announcing a unique theme every Monday for the next five weeks for the video contest. We're kicking off the contest with our first theme – friends! Show us how you Smile With Smule with Your Friends!
We know smiling is its own reward, but what's a contest without prizes? That's why we're giving away "Smule At Home" studio set-up kits – including tripod mic stand, headphones, pop filter, reflection filter, and cell phone holder mount – to 20 Grand Prize Finalists. They'll also have a chance to be showcased in our upcoming advertising campaign.
Of the 20 finalists, we will pick four Grand Prize winners to also receive a weekend trip to their choice of New York or San Francisco.
But wait – there's more! We will be awarding Viewer's Choice Awards to five videos (one for each theme) with the most views, likes and comments on YouTube. So get your friends, families, followers, distant relatives, roommates and acquaintances to watch your videos!
In addition, we'll also select five winners for a Multiple App Challenge, which will be chosen based on best ways to showcase two or more Smule apps in the same video.
We'll have plenty of prizes for these winners, too, including T-Shirts, water bottles, custom sweatshirts and hats, as well as free Smule Pass subscriptions to our apps. A detailed list of prizes is in our Official Contest Rules.
Entering is easy peasy:
Record a video of you and your friends using a Smule app, while incorporating this week's theme – Smile With Smule with Your Friends. Make it around 15 seconds and don't sweat the production values. We just want to see how Smule sparks a little joy into your world.
Upload your video to YouTube and use "Smile with Smule: Friends" in the video title. Don't forget to submit your video by 11:59 pm Pacific, August 31.
Email us a link to your video with "Smile with Smule" in the subject line to: Contest@Smule.com.
And it's a wrap!
This week's contest deadline is August 31, 2014 at 11:59 pm Pacific Time. Don't forget to check back here on our blog every Monday through Sept. 15 for each week's theme. We'll notify all winners by Nov. 3.
For more detailed information, please read our Official Contest Rules.