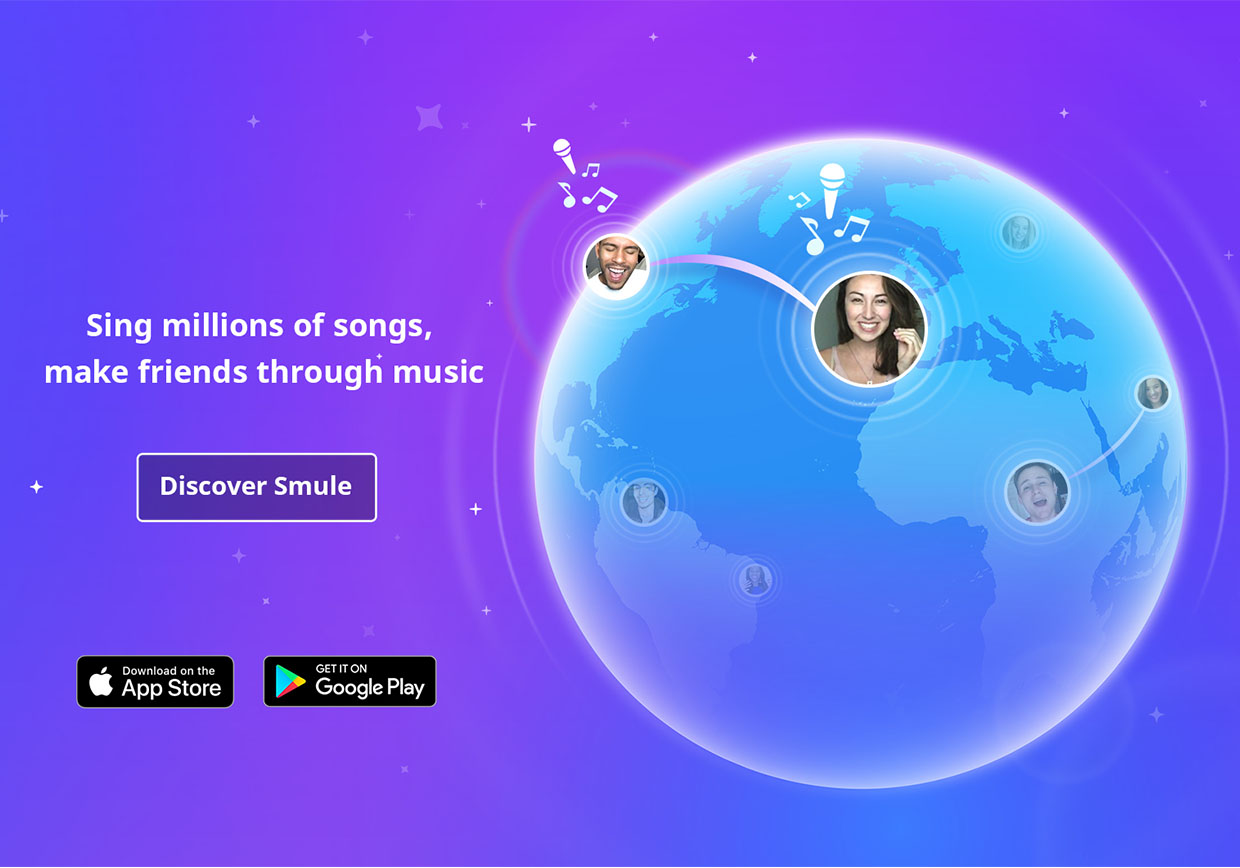 Singtopia Turns 2: A celebration of the largest community in Sing!
This week we are celebrating the largest community in Sing! Karaoke – Singtopia! And to both the Singtopia and Smule community, the month of March is a very special month: it's the month Singtopia was born! March 6, 2013, to be exact. This week is a celebration for anyone affiliated with Singtopia – YOU help make an amazing, supportive, and interactive community, a community the embodies self-expression, creativity, and global collaboration. 
Singtopia connects people all over the globe – Singapore, Australia, Brazil, United States, Germany, and more – through music. It's an open place where friends can collaborate, talk, and create music. Many other groups such as SmuleNesians and Music1st use Singtopia as a platform to connect! To read more on Singtopia's history, click here!  
This performance is an international a cappella collaboration of 28 singers from languages in Spanish, Greek, Indonesian, Portuguese, and English! 
Singtopia created this Performance to try to get as many singers as possible to unify as ONE VOICE. It was a collaboration of 163 Singtopians together as one. 
One of the group's administrators, Maria, answered a few questions on behalf of Singtopia.
What makes Singtopia unique?
New members entering Singtopia are verified and welcomed by administrators, and many existing members introduce themselves every time! Singtopia truly cares about its members and has provided some very unique programming that is the cornerstone of their active community. One of the most exciting programs, Singtopia International, has been a huge success in showcasing languages from around the world. Bringing life to native/cultural music and finding ways to collaborate in multi-lingual performances has been very exciting. Singtopia International also showcases and celebrates countries from around the world as well as the Sing! groups that make it possible.
Singtopia's Feature Program, one of the first to showcase Sing! members and groups, has featured more than 100 Sing! groups and solo artists, including the international community.  We are excited to house many of the active Sing! groups within our community and appreciate the amazing collaborations that have been produced and shared with us. Smule Sing! artists are also promoted through the Singtopia Spotlight Program, which gives members the opportunity to get up close and personal and learn about the professionals they are singing with.
Singtopia also maintains the Vocal Skills Workshop Group and Sing!ing Tips, engages members with music mixers and challenges, and hosts an Open Mic Feature Program on the Sing App at @Singtopia. We have lots of fun interacting with our members on just about anything from shared music and app issues to television/music programming to national events across the globe. Singtopia admins truly care about fostering a positive environment, a safe place to discuss fun and serious topics, a chance to participate and engage with each other, and a place for our members to have an amazing experience within the app and the Sing! community.
What can Singtopia offer to Sing! users?
Singtopia has become a home away from home for Sing! users.  It is an amazing community with more than 2,500 members and has become a major resource for new and veteran users all around the Sing! community. Singtopia is dedicated to the Sing! app and has become a great meeting place to hear about the latest and greatest in and outside the app, share performances, engage and collaborate with Sing!ers from all over the world, and provide support along the way. Singtopia has become a platform for many Sing! groups and individual performers, acoustic musicians, international collaborations, user-created contests, and Smule-related events. We love interacting with our members and want to provide the best Sing! experience that we can to create positive outcomes within the community and Smule.
What are some projects Singtopia has worked with or contributed to?
Singtopia maintains the Singtopia Page and International Page on Facebook and has consistently kept members up-to-date with the most recent changes within the Sing! app. Singtopia also encourages members to participate in weekly Smule Pick themes as well as contests that are held within the app. Singtopia has been affiliated with many user-created contests, including the Sing Offs, Music 1st Idol Contest, Sing! Idol, and also the Smulenesians RnB/Hip-Hop Contest along with Smule RAPZ Community. Members have worked on group performances like "Transformation" by Voices of Life, and many other collaborations to bring amazing music to Sing! Singtopia also has created a focus program where members discuss a number of questions, which has become a great resource for our members and also Smule users more broadly.
Join the community
To reach out to Singtopia, find them on Facebook or tag #SingtopiaTurns2 in your performances to be featured on a special playlist!
Singtopia FB Group:  https://www.facebook.com/groups/Singtopia/
Singtopia International:  https://www.facebook.com/SingtopiaInternational