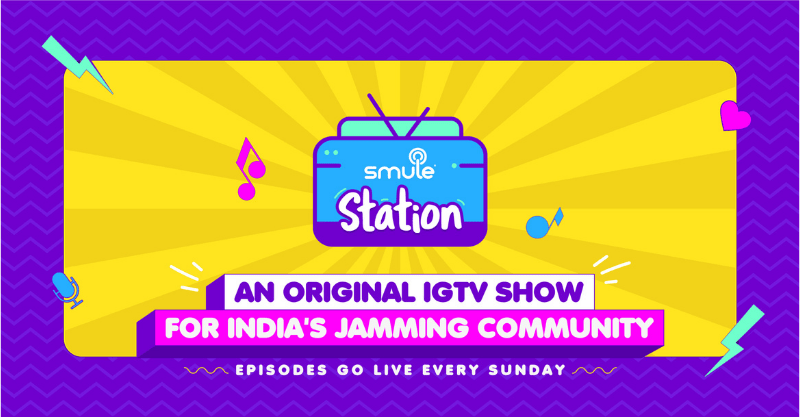 Announcing Smule Station India
Say Hello to a Brand New Way to Interact with Smule India.
Smule India is now launching original content with a brand new IGTV show called Smule Station. Instagram has always been a great place to connect with the people and brands who inspire, educate, and entertain you every day. Tapping into this feature, Smule Station is going to be an entertainment-packed episodic series within the long-form video functionality on Instagram. From legendary musicians to super performances by the Smule community, this show is going to be a celebration of music as an art form. The host of this weekly show, RJ Goutham Venkatesh will bring you the best of songs and unheard trivia.
What makes this show even more interesting is the fact that this IGTV program will be a mix of original content and user-generated content that comes from within the app. This means that original music performances from the Smule community will have a chance to be featured within the IGTV show! Smule Station is not just a great way to bring new content to the music community, but also forge connections with Smuleunti by encouraging participation on our social singing app.
What to Expect
For the introductory episodes, Smule Station will celebrate the timeless creations of the most-iconic music director of all time. Lovingly known as Pancham Da, RD Burman's evergreen hits have had a lasting impact on today's musicians and music lovers. Taking this sentiment further, RJ Goutham will trace the journey of this musical maestro, play Pancham Da's punchy tracks sung by top Smule community members, chat about the classic comedic moments of his life, and much more.
That's not all. These episodes will air in conjunction with an exclusive RD Burman Playlist that will be activated on the Smule app. This way, show viewers can tune into the episodes, reminisce about the golden era of music, and be inspired to sing the best of RD Burman on Smule. The first episode of Smule Station premiered on Smule's IGTV on the 30th of August. Consider this your invitation to India's jamming community. Let's unite and embark upon a melodious journey of fun-filled stories about their favorite artists, with intriguing trivia, timeless jams, and much more.