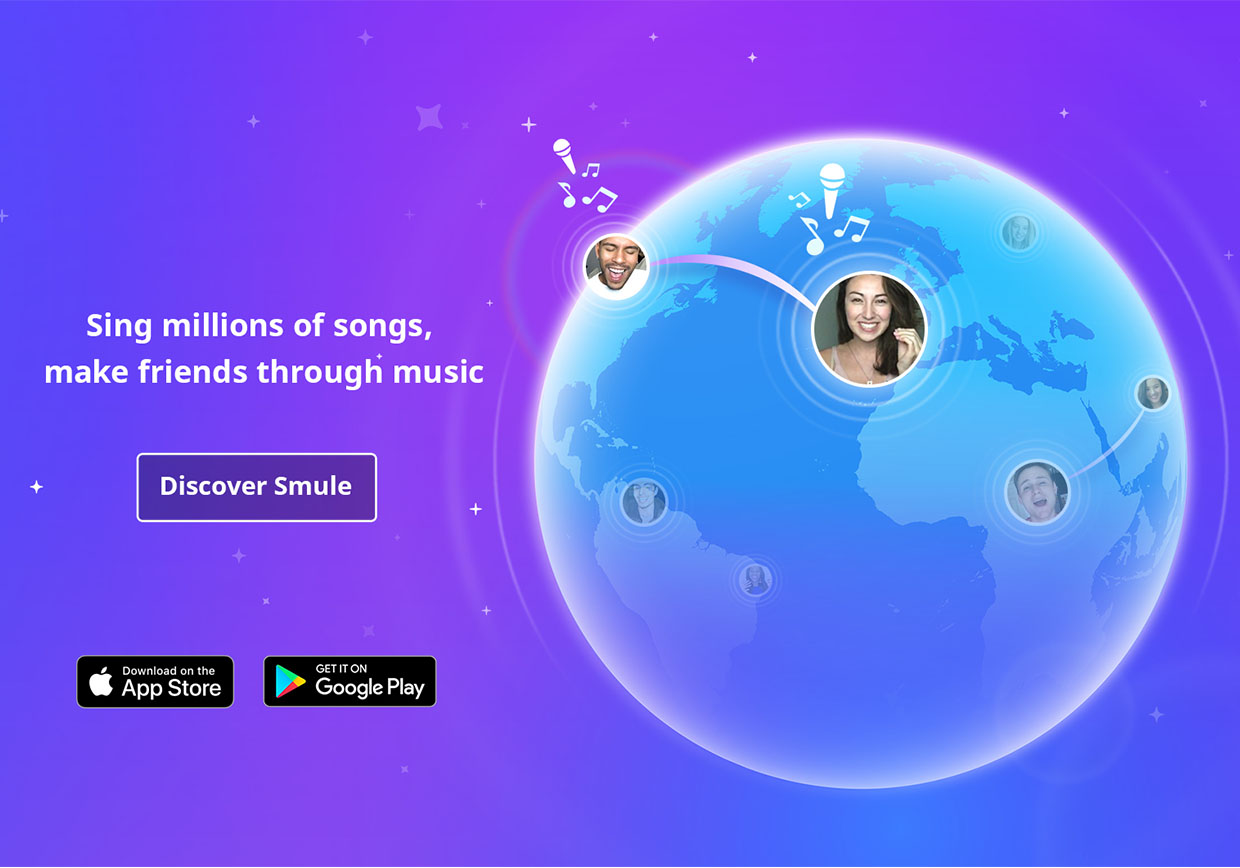 This App Blows! (Ocarina 2 Launches Today)
Welcome to the Smule Blog! I am Ge Wang (@gewang), Smule's Co-founder and Chief Creative Officer and Assistant Professor at Stanford University's Center for Computer Research in Music and Acoustics (CCRMA). For this very first blog entry, let's jump right in!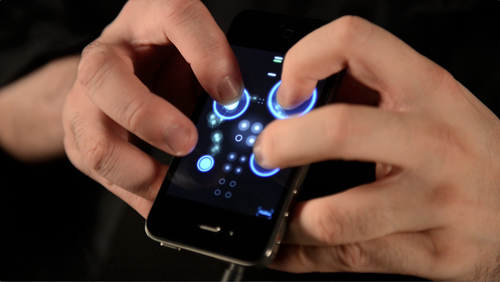 In November 2008 Smule launched an app called Ocarina, which transformed the iPhone into an ancient flute-like instrument that responds to your breath and multitouch. It was also a social experience — the Ocarina globe visualized where people are playing Ocarina and even let users listen in on each other. It went on to be one of Apple's Hall of Fame apps and currently has millions of users, who've since 2008 expended 2 billion breathes blowing into their iPhones (see distribution of breaths blown into Ocarina below) and have listened to each other 47 millions times in the globe! The vision of Smule was always to bring the joy of music-making to as many people as possible, and to connect the world more through music (with a little help from technology). Ocarina has been core to that vision.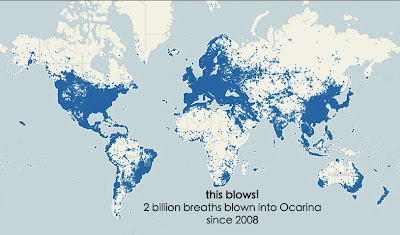 Today we launch Ocarina 2, a totally redesigned, re-imagined Ocarina. By creating a sequel, it gave us the freedom to wipe the slate clean and redesign nearly every aspect of the experience. The most significant new core features are the game-like song mode which shows you patterns on how to play each note, and a dynamic harmony engine that automatically follows as you play. In addition every color, every animation, spacing, sound, graphical effect has been optimized. Instead of going on about it, let's go to video. Here is a video (yes, that's me in the video) of playing The X-Files theme music in Ocarina 2, which also shows the new "whistle mode":
http://www.youtube.com/watch?feature=player_embedded&v=bQXclG9tfqY
The vision behind Ocarina 2 is to take the magic of the original Ocarina, and make it even easier for everyone to learn – and to play a lot of songs. For a given song, just follow patterns to play each note – hold the right combination of holes onscreen and blow. You'll see both the next pattern/note to play and a preview of the future (kind of like previewing the next blocks in Tetris). There is no hurry to play these — Ocarina 2 waits for you to play at your own pace. The harmony engine automatically accompanies your playing with angelic-sound chords. Let's go to video again:
http://www.youtube.com/watch?feature=player_embedded&v=wbg6GRRamNQ
The idea is to enable users to learn and play A LOT of songs. The app is free to download, and comes with 4 songs that are easy to start playing (Twinkle Twinkle Little Star, Amazing Grace, Ode to Joy, Clair de Lune), and there is going to be close to 50 songs at launch (much more to be added), priced quite affordably! There are 2 tiers of songs, "tunes" and "premiums" (you can get several on the buck).
Progress is accumulated per song, as is "breath points" which is a general measurement of how much a user has blown into their iPhone! Achievements like "Every Breath You Take" (accumulate 300 breath points) can be earned over time (the user will need to log-in to have their achievements tracked and to purchase songs; registration/log-in is free). Probably the most hard-core achievement in Ocarina 2 is one called "Lungevity", which challenges a user to accumulate 1,000,000 breath points. By our estimation, to get this achievement, one would need to play 500 songs each 200 times!!
Coming Full Circle…
I like circles. I always have.
Circles are aesthetically ideal, smooth, and symbolize so many things (life/death/renewal, continuity, loops, doughnuts, and more). There are MANY circles in Ocarina 2 (try counting 'em; generally, there are a lot of circles in Smule apps, and even in our logo). Also, it seems that we have come full circle from the app that put Smule on the map in 2008. Between Ocarina and Ocarina 2, we have been busy, creating I Am T-Pain (2009), Magic Piano (2010), Glee-Karaoke (2010), Magic Fiddle (2010), Magic Guitar (2011). Now as we launch a brand new Ocarina 2, let's circle back and take a look at how Ocarina (2008) was designed (I often get asked this question).
In 2008, Apple's App Store had just launched (it's mind-boggling that it was only 4 years ago, as it seems we've always had it!), and everyone is trying to figure out how to design and create products for this entirely new ecosystem. It was no different for us. And given how fundamentally different the iPhone and apps are from anything else, it seemed that we can't simply "port" things that worked elsewhere, but instead there was an opportunity to start anew, with a blank slate, to rethink the intersection of software, music, and interaction. Ocarina was the result of that thought exercise. We took an approach that I later call "inside-out design", which meant that we worked inside-out from the iPhone itself and ask "what is the iPhone good at?" before even deciding on what to make in the first place. Ocarina came about because it fit the profile of a super-smart phone with multi-touch (the finger holes), microphone (blowing), hardware-accelerated graphics (animations to make the experience feel dynamic as an instrument needs to be), accelerometers (mapped to vibrato), always connected networking (listening to another person play around the world), and GPS (location). After realizing this, it didn't take us long to finish designing and building the app (only about 7 weeks from concept to submission to App Store). Here are the original Ocarina design docs: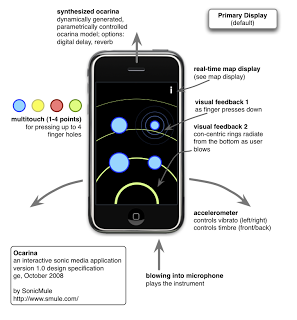 Ocarina (2008) instrument design.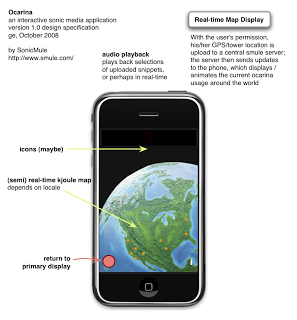 Ocarina globe sketch.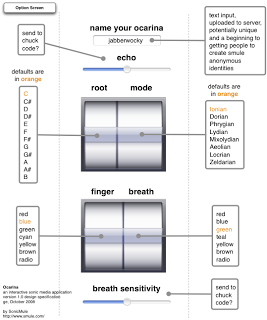 Settings in Ocarina, including the special Zeldarian mode.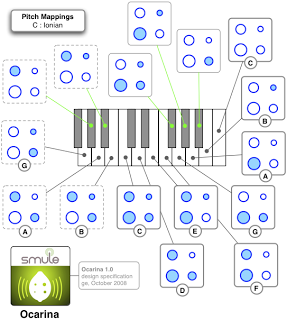 Mapping pitches in Ocarina.
The design of the Ocarina was inspired by the iPhone itself, but that wasn't all. Ocarina also fit the profile for us because it seems like such a magical little instrument! I love playing the Legend of Zelda video games when growing up, love the music. In The Legend of Zelda, the Ocarina of Time, Link/the player must learn to play songs on an in-game ocarina to move through time. That's just magical; and Link is such a baller. I loved Zelda so much that 1) there is a Zeldarian mode in the app whose sole purpose to facilitate playing those 2 extra notes in the Zelda theme and 2) the little yellow triangle that shows you where to blow into the mic was modeled after the Triforce. So there you have it, and it also made the song choice for one of our launch video automatic: here is the original Zeldarian launch video, as well as our rendition of Stairway to Heaven (FYI: that's the Mule from Smule on the left; Jeff Smith, CEO in the middle):
http://www.youtube.com/watch?feature=player_embedded&v=RhCJq7EAJJA
http://www.youtube.com/watch?feature=player_embedded&v=kfrONZjakRY
Perhaps in some small ways, Ocarina allowed people around the world to feel more connected, even intimate. By tapping on the Ocarina globe, you could hear the breath of another on the other side of the world, and you could see their notes drift upwards, emanating from their origin on land and up into the cosmos. Perhaps the most reaffirming and humbling comment we've received came from a user on iTunes, it said:
"This is my peace on earth. I am currently deployed in Iraq, and hell on earth is an every day occurrence. The few nights I may have off I am deeply engaged in this app. The globe feature that lets you hear everybody else in the world playing is the most calming art I have ever been introduced to. It brings the entire world together without politics or war. It is the EXACT opposite of my life." – Deployed U.S. Soldier.
This was completely surprising and humbling, and we can only be glad that something we did brought a sense of calm to someone out there. Also, in the spirit of full-disclosure, I should say that the graphics for the Ocarina globe was also inspired by video games – I wanted something look like a magic spell was cast at a location on the earth, and the result was the spiraling double helix in the app today.
We learned a lot from this experience, and we were stoked that users responded so well to it. Within days Ocarina was a #1 app in 20 countries, and our users began posting videos on YouTube featuring themselves performing it — so much so we ran our first video contest, called "The Contest Blows Ocarina Video Contest". Here is one of our winners, who played Ocarina with her nose!
http://www.youtube.com/watch?feature=player_embedded&v=R6HHZLDdPqM
The original Ocarina seems to be special for many folks out there, and it's special to us as well – for that reason, we are committed to keeping the original as it is, while charging forth on Ocarina 2. We will continue to maintain the original Ocarina — it remains a part of Smule, an important reminder of our roots as a company.
And Lastly… Some Tips for Ocarina 2
Well, now we've circled back to Ocarina 2! Before we conclude this entry, I am going to leave you with just a few tips on Ocarina 2. We certainly hope you enjoy it as much as we enjoyed making it!
hold the phone as you might a sandwich
don't hold the phone too close to your mouth – it's actually easier to blow!
take deep breaths!
practice (quickly) makes improvement in Ocarina 2 – it's like any other instrument (except the "quickly" part), or game for that matter
have fun!!
Rock on!!!
Ge Wang (@gewang)