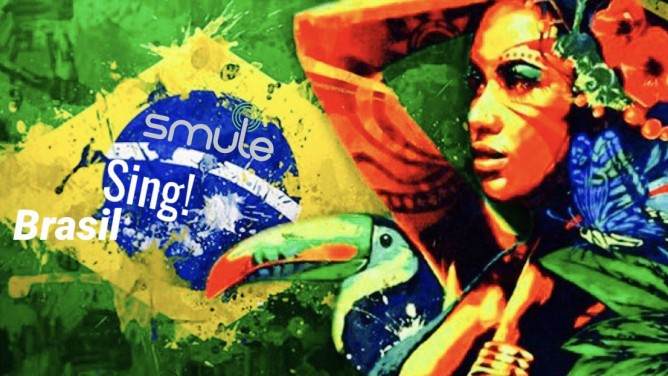 What is Smule for you ?
The Brazilian community on Smule presents the video "What is Smule for You?"
Participate and you can be featured on Smule's video!!
Ø  Participate with Vídeo:
Record in a good light natural or artificial and use the mode Landscape

If you choose record in the Sing! app, use the back side camera and record in Freestyle adding the hashtags #SmuleParaVoce #Video 

If you record in any other way (own câmera, etc) send us the record to e-mail 

SmuleSingBr@gmail.com
·         Don't forget to mention on the vídeo:
What is your name ?

What do you like about Smule ?

Where do you Sing and How much do you sing ?

What does Music means to you ?

Smule is  ________ ? (fill in blank be creative).

If you have any fun music related histories, share in the video as well !
Ø  Participate with Music:
Sing an official Song Book song on Smule Sing! 

Karaoke
Or sing an original or parody song

If original you can sing in Freestyle on Sing! App.

Use hastags #SmuleParaVoce #Musica
Must be in groups of minimum 4 people
If you choose record in other way as youtube, etc, send us the link to email smulesingbr@gmail.com
Deadline: Record till August 31st 2017, Thursday noon PST (or 4pm in Brazil).
Do it quickly — we are running out of time! https://www.facebook.com/Smule/videos/10153924823439284/
Come interact with Brazilian Community Smule Sing! Brasil: https://m.facebook.com/groups/135991250285424
---
A comunidade Brasileira no Smule apresenta o evento "O que é Smule Para Você?"
Participando, você estará concorrendo a estar destacado no vídeo institucional do Smule!!
Ø  Para Participar com Vídeo:
Grave em um ambiente com boa iluminação, natural ou artificial e use o modo PAISAGEM
Se for gravar pelo Sing! app, use a câmera traseira, faça em Freestyle e use as hastags #SmuleParaVoce #Video
Se usar algum outro recurso mande a gravação para o email SmuleSingBr@gmail.com
Não esqueça de dizer no vídeo:
Qual seu Nome?
O que você gosta no Smule?
Onde, quando e quanto você canta?
O que a música significa para você?
Smule é ________ ? Complete a frase! Seja criativo.
Se você tem qualquer história engraçada relacionada a música, compartilhe no vídeo também
Ø  Para participar com Música:
Cante uma do livro de músicas oficial do Smule Sing App.
Ou cante uma música original e/ou paródia de sua autoria.
Se for música de sua autoria faça um Freestyle no Sing! Karaokê
Use as hastags #SmuleParaVoce #Musica
Precisa ser em Grupos de no mínimo 4 pessoas
·         Se for cantar com outros recursos como o YouTube, etc. mande o link da gravação para o email SmuleSingBr@gmail.com
Prazo: até o dia 31 de agosto de 2017, quinta feira às 16:00hrs.
Corra participar! Nosso prazo está se esgotando! https://www.facebook.com/Smule/videos/10153924823439284/
8